Michael Solomonov Has Struck Gold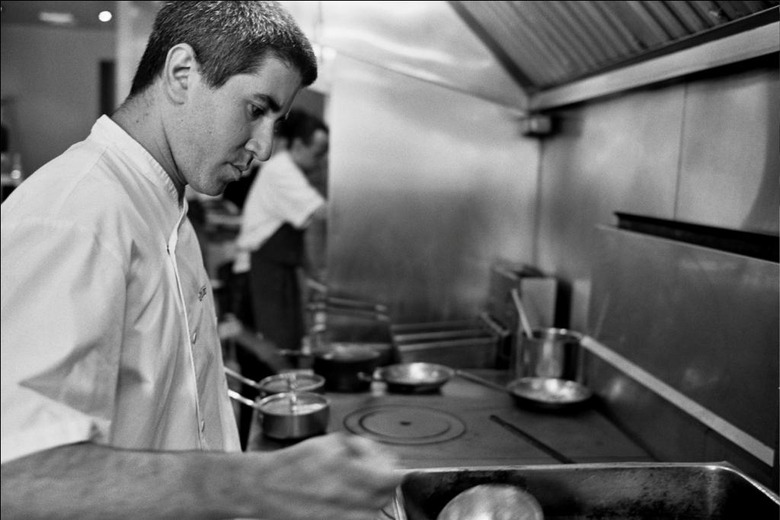 Michael Solomonov
When Philadelphia chef Michael Solomonov was readying the opening of his Old City restaurant Zahav, he took 15 of his staff members on an eating quest throughout Israel. "We were there for seven days and ate 30 meals and never repeated a cuisine," he says of the epic trip that would later shape his acclaimed restaurant — which means gold in Hebrew. "People talk about local and organic all day, but they've been doing it in Israel forever."
Born in Tel Aviv, the chef grew up in Pittsburgh and moved back to Israel, where he fell for kitchen life while firing laffa at a bakery. Back in the States, he honed his raw talents at a Florida culinary school and later while studying at Marc Vetri's school of gutsy Italian flavor pairing.
This out-of-the-box ethic is on full display at Zahav, which opened its doors in 2008. Fried haloumi is paired with dates, almonds and mustard greens while golden-fried cauliflower florets are sweetened with a yogurt sauce. Offal like duck hearts and grilled lamb tongue brings all the chefs to the yard. And the James Beard Award judges too, who awarded the 32-year-old chef Best Chef Mid-Atlantic during their 2011 program.
We spoke with Solomonov as he prepared for the upcoming Jewish holidays—particularly the traditional Yom Kippur fast. Yes, chefs fast too. And break it...with soft scrambled eggs in this case.
I first sampled your cooking at this year's James Beard Awards gala. Like holy Moses my mind was blown!
We took some chicken livers and smoked and cured them really quickly with salt and baharat, which is this Turkish spice that is kind of like pumpkin pie. We melon-balled [the mixture] and served them on a stick with air-cured Iranian beef with fenugreek, smoked paprika and that kind of thing. We tethered the chicken liver, beef and fried challah.
OK, this may get heady. How do you define "modern Jewish cuisine?"
There are so many people that represent Israel. There are so many cultures that have moved back there even within a hundred years. People brought all these different traditions and techniques and all these spices — looking at Moroccan Jews and Portuguese Jews and Sephardic Jews. There are many things going on in every Jewish home during the Sabbath. Honing in on these different nuances is what modern Jewish cooking is all about right now. It's so much fun as a chef.
But you're always going to have to fight the perception of Jewish cuisine being marginalized to the Jewish deli. The deli is a special thing, but it's not modern at all.
That's one really, really, really specific and small part of Jewish cooking. If you go to Israel, that's not what people are eating.
You've become well known for your two tasting menus. What are they like?
We do something called Tay'im, which means taste in Hebrew. We serve eight little salads and hummus for the table and then everybody gets to choose two smaller plates and a meat cooked over the grill. We also have something called Mesibah, which means "party." People get hummus and a little soup, some couple mezzes and then it's onto our signature dish, the lamb shoulder.
This is a dish not to miss. How is it prepared?
I take a square-cut lamb shoulder and brine it for two days and then grill it over charcoal for two hours. We then braise it in pomegranate juice with chickpeas — so they suck up all the lamb fat and pomegranate juice. And then we roast and glaze it. You can't duplicate the flavor of marinated meat over charcoal. There's nothing that compares to it.
Are you planning to fast for Yom Kippur?
I fast on Yom Kippur. I'm not sure if I'm going to make it to services, but I'm definitely going to fast.
At least you're honest. How are you going to break the fast this year?
My wife and I just had a kid, so we don't know what we're going to do. I don't know, man, Yom Kippur is like a pretty important holiday. Whether I attend services or not, I'll do a little solitude and a little introspection. I think that we might go out of town and stay on the Chesapeake Bay and be alone. Maybe we'll have some barbecue or grilled meat. I like soft scrambled eggs with toast to break the fast. Also, a simple salad with cucumbers, tomatoes, lettuce and a little citrus. It can get violent if you go too heavy.
Do you travel back to Israel often?
I do. My immediate family lives there.
Everybody tells me about the falafel in Israel. Do you have your spot?
I went to boarding school in the north and this place Deborah's Falafel in Karkur makes the best falafel. It's not like a salad bar. It's just this guy — the son of this lady who started this place like 30 years ago. He makes the best falafel in the world.