High Hungry Days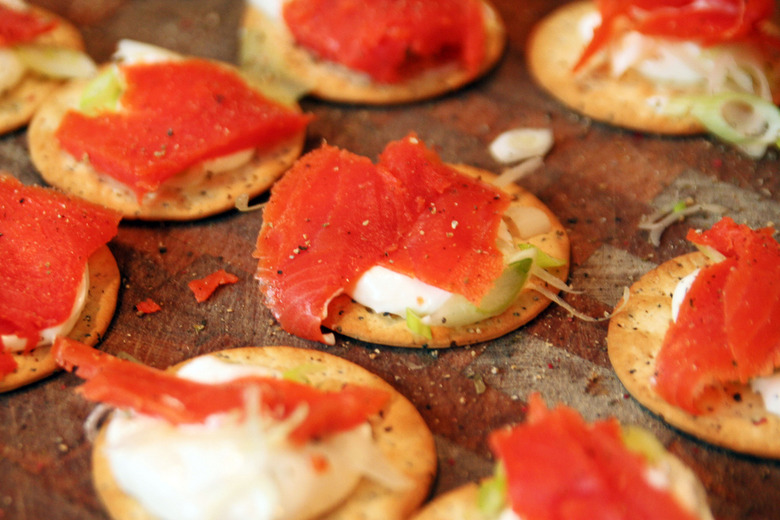 lox on crackers
We may receive a commission on purchases made from links.
Growing up in a reform-leaning conservative Jewish household, the High Holy days were not any different than a typical Friday evening dinner, eating roasted chicken that tasted better cold on Saturday afternoon. Any other animal protein, despite being bought from a kosher butcher, wasn't desired when your parents are from Tom Brokaw's "greatest generation." So all terms apart from "well done" weren't part of my culinary vocabulary.
That was until I started dating (and subsequently married) an Italian-American Catholic girl who embraced the Jewish faith, culture and just as important, the cooking.
A traditional dish to indulge in during Rosh Hashanah is chopped liver – routinely made with eggs and schmaltz (rendered chicken fat) – as an appetizer to "shmear" on crackers or on a thick slice of challah bread. To literally spice this up, I turn to Mario Batali, who has an interfaith marriage too! His duck liver crostini (from Simple Italian Food: Recipes From My Two Villages) contains capers, anchovies, red wine and red pepper flakes. We pulse the concoction to a smooth consistency. To stay with tradition, we swap the duck livers for chicken.
A week after Rosh Hashanah ends is Yom Kippur – the Day of Atonement and fasting. To break that fast my family overdoses on salt by enjoying muenster cheese, olives and multiple fishes – whitefish, sable, tuna (from a can) and salt-cured salmon, or lox. For this delicacy, we sweeten up the lox. I use a recipe that's not restaurant or chef specific, but happened to have been taught to me by Mark Ladner, executive chef at Batali's Del Posto, where I staged for a year.
It goes something like this:
In a large bowl, lay out your salmon filet and cover it with equal parts kosher salt and white sugar and/or brown sugar – a cupful of each will do.
Add the zest of one lemon, one lime and one orange.
Keep it covered and refrigerated for a minimum of eight hours and up to three days – flipping the salmon every couple of hours is optional.
After washing the salmon of the salt-sugar-citrus cure, slice your homemade lox very thinly – a knife or better yet a meat slicer does just fine (the Mrs. wanted one for Christmas) and enjoy with a shmear of cream cheese on a bagel or on its own.
The High Holy days can be a quality culinary experience, whether you have an Italian influence or not, but it does help make each dish well done.
L'Shanah Tovah and Buon'Anno!