Happy New Sushi Roll Day!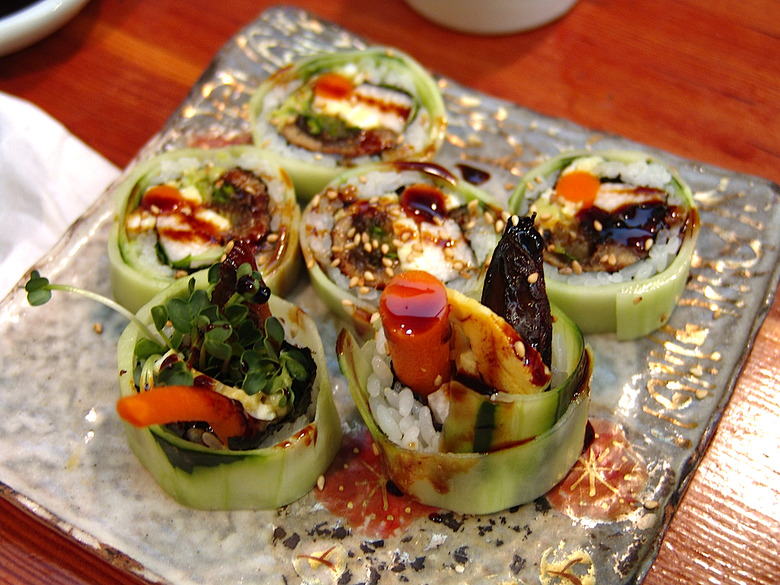 sushi rolls
Read this carefully: Today is the day you try a new roll from your go-to Japanese spot. You know, the one you always go to with the lunch specials. Please ignore those lunch specials! They're not special at all. Behold today's verboten rolls:
Any kind of lone fish, spicy or otherwise
Any kind of lone vegetable
Anything named after a city or state (i.e. Boston, Philly, California, Alaska)
Just because something comes at you on a conveyer belt doesn't mean it's good. You also can't just dump a bunch of sriracha mayo on something and call it different. That said, we'd like to take you through some of the more interesting sidestreets of the sushi menu that you may not have considered for lunch. Or dinner. Or third dinner. What happened to second dinner? That's between us and second dinner.
Embrace the change. Wasabi tobiko? What the hell is that? It's the crunchy orange caviar you find on the outside of many rolls, but inexplicably green and spicy. We're guessing the flying fish those came out of may have gotten into the good stuff. Most sushi menus we're encountered include the following, all delicious and worth a try:

Caterpillar roll (AKA: Dragon roll) – Eel, cucumber and avocado.

Rainbow roll – The one California roll permissible, wrapped with tuna, salmon, yellowtail and avocado on top. Typically served in a pretty arc.

Spider roll – Soft shell crab tempura and cucumber.

Futomaki – Translated as "fat roll," containing Japanese omelet, pickled radish, cucumber, shrimp or imitation crab, radish sprouts, pickled burdock root (looks like a very thin carrot) and anything else the chef chooses to toss in.

Salmon skin – One of the best parts of salmon is the fatty meat between the flesh and the skin, broiled until crispy. Rather than discard the skin and the succulent flesh to which it clings, many Japanese chefs roll it into maki. Recommended if you like cooked fish or potato chips. We're looking at you, everyone.
Try something wrapped in soy paper or cucumber instead of seaweed. Maybe get to know the largely-ignored hand roll or ever-delicious rice ball. We also encourage you to find the most oddly or delightfully-named roll on the maki menu, as there's usually at least one superstar in the mix. We've had great success with Pink Ladies.