Don't Admit Dagwood Defeat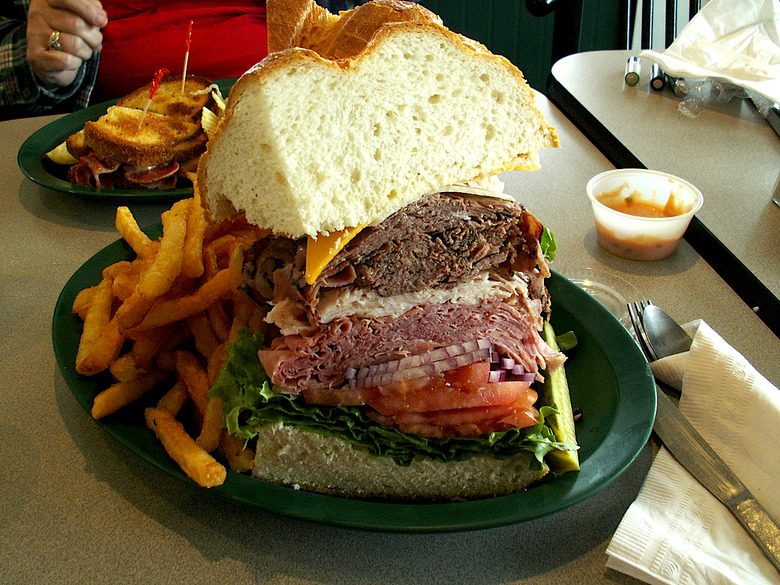 ohio deli's dagwood sandwich
It takes a really famous sandwich to carve out a spot in both Webster's Dictionary and the American Heritage Dictionary, which is why the Dagwood should be part of every sandwich-lover's food heritage. Named for Blondie's husband Dagwood in the long-running comic strip "Blondie," this sandwich celebrates his propensity to pile enormous amounts of food between two pieces of bread (and subsequent couch naps).
While several restaurants around the country peddle these behemoths, including the original Dagwood's Sandwich Shoppes in Indiana, one establishment has taken it to another decker. The Dagwood Challenge at Ohio Deli and Restaurant in Columbus, OH calls for the consumption of 2 1/2 pounds of ham, turkey, roast beef, American and Swiss, plus garlic mayo, lettuce, tomatoes and onions AND a pound of fries in under 30 minutes. Win it and, like all good food challenges, you get a t-shirt proclaiming your victory and a photo on the wall of fame. If you're hungry enough, your only obstacle is figuring out the angle from which your first epic bite will be taken. Snakes can unhinge their jaws. What's your trick?
We know plenty of guys who are more than willing to attempt to show up Man vs. Food's Adam Richman when it comes to well-established good 'ol fashioned American eating contests. The difference between you and Man, however, is that he's finished this whopper and claimed both victory and prize. Will you?
More Sandwiches of the Week from Food Republic: