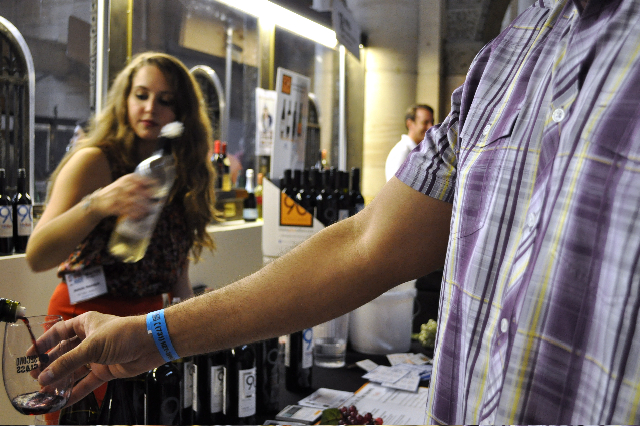 Wine-happy New Yorkers poured into Brooklyn's One Hanson Place this weekend. Inside, they gripped their stemless tasting glass in one hand and their smartphone in the other, got (temporarily) tattooed with wine art and didn't refrain from woo-hooing their way through 250 wines from just about every major wine region imaginable.
"I wanted to reinvent the wine tasting," says Tyler Balliet, co-founder of the Wine Riot tour, which just hit New York and is headed to D.C. October 21-22. His company Second Glass develops online and mobile apps for wine drinkers and makers to help them better find each other. Think of it as a wine-marketing company for the Facebook generation.
A former wine writer and wine shop clerk, Balliet noticed that more and more young people were coming into his store, but didn't always know what they wanted. Wine tasting classes can cost hundreds of dollars and books can be dense or just plain boring, he says. He found that by just pouring customers a glass and talking about wine, he could keep his their attention and get them excited. So, he started throwing tasting events, which grew bigger and bigger. The first Wine Riot took place in 2009.
"We get all kinds of people," he said at this weekend's Riot, which is ultimatly geared towards less-seaoned wine drinkers. Now on the last leg of its five-city tour, Wine Riot attracts some 2,500 attendees for each event. It features wine Crash Courses that offer primers on everything from Sancerre to cider. The geeky highlight is a mobile app that lets you keep track of everything you drink with thumbs up or "meh" ratings. The app connects to your Facebook account so you can see what your friends are drinking.
During the event, it also tracks the most popular wines, which are posted on large flat screens around the space. But it's about more than just social media: the idea is to use the app as a tool when you're out shopping for wine. There is even a component that directs you to nearby wineries should you find yourself in a winemaking region.
"Our research shows that people use these events to determine what they'll be drinking for the next six to nine months," says Balliet. It's good news for wineries like Heredad Collection from Spain, Seven Sisters from South Africa and Red Newt Cellars from the Finger Lakes—all of which were featured this weekend. Wineries are always looking for a way to tap the next generation of wine drinkers. Inviting them to a tasting masquerading as a riot is a good place to start.