From Sea To Table, With A Cheat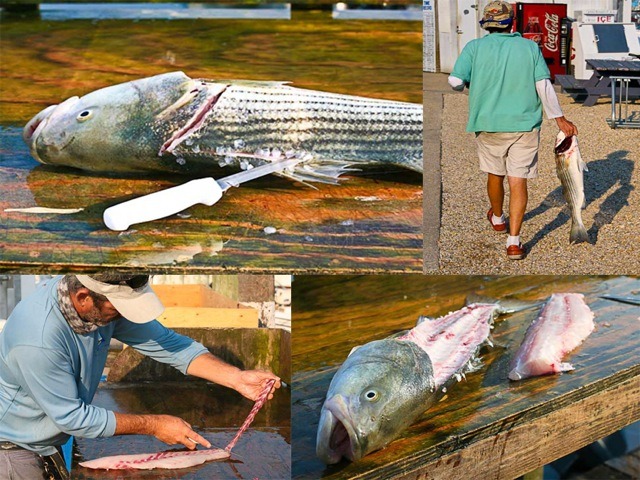 The post-Labor Day food choices in the fishing village of Montauk, NY diminish quickly as one gets closer to the Harvest Moons of the fall and early winter. The pop-up kitchens of Montauk Yacht Club, the new-this-year Rushmeyer's and the über-touristy frozen-fish-for-the-masses Gosman's Restaurant are half-heartedly loping along towards a President's Day shuttering.
It is a sad time around the docks and beaches if you are the kind of person that feels that each meal, each day, is an opportunity to rise above the mass-mentality of settling for the easiest, largest portion of tasteless food in a rush to get back to Nascar on ESPN. There can only be so many Chowder Contests to hold you over.
So in the interest of bold, authentic, crave-in-the-middle-of-the-
night flavors, I have found one semi do it yourself, hunter/gatherer meal that I look forward to all year. Wok N Roll Chinese Restaurant.
Wok N Roll is a just so-so Chinese joint above a T-shirt shop on Main Street that has completely perfected the art of "you catch 'em, we cook 'em." Bring whatever fish you choose to capture into the restaurant and the cooks will prepare the fish whatever way you like. Most fishermen bring in blackfish, sea bass, porgies or fluke. Other options include tuna, swordfish, mahi mahi, wahoo, tilefish or cod, if you opt to go further offshore.
Many sauces and preparations are available. There is the all-round-favorite General Tso's (albeit minus the chicken), as well as black bean, salt and pepper, garlic, curry, fermented rice, ginger/scallion, sesame, teriyaki, Szechuan chili miso and mango sauces. If you prefer the fish whole, sea bass, blackfish or porgy go very well steamed with ginger and scallion or wok-fried. All of these choices are all very solid and doubly delicious when the meal is the fish you caught yourself, that day.
As if cooking Chinese food correctly was not difficult enough, the degree of difficulty is ultra-magnified when working with fish. The staff here have told me that they even need to use a different batter for the fish with certain sauces, such as General Tso's, than they would for chicken. They do not shrink at these challenges.
For many years I could count on an open table and an enthusiastic "Hello" from Sonny Li, Wok N Roll's owner. Some fellow charter captains and I, along with some of our clients/anglers, would fill a few booths and quickly start quaffing cold Tsingtaos. The secret is getting out now, however, with Sam Sifton writing it up in The New York Times after a fly-rod striper trip — and subsequent meal — last fall. The Cooking Channel came in a few weeks ago, filming with chef Eddie Huang. Still, it's worth a trip out here from NYC; the later in the (off-) season, the better off you'll be.
I leave you with a short "recipe" for the Fall Wok N Roll Montauk Fish-Fry.
Get out of bed at some ungodly hour and drag ass to the dock/boat/shore line. Sprinkle with hangover remedy of your choice.
Shake and stir yourself atop the ever-present waves and swell of a Montauk fall day. Bonus points for not puking.
Catch and kill whatever species of fish you prefer (preferably caught on a fly-rod for extra difficulty factor). For best results try a few different varieties. Bleed fish immediately whenever possible.
When back to dock, filet said fish while taking pains to debone, skin and trim any and all bloodlines from the filets. (Skin is good on certain fish for grilling and/or pan sautéing, not so much for Chinese preparation.)
Bag fish and keep as cold as possible until actually handing it to Sonny and crew upon arrival. $10 for the first lb., $4 a lb. thereafter.
Enjoy!
Wok N Roll, 716 Main Street, Montauk, NY 11954, 631.668.6688