Eat Like An Intern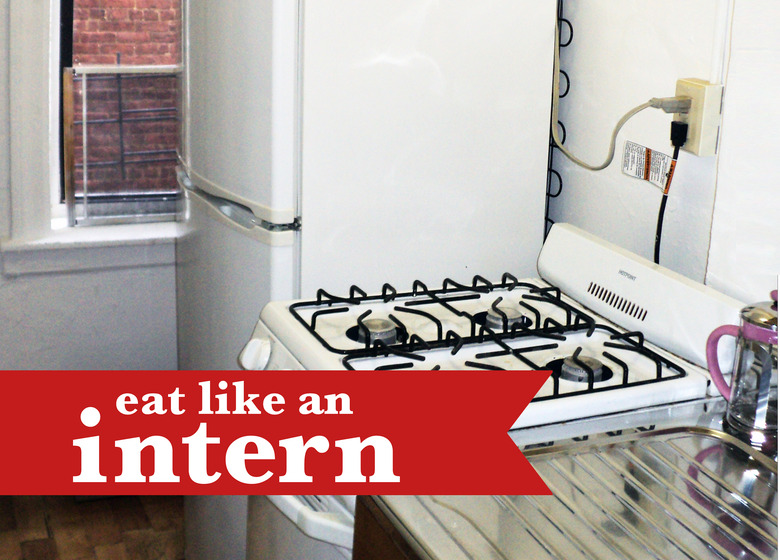 Intern kitchen
With the recent temperature dip in the East and the related depletion of my summertime energy levels, I've found myself spending a lot of time on the couch, dying for something to get excited about. Or, in lieu of that, a great steaming bowl of something awesome to eat, requiring minimal effort and minimal investment, of course. As I so often do in times of need, I sought the assistance of an intern. For who knows the secrets of cheap cooking better than the marginally employed?
Like any good manager, I waited until Ashley appeared to be completely swamped with actual work before pouncing. "What do you eat?" I tactfully inquired. Several eye rolls later, Ashley gave up the goods. And so, direct from the humble confines of her Brooklyn kitchen (not that I've been there): Ashley's Quick & Easy Gringo Chili! (I made that name up, too.)
OK, so it's really easy.
That sounds delicious.
I stole this recipe from my Mom. Actually, she gave me a whole book of easy recipes.
Remind me about that the next time I can't think of a column.
Alright, so...you take a can of refried beans and melt them down in a pot.
Just by themselves? I'm not so crazy about refried beans sometimes.
I love them.
Black beans are good.
Well, once the refried beans are done, you can use black beans, kidney beans, white beans, pinto beans...any other beans you want, really. I love beans.
How many?
Just whatever. A can of each.
Got it.
Then add a can of diced tomatoes. If you want to add meat you can. I like to add ground turkey or fake vegetarian "meat" (about a lb.).
I'd go for real meat.
Well, veggie equals cheap. Real meat equals not cheap. Similarly, if I buy the beans at the health food store, they're like $3 a can. At Trader Joe's they're $1.
So this recipe is either cheap or super cheap, depending. Do you have to brown the meat before you put it in, or just cook it up right in there?
You should probably brown it first, and then add it to the pot along with taco seasoning.
That stuff's the best.
Which kind do you use?
Come on, Ortega. Did you ever try mixing it with sour cream and dipping chips into it?
No.
Oh, my God. It's unbelievable. Wait, we were talking about chili...
So, add corn, onions and green chiles. Throw some spices in if you want. I use garlic salt, garlic powder, onion powder, tumeric, ground pepper, cayenne and a dash or two of paprika.
I'm gonna go out on a limb and say the paprika is optional.
Probably. For a little extra flavor, add a squirt of ranch dressing.
Hold the phone. Ranch dressing?
It gives it a little extra kick.
How about shredded cheese and sour cream?
If you want. But then it's not as lowfat. If I have store-bought shredded cheese, I'll throw it on top. I hate grating cheese.
It's the worst. It's right up there with chopping veggies. I don't know how people do it. Anyway, how much food does this make?
I'd say at least 4 to 6 bowls of chili...that's after the initial 2 bowls we eat right away. Not bad for 20 minutes of prep and a little simmering.
Not bad at all. Thanks, Ashley!
---