Brewer's Choice At City Winery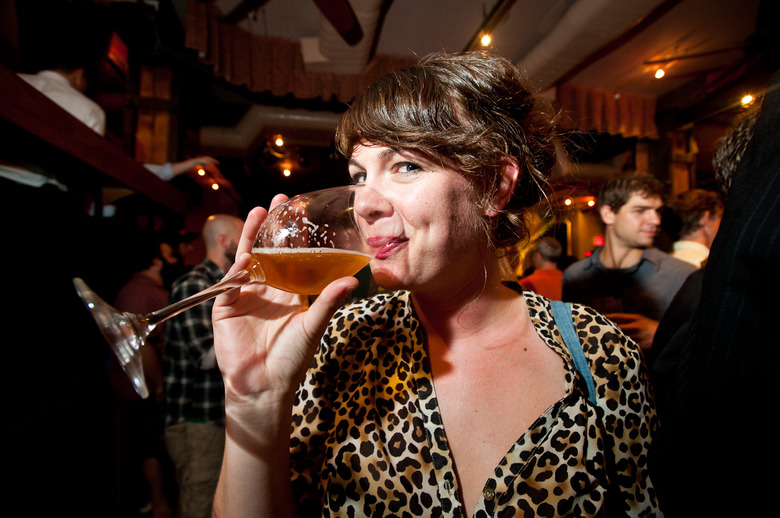 A happy beer drinker
Beer enthusiasts across the nation are celebrating Craft Beer Week. Last night at City Winery (go figure, a beer event at a winery!) New York's Craft Beer Week held their annual Brewer's Choice event, offering beer aficionados the chance to rub shoulders and geek out with some of the country's most innovative master brewers and sample something special, and often rare, straight from the breweries. Dave Brodrick of the Blind Tiger and Jimmy Carbone of Jimmy's No. 43 hosted the evening for a few hundred thirsty souls, and we couldn't help but overhear the buzz of conversations around us as people discussed hops, yeast strains and carbonation.
We've been really impressed with what the kids at Coney Island Brewing Company are turning out of their teeny-tiny brewery in a storefront at the Coney Island Freakshow. For such a small operation — their motto is "one gallon at a time" — they're creating some consistently interesting beer. Brewers Phip Shelton and Eby Harvey were pulling an Imperial Sour Brown dubbed Geektoberfest, a collaboration between them, Captain Lawrence and Ithaca. It was an impressively medieval beer we could picture being perfect to wash down a mutton stew served in a trencher...eaten with our hands. Don't miss the chocolatey, rich Human Blockhead (if you can get your hands on it).
Jim Ebel from Two Brothers came in from outside of Chicago with a sophisticated offering, the Domaine Dupage, a French-style country ale. It proved nice and smooth, with a hint of caramel in the nose but no sweetness on the tongue. In a couple of weeks you'll be able to find their beer at Whole Foods.
Kelly Taylor from Kelso Brewery in Brooklyn brought along one of the more unusual drafts we sampled, a saison brewed with sour cherries. It was like a dry and slightly tart lambic, with nice assertive carbonation. As our eyes widened after our first sip, Taylor said, "It's like stinky cheese. You say to yourself, 'Why am I drinking this? Give me more!'" Yup!
The guys from Barrier Brewing in Queens poured us what we can only describe as liquid bacon, their Frau Klucher starts off with barley smoked over beechwood chips. Hence, the liquid bacon. Keep doing what you're doing, guys.
The reliably excellent Ommegang (Cooperstown, NY) was in the house, with master brewer Phil Leinhart. They introduced their first collaboration, the Gnomegang brewed with yeast strains from with A'Chauffe Brewery in Belgium, beautifully crisp, well-balanced and tasty.
On the chewier side of the spectrum, Smuttynose (Portsmouth, NH) represented with a barley wine from 2007, which master brewer David Yarrington explained is only brewed every other year. At about 11% alcohol, it's a little less heady than other barleywines we've had, but that's not a bad thing. It was restrained and lightly sweet.
We even got some homebrewing tips from the guys at Bierkraft in Park Slope, Brooklyn, who not only home brew but also make their own dang porchetta from whole hogs. Ben Granger explained when asked for his home brewing secrets, "Buy a kit and brew a beer. You'll know right away if you like it. Don't start with a pilsner, that's probably the hardest beer to make. It's all cold fermented and really difficult to brew at home. Try to make an oatmeal stout, or a porter, or a pale ale. You'll figure out quickly what hops you like and how to get the balance." Will do, Ben!
Brooklyn Brewery brewmaster Garrett Oliver ended the night with this thought, "In New York, we used to have the best beer culture on the face of the earth. We had every food, every country, every language. We also had the the most interesting food culture on the face of the earth. And somehow over the next 50 years we lost that. Because of a lot of people in this room, we're getting back some of that culture. This is how beer used to be made. You can ask yourself this question: 'How are you going to live?' We're going to live well." Cheers to that.