Nancy Silverton Has A Correction To Make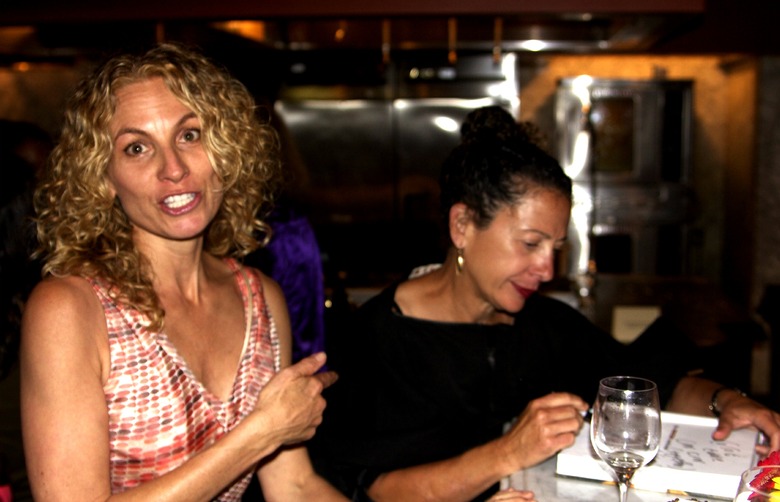 We may receive a commission on purchases made from links.
It was a bit of an adventure getting a book signed at Wednesday night's party celebrating the release of "The MOZZA Cookbook, Recipes from Los Angeles's Favorite Italian Restaurant and Pizzeria" by Nancy Silverton, with Matt Molina and Carolynn Carreño.
Ms. Silverton, a well-known perfectionist, would not sign any books at Mario Batali's celebrated restaurant until Ms. Carreño made a copy-editing correction in red ink by hand on page 203.
The problem was in the recipe for Fiorentini with Guanciale, Tomato and Spicy Pickled Peppers. The recipe note states that if you cannot find fiorentini pasta, which is shaped like a loose, ruffled spiral, you can use another artisanal pasta shape "such as maccheroni alla chitarra, a big tube-shaped pasta from Napoli."
Unfortunately, the alternate pasta which Ms. Silverton and Ms. Carreño intended for that recipe was paccheri. Maccheroni alla chitarra is more similar to spaghetti.
"And it's not from Napoli," Ms. Silverton explained. "It looks like I don't know what I'm talking about. It's not that I'm a perfectionist."
Because the error was not caught in time, both the first and second printings of the book were troubling Ms. Silverton so badly that she asked those at the party to bring their copies to Ms. Carreño for correction before she would sign them. Ms. Carreño had to stop conversing with guests, pull a red pen from her pocket, flip to page 203, cross out the offending pasta and mark in "paccheri." It was not unlike a student being forced to write "I will not put gum in Sally's hair ever again," 50 times. The error wasn't Ms. Carreño's fault, but she laughed it off in good spirits. Ms. Silverton has been a longtime and close friend of hers.
"Nancy couldn't get her mind off it," Ms. Carreño said. "When I got to the party, she's like 'I don't know what I'm going to do.' I said 'just change it.' She got so excited about that idea she insisted that I change it. She wants everything to be right. It's a charming tic if you know her."
The book also contains a recipe for Mozza's famous Butterscotch Budino pudding. Asked if was really possible to make it at home, pastry chef Dahlia Narvaez said "Yes, if your fire alarm goes off, you are probably on the right track."