Gadget Of The Week: Kitchen Space Savers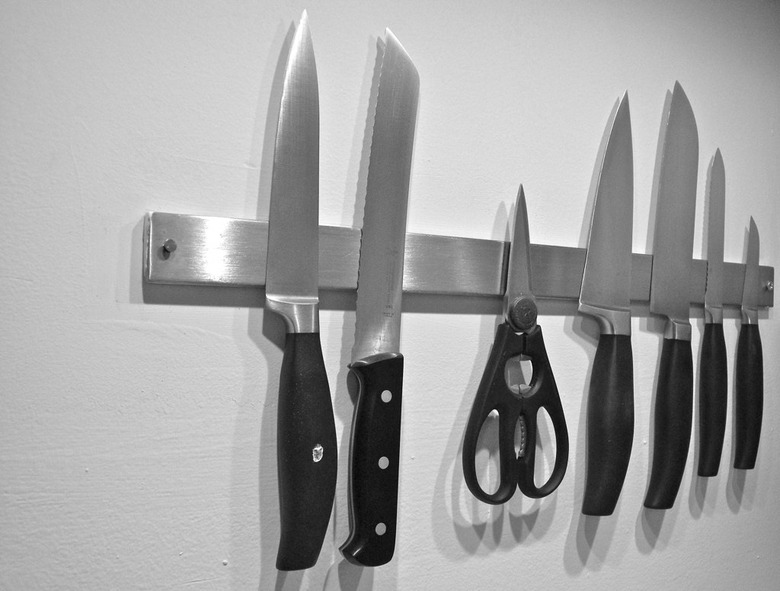 magnetic knives
There are so many space-saver gadgets on the market, it can be difficult to know which ones are actually helpful and which ones will just take up more space. That's why we're bringing you this Gadget of the Week roundup for kitchen space savers, one shiny new toy at a time.
Magnetic Knife Bar
It's time to forget everything you know about proper kitchen knife care and storage for that perfect razor-sharp chef's knife you finally found. And if you don't know anyting about proper knife storage, here's the only one you'll ever need. Get rid of that risky knife drawer, counter-consuming block, or however else you may be keeping your cutlery. Suspend your sharp objects on the wall. They won't fall, we promise! This beauty holds a knife better than you do. Just don't bump into it, and you'll be on your way to freeing up valuable kitchen space in no time.
Available for $39.95 at Williams-Sonoma.com
Chef Basket
Just like the television ad says, the chef basket does it all. It drains your pasta, holds your steamed vegetables and even doubles as aesthetically-pleasing fruit storage. So, how did it make it onto our kitchen-space-saving gadgets of the week? Well, after this basket is done doing what it does best, it can be folded flat to tuck away with your cutting boards or in other tight spaces, even in a drawer. You know, the one that'll be empty after you finish hanging up your magnetic knives.
Available for $14.24 at Target.com
Dish Drying Rack
Unlike your ordinary drying rack, this little gem fits snugly into corners to help free up valuable counter space. Not only can you store your silverware in it, you can also turn it sideways and tuck it away when you're done drying your dishes. Perfect for those with small kitchens or if you just don't have that many dishes to wash.
Available for $24.95 at FreshFinds.com
Dip Clip Clip-on Plastic Dips & Condiments Cups
Alright, we found it, the holy grail of dip dishes. So what if it came from a kid's website, there's no reason we can't like it, too! Not only can you clip it onto your chip plate, but it'll virtually clip on to any plate, saving you table space and the effort of carrying two dishes at once. Think of the possibilities! Think steak sauce, salad dressing, soup and beyond.
Available for $7.95 at Kid Smart Living
Plate Cradles
Don't have the cabinet space to fit all of your awesome new gadgets and your plates? Don't stress out at the irony just yet, we have a gadget for that, too! Take a look at the plate cradles, and they do just what their name suggests. These book end-looking tools cradle your plates so you can stand them up in the cabinet, freeing up most of your cabinet for other (more fun) kitchen tools.
Available for $9.99 at FreshFinds.com
---
Be sure to check out some of our other Gadgets of the Week: