Brunch For The Horn Of Africa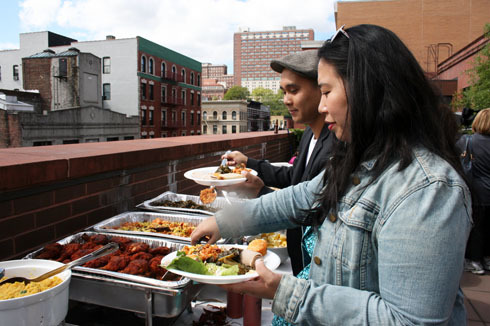 Yesterday morning, the Samuelsson residence was the place to be as far as brunch was concerned. Chef Marcus, Food Republic's co-founder, and wife Maya threw a brunch at their Harlem home to raise funding for East Africa. The twist on this event was not just the food, a blend of African and homestyle American (cooked by Chef and wife together) featuring dirty rice and shrimp, corn bread, lamb, stewed lentils and malva pudding, but how the Samuelssons will be helping those in need with the money raised.
Maya and Marcus share Ethiopian heritage, and Maya will be traveling to the Ethiopian border, where hundreds of thousands of East African refugees currently await aid, to distribute food, vitamins and water herself. This way, they can ensure that 100% of the money raised during the brunch goes to the people.
Says Marcus of the event, "All of us have things we care about and through Facebook and Twitter can easily engage our own friends and community. There are so many things happening in America that it can be hard to think about the other things going on. Being Ethopian-American, I took it on as my responsibility to highlight that. It was a truly diverse time we all had together, and it made me so happy to highlight the suffering in the Horn of Africa by doing something positive."