Varasano's Nucci Pizza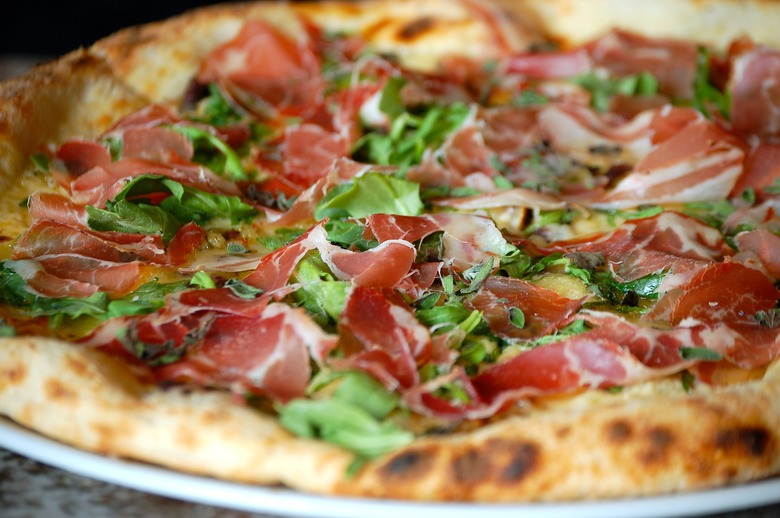 varasano's pizza
We like fine meats and leafy greens on our pizzas, especially when they are of the Italian variety. Luckily, Varasano's Pizzeria in Atlanta, GA offers us just that for Pizza of the Week.
Varasano's offers simple yet high quality pizzas with famously thin flaky crusts, which leave the oven delicately charred. Thanks to owner Jeff Varasano's obsessive dedication to crust excellence, his pizzeria has been declared part of the upper...er, crust by customers, critics and celebrity chefs alike.
The Nucci pizza is topped with capicola, arugula, garlic, olives and herbs. A classic Italian combination, were it not for the fact that the cheese of choice is Emmenthaler, a variety of Swiss cheese. Usually used for fondue or croque monsieurs, Emmenthaler is rarely found on pizza. Nevertheless, its ability to melt divinely makes it a strong candidate for pizza cheese, and we wholeheartedly support Varasano's choice.
Italy and Switzerland make good neighbors, and the proof is in the pie. The mellow Emmenthaler balances nicely with the spice of capicola and peppery arugula. According to Varasano, the Nucci pizza also represents an alliance between the different tastes of men and women. In his years of serving pizza, he found that men went for the pizza with meat on them while women went for the lighter, leafier offerings. After much experimentation, he created the Nucci, which appeals to both sexes. All in all, the Nucci seems to promote good relations, the most important being the one between you and your pizza, of course.
And hey! If you're in NYC or planning to be for the fest, Food Republic is media sponsor for a pizza-tastic event. Purchase tickets for Pizza After Dark at Pulino's featuring chef Spike Mendelsohn at the Food Network New York City Wine & Food Festival, Saturday, Oct. 1 from 11 pm-1 am at Pulino's Bar Pizzeria, 292 Bowery, New York City.
---
More delectable pizzas from Food Republic: