Sandwiches: Seafood Salad > Tuna Salad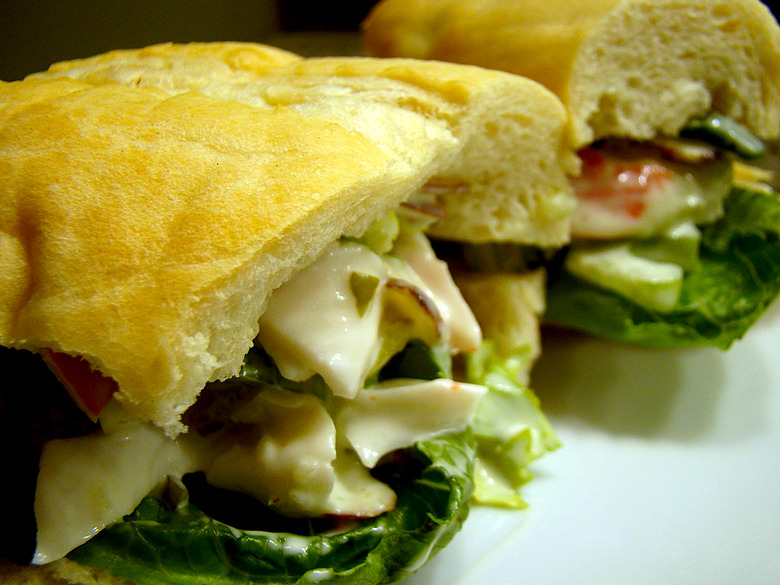 seafood salad sandwich
Let me say right off the bat, I'm not talking about the seafood salad from the supermarket deli counter. It's mostly soggy "krab," maybe a little shrimp, some dried dill and a whole lotta mayo. This random weeknight creation of mine was made with various seafood items and did involve mayo and dill, but the two sandwich examples are not the same.
I tossed together equal parts (about 1/3 cup each) of roughly chopped boiled shrimp, lump crab, leftover stir-fried bay scallops and just a little imitation crab for that weird juicy sweetness it's got going on (and of course, a touch of shocking pink). Then I added a tablespoon each of mayo, Greek yogurt and lemon juice, and two tablespoons of fresh chopped dill and minced celery. Finally, a good grind of black pepper and some coarse salt. I let it sit in the fridge for half an hour, then stuffed it into a roll with some Romaine lettuce.
It was amazing. It lacked the meaty fishiness of tuna salad that I really enjoy but am not always in the mood for. It was light, refreshing and filling without being heavy at all. I could eat a lot of it. It would be nice in an avocado half. It would be nice with diced mango. It takes to variations like those better than tuna salad, and unlike some aforementioned salads, can be brought on a plane without soliciting frustrated sighs from those around you. Of course, one area where tuna's still supreme is the melt. We can't really imagine doing this à la tuna blob, that unmistakable Food Republic original.