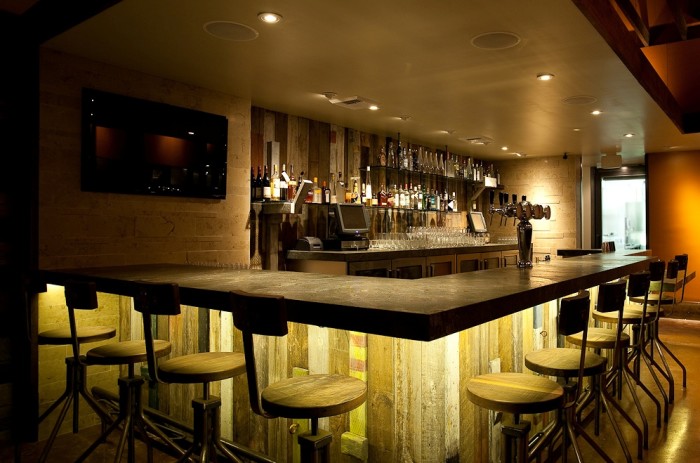 Los Angeles likes to think of itself as cutting edge. Everything here is about being hot and new: the hot new star, the hot new band, the hot new way of saying "hot new" (it's "fresh"). When it comes to craft beer, however, we're way behind. The hippies up in Portland have been lapping us for years, but the time has finally come to play catch-up. LA is getting into the craft beer scene in a big way and, like all Michael Bay movies, it's happening really quickly and on a massive scale. In the past two years alone, roughly seven thousand* breweries have popped up (*that number is possibly exaggerated). To match the scale of production, bars and restaurants are falling over themselves to offer the best craft beer list in the city. Some are really extensive and feature brews from around the country, some focus only on California beers, and others are great spots for food that also happen to offer a really well-curated beer list. No matter what, I'm just glad I don't have to drink another Stella ever again.
Here are five places that do craft beer right:
The granddaddy of LA beer bars is still going strong after more than a decade, and this place serves up roughly 40 different brews on draft in each of its two locations. Try extremely limited edition releases like the Sierra Nevada/Dogfish Head collaboration Life and Limb 2 or the Imperial Black IPA from San Diego stalwart Stone, a liquid celebration of their 15th anniversary. Super specialized stuff can also be found on owner Sang Yoon's impressive bottle list, so if you want to impress your pals with a $74 bottle of burgundy-aged Scaldis Prestige De Nuits, this is your spot. After you pick your poison, you can order up a Father's Office Burger (named by Esquire as tops in the country), but I always go with its upscale brother: the bistro steak. No matter what, you'll be relaxing in style – as long as you can snag a seat. LA/Culver City: 3229 Helms Avenue; Santa Monica: 1018 Montana Avenue, (310) 736-2224
The whole mission of The Golden State is to be "a talent show for the best makers of food and drink in California." That means that the beers they serve (with a few rare exceptions) are all California born and bred. Bear Republic, Craftsman and The Bruery are all regular visitors to the rotating taps, and the just-right Golden State burger was enough to land this place on LA food critic/deity Jonathan Gold's list of 99 Essential Restaurants. If you have any questions, hit up co-owner Jason Bernstein. He's a beer aficionado who loves to talk you through the process of selecting the perfect pint. Parking sucks and the seating is fairly limited, but those problems seem to fade away when you're enjoying a beer float made with wacky Scoops gelato flavors (brown bread, anyone?) and an Old Rasputin from Fort Bragg's North Coast Brewing Company. Fairfax District: 426 North Fairfax, (323) 782-8331.
3. Mohawk Bend
If Golden State is the boutique California beer bar, Mohawk Bend is the superstore. With 65 local beers on tap and California wines and spirits to boot, this place doesn't just embrace the "drink local" ethos — it hits you over your West Coast-loving head with it. Three taps are reserved for nitro beers (kegs pressurized with nitrogen instead of carbon dioxide), so you can finally combine your love of beer and American Gladiators. The vegan-friendly menu fits right in with the super-hipster Echo Park location, and with beer prices hovering between $4-$6, you'll have extra cash leftover to pay for the cab you're going to need when you stumble outside. Echo Park: 2141 West Sunset Boulevard, (213) 483-2337
4. SmithHouse
The newest addition to the LA beer bar scene is also the biggest. Just opened less than a month ago, this Century City "tap & grill" offers 120 beers on tap. I repeat: ONE HUNDRED AND TWENTY BEERS ON TAP. That's one beer for each time I've sworn never to watch Entourage again. While there are definitely local brews on tap, the list includes craft beer from all over the country world like New Orlean's Abita, Chicago's Goose Island and Brouwerij Huyghe out of Belgium. They even have five booths that come with your very own taps so you can pour your suds without trying to flag down a bartender every time your glass goes empty. Top Chef Angelo Sosa designed the menu and it's filled with twisted bar classics like the Tuna Reuben Melt, made with tuna pastrami and St. Louis spare ribs glazed with sweet pineapple barbeque sauce. Century City: 10351 Santa Monica Boulevard, (310) 432-4360.
5. M.B. Post
What happens when you take a fine dining chef out of downtown and send him to an old post office in Manhattan Beach? You get the exuberant new M.B. Post. Chef David Lefevre, formerly of seafood powerhouse Water Grill, is manning the stoves, and his forever-changing global menu serves up everything from Moroccan BBQ lamb belly to Australian hiramasa with yuzu kosho. While the food is unforgettable, the beer list is equally eclectic. Grab a pint of Oskar Blues' Mama's Little Yella Pils on tap or switch over to the bottle list, which mixes American craft beers (Racer 5 IPA, Stone's Arrogant Bastard) with Belgian specialties (Hopf Helle Weise, St. Feuillien Tripel). This place is packed with surfer dudes and beach bunnies every night, so if you can't score a reservation, grab a seat at one of the communal tables or just belly up to the bar. Your stomach will thank you. Manhattan Beach: 1142 Manhattan Avenue, (310) 545-5405.
---
More Beer Hot Fives on Food Republic.