The Father Of Haute-Alaskan Cooking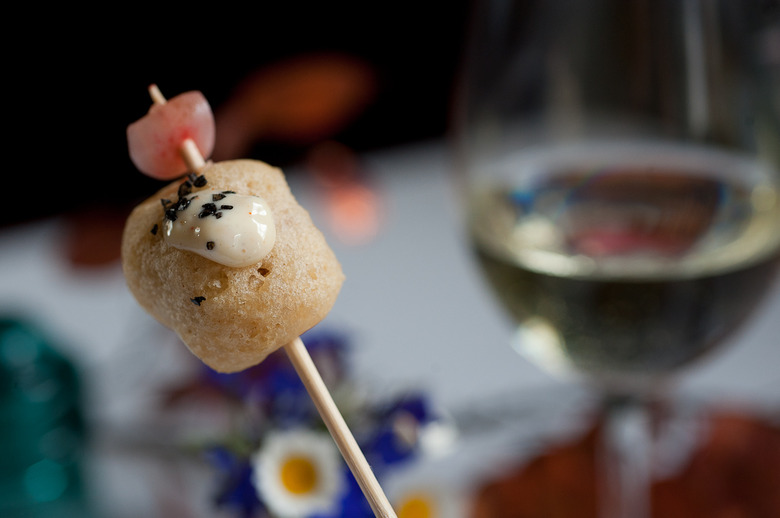 Some people are born into their career. Take Joshua Slaughter: With that name, could he have become anything but a butcher or a chef? Embracing his moniker, Slaughter has carved out a profession as one of America's most innovative chefs, having made a name for himself at Bouchon Bakery and wd~50. But to sample Slaughter's forward-thinking, locally rooted cookery — Alaskan salmon funnel cake with apricot chutney; pork raised by a neighbor, partnered with candied fennel — you'll either have to catch him at NYC's James Beard House or book a flight to the Great White North.
From late spring to early fall, he's hunkered down near the glacier-strewn Wrangell–St. Elias National Park in McCarthy, Alaska, a minuscule city where the population can be counted in the dozens. Despite the town's small size, Slaughter crafts outsize tasting menus at the McCarthy Lodge, giving tourists a taste of Alaskan cuisine — elk and all.
What's it like to be an Alaskavore?
It's a lot harder in Alaska to source local foods because it's such a vast state. You have to redefine what is local — we consider anything that we can get in Alaska to be local. But barley and things like stone fruit don't really grow up here. It's all rock. Yet we get our eggs and salmon from local farmers and fishermen. We have a greenhouse on our property, and we can also forage for ingredients such as berries and mushrooms, like morels.
Where'd you forage those?
We turned a really bad situation into a good one. A few years ago, we had a 40,000-acre wildfire. The first year after the fire, the ground is really good for growing morel. The site of the fire was a 30-minute fly-out from the McCarthy Lodge, but we headed out there and picked our mushrooms.
Alaska is a long way from Manhattan and the Napa Valley. How'd you get here?
I came to Alaska on a vacation and I fell in love with the place. I love to go hiking on glaciers, exploring the old copper mines and be outside.
It's easy to love Alaska during the summer. Why don't you stick around for the winter?
We only have a 120-day season. It's in my blood to cook, and I couldn't stand to go the entire winter without cooking.
One winter, you went to wd~50 in New York to cook. How do you think Wylie Dufresne would do in Alaska?
I would love for him to come up to Alaska, but he loves New York. As a vacation, he could totally come up here and work. However, we're completely off the grid. Our generator is not strong enough to power all the toys he would want to use—me too. We have to regulate the usage. We have to think about what the machine takes up in electricity. It limits the produce we can store in the cooler, and even the number of coolers we can operate.
You've been known to cook yak and elk: Sell me on the best preparation.
The thing that you have to remember when you're introducing something new to someone is that you have to do it in a familiar way. We keep most of our out-there stuff on the tasting menu. We bring people out of their comfort zone, then bring them back in.
What's the trick to bringing someone out of his or her comfort zone?
We like to play with presentation. For our "kitchen sink" dish, we like to place food in a sink plug [such as chicken stew with kale], then top it with a foam that looks like soap suds. The dish looks like something you dragged out of the bottom of the sink.
Where do you like to eat when you return to civilization?
Every season I crave one thing. This year I want really bad Chinese food. I can't wait to get some sesame chicken from a little store in Alabama where I grew up. Last year, I wanted really junky drive-thru food, like a Big Mac. I'm up here for five or six months at a time; when you get cravings, they stick with you.
You don't dream of dining at Michelin-starred restaurants?
We have foie gras here. Going to other people's restaurants is not a priority. It's stuff that you grow up with that you miss.
I'll tell you one person I'll never miss: Sarah Palin. Have you cooked for her?
[Laughs] No, I have not cooked for Sarah Palin.
---
More chef interviews on Food Republic: