Tailgate Toe-To-Toe: Eagles Vs. Falcons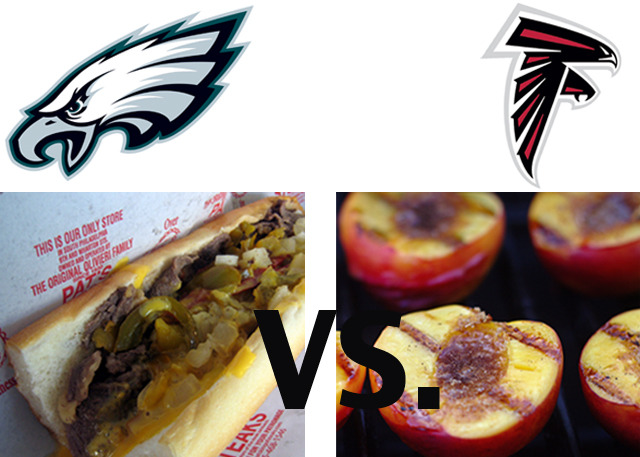 Tailgate Toe-To-Toe picks a weekly NFL game and analyzes the matchup—on the field and in the parking lot.
Let's start with the visiting Philadelphia Eagles, or a "Dream Team" as Vince Young described them. For me, it's nearly impossible to think of the birthplace of America without envisioning Benjamin Franklin inhaling the city's famous cheesesteaks. A turf war between Pat's King of Steaks and nearby Geno's Steaks is legendary, and has evolved into a full-blown melee with "upstarts" like Jim's, John's Roast Pork, Tony Luke's and Steve's Prince of Steaks. It's a dish that you see on menus everywhere, Subway included. Unfortunately for diners living outside the City of Brotherly Love, if it's not made in Philly, it's not the aforementioned sandwich.
But at a typical Eagles tailgate, you probably won't find too many locals attempting to cook up their own version of the city staple. Bob "Cav" Cavanaugh, winner of the Philadelphia Daily News Tailgate Award, serves up plenty of other options: filet mignon sandwiches (which he marinates the night before in sea salt, whiskey, soy sauce, Dijon mustard, green onions and brown sugar), scallop kabobs, and a whole roasted pig to name a few. You can find Cav cooking out of his Eagles Express mini bus in the Jethro Parking Lot before every game—where the Yuengling flows like wine.
The home team Atlanta Falcons have some of their own ingredients to throw down in the kitchen as well. Coca Cola is a classic. Sure, it mixes well with the likes of Jack Daniels and Captain Morgan, but try the ATL export as a braising liquid or even as the base of a steak marinade. Then there's Georgia peaches, not to be confused for the women's baseball team out of Rockford, Illinois. A star on a grill in its own right, a barbecued peach can enhance any ordinary dish, from a chicken sandwich to a tropical-themed hot dog.
Tom Dunn, creator of the very first fanbulance, represents Atlanta's premiere tailgating crew the Bird Watchers. Although the hundreds of eaters that surround the trademarked "fanbulance" sport Falcons gear, the menu reflects the game's opponent—think crab cake slammers when the Ravens come to town. Still, you probably won't remember what you ate anyways after drinking "Falcon Piss" all morning—that's Jack, Fresca and jalapeño juice for those not in the know. Dunn, a 2011 inductee to The Pro Football Ultimate Fan Association, originally wanted to decorate an old hearse, complete with coffin and mannequin dressed in the uniform of any given Sunday's foe. Ultimately, a decorated ambulance, clad in black and red, serves just fine.
A popular habit in the South is deep-frying, and Atlanta is no exception. Bubbling vats of oil can be seen transforming everything from okra to turkey legs into a final product that guarantees to be far less healthy than the original. (If you're looking for popular state-fair attraction Fried Coke, you're probably out of luck—it's more of a Texas thing.) Coolers full of beers, impromptu tossing of the pigskin and burning hot liquid sounds one Johnny Knoxville short of 1,000,000 YouTube hits.
Onto the game...
Sunday marks the first time Michael Vick sets foot in his old stadium. Although the Eagles' 31-13 win over the Rams is misleading by the numbers in my opinion, Vick still had all day to throw from the pocket. And when he was chased out, he made the defense pay by racking up 98 yards on the ground. If Matt Forte's opening game stats vs. the Falcons D are any indicator, I expect another huge performance from LeSean McCoy. Atlanta gave up an average of 105.9 rushing yards and 240.4 passing yards a game last season. Vick's squad will only expand on those numbers.
Not all is lost for Falcons fans. The inexperience at the linebacker position allowed Cadillac Williams to look like his old self in Week 1. And Cadillac Williams is not Michael Turner. Turner carried the ball just 10 times and managed to pound out 100 yards. The dirty birds' success against Philadelphia hinges solely on Turner's legs. I don't foresee dazzling numbers from the likes of Roddy White, rookie Julio Jones and future senior citizen Tony Gonzalez against ball hawk Asante Samuel and Andy Reid's new toy, Nnamdi Asomugha.
This game was an anticipated battle of two teams vying for NFC supremacy. But what I saw from Da Falcons vs. Da Bears doesn't bode well for a nail biter in Week 2. In the end, Matty Ice doesn't bounce back (as much as he'd like) against a very formidable cornerback tandem and Vick and company roll on the offensive side of the football. As a Giants fan it sickens me to write this...GAME PICK: Philadelphia 35, Atlanta 24
I'm a huge fan of the city of Atlanta. Woodfire Grill, owned by Top Chef alum Kevin Gillespie, was not only one of the best dinners of my life but converted me to a full-on okra enthusiast. Top Chef All Star winner Richard Blais and his Flip Burger Boutique also call Hotlanta home. Having said that, Philly wins this one pretty easily for the T4 Sweep. FOOD PICK: Philly Cheesesteaks 31, Atlanta Coke Madness 17
---
More football food and drink on Food Republic: