5 Great Food Neighborhoods In Copenhagen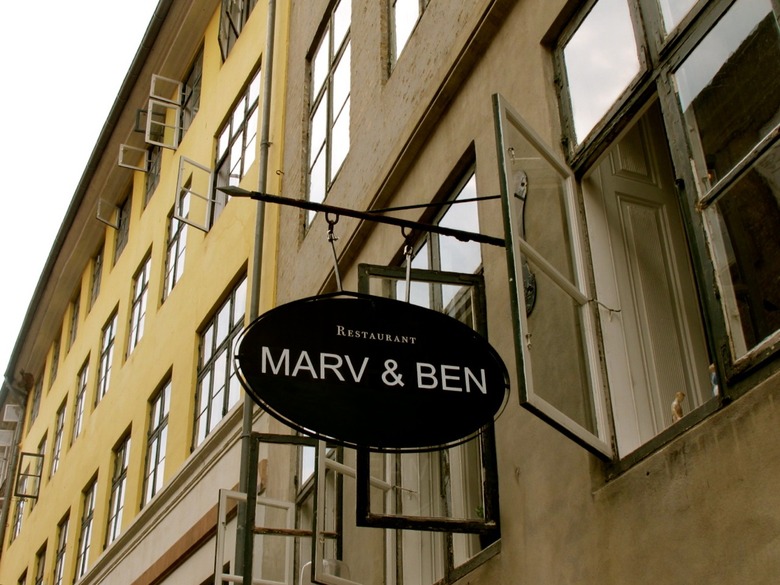 Marv and Ben restaurant, Copenhagen
Mention Copenhagen to a food lover and fantasies of indulgences at René Redzepi's Noma foraged from a Danish forest or plucked from a pristine Nordic sea trigger desire-induced heart palpitations. The number one restaurant in the world for the past two years has put Copenhagen on the culinary map, but on a recent visit I discovered that the city's culinary star does not burn on the fuel of Noma alone.
Copenhagen's wealth of restaurants, bakeries, markets and pubs lining the city's canals and ancient streets feed a gastronomic fire that has never burned brighter. The compact city is easily traversed on foot, but to truly feel like a local, rent one of the city's bikes (free with a nominal deposit) to explore Copenhagen's impressive landmarks and distinctive neighborhoods, each offering a wealth of dining options to fit every budget. Take these 5 neighborhoods and their exquisite dining options, for example:

Near the Copenhagen National Stadium (Parken)
The Danes take football [soccer to Americans] seriously, and this 42,500 capacity arena just north of the city center in Østerbro is where the drama unfolds. Also home to Copenhagen's most famous landmark, The Little Mermaid statue (I must admit I was a little baffled by all the attention it receives), Østerbro's tree-lined, cobblestone streets meander past several intriguing restaurants including the lively vegetarian eatery BioM and the strictly carnivorous Rex Republic, serving some of the city's best steaks procured exclusively from Danish breeds. After exploring the Kastellet Citadel and sampling smoked herring from one of Fiskerihavnen's colorful fishing boats, settle in for dinner at Geranium to experience the "total universe" cuisine of 2011 Bocuse d'Or winner Rasmus Kofoed.
Near the Assistens Cemetery
One is bound to work up an appetite strolling through Assistens Cemetery to visit the graves of some of Copenhagen's most famous citizens, including Søren Kierkegaard and Hans Christian Andersen. The district of Nørrebro, where it's located, is happy to appease hunger pains. The infectious vitality cultivated from the dynamic student and immigrant communities is reflected at Relæ, where refined cuisine prepared by Noma alums is served in a relaxed and unpretentious setting. Fifty-year-old Harry's Place on the outskirts of Nørrebro serves cherry red-cased hot dogs—Copenhagen's most beloved street food—with cold chocolate milk to wash them down. Head to Nørrebro Bryghus for one of the brewery's handcrafted ales, including an English-style stout or a crisp Belgian white before dinner at Radio, one of the city's most heavily buzzed new restaurants; it's owned by Noma's co-founder Claus Meyer, who spearheaded the New Nordic Cuisine movement.
Near Frederiksberg Palace
Located on the quaint island of Zealand in the district of Frederiksberg, the palace indulges tourists with elegant fountains, pavilions and grottos spilling into the area's lush parks and breezy boulevards. Frederiksberg is actually a separate municipality of Copenhagen, but from a culinary perspective it's impeccably stitched into the city's epicurean tapestry. Claus Meyer makes another appearance with Meyer's Deli—one of three throughout the city—serving a small-plate menu of Danish specialties. To sate a pastry fix stop by Lagkagehuset, recently voted Copenhagen's best bakery, with several outposts throughout the city. For a more extravagant dining adventure stop by the former 18th century orangerie of Mielcke & Hurtigkarl , located in the genteel Frederiksberg Gardens.
Near the Royal Castle (Amalienborg)
The winter home of the Danish royal family features four palaces dripping in rococo opulence. The castle is an ideal introduction to the historical, medieval heart of the Indre By (Inner City) and its wealth of impressive sights. The good news for the landmark-weary is that the area also teems with dining opportunities for every budget. The hot dog is gussied up at Den Økologiske Pølsemand (Døp), with organic beef and pork served on sourdough and linseed buns. For something more upscale head to Danish celebrity chef Bo Bech's restaurant Geist. Another fine dining prospect is the two-story restaurant Marv & Ben. Nearby is the Michelin-starred AOC, where the lauded tasting menu is served in a serene basement setting of vaulted white-washed ceilings. No trip to Copenhagen would be complete without enjoying smørrebrød, and at Aamanns, near the National Gallery of Denmark, the open-faced sandwiches are given a contemporary interpretation. End your gastronomic journey of the Indre By through the unmarked door of Ruby, a sophisticated bar that skips the pretense in favor of some of the city's best cocktails.
Near Tivoli Gardens
Tivoli Gardens, a whimsical 19th century amusement park near the district of Vesterbro, has much more to offer than ferris wheels, including British chef Paul Cunningham's Michelin-starred restaurant The Paul, located in a greenhouse-styled glass building and concert hall. Herman, where "radical and affectionate" interpretations of traditional Danish dishes are served, also boasts a Michelin star. In recent years, Vesterbro has transcended its seedy reputation to emerge as one of Copenhagen's hippest and most dynamic districts, and Mother is a prime example. The casual establishment located in the Meatpacking District (Kødbyen) offers sourdough-crusted (a.k.a. gluten-free) pizzas baked in a wood-fired oven. At former Noma general manager Anders Selmer's København Fiskebar, meat hooks hanging from the ceiling and a tank of hypnotic jellyfish compete for attention with the restaurant's modern seafood dishes. Karriere Bar is a good place to stop for a pint before continuing your gastronomic tour at Dyrehaven (Deer Garden), a decades-old establishment that has abdicated its sordid past to become one of the city's most beloved cafés. Still hungry? Don't miss the covered market of Torvehallerne. The 60-vendor gourmet food mecca opened earlier this month near Nørreport Station. It's a bit of a trek from the city's epicenter but for the food-obsessed, it offers a culinary paradise to those willing to take the trip — much like Copenhagen itself.
---