Southern Hospitality's King Burger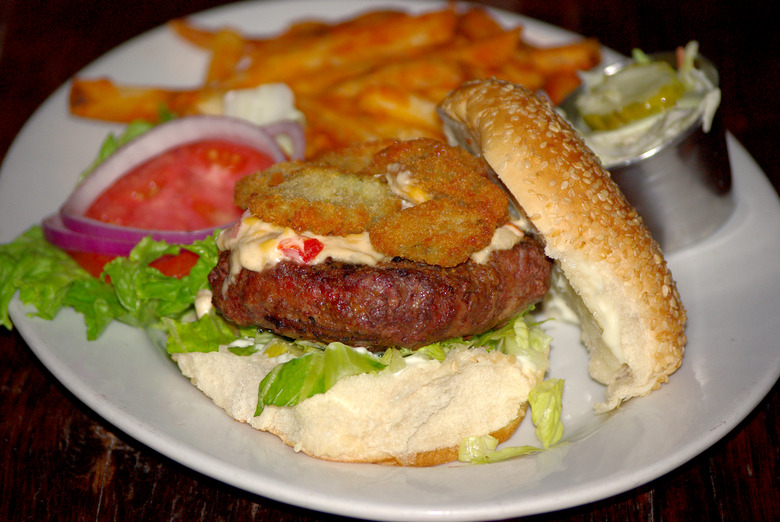 king burger
If you thought moving to New York City would also be moving far, far away from the authentic tastes of Southern BBQ, you might just be in for a pleasant surprise. Prepare yourself, home-cookin' enthusiasts, for we bring you the king of all burgers (in fact, it's even in the title). May we present for your weekly tasting pleasure, Southern Hospitality's King Burger. Not only is this hunk'a burning love thick, juicy and grilled to perfection, it's also named after the king of rock and roll himself: Elvis Presley. Started as a weekly special in celebration of the king's birthday, this tasty morsel became so popular it made a spot for itself on the menu.
According to the staff of Southern Hospitality, Elvis was a fan of the grilled pimento cheese sandwich. In case that wasn't royal enough, you'll also find another Southern classic adorned on top of this burger: fried pickles. Do you hear Elvis crooning in the background yet? If not, add an All Shook Up cocktail to the mix.
"We did this special, and it sold pretty well," says Southern Hospitality Chef Frank. "It complements with the crunchiness of the pickle and the sweetness of the pimento." Not only is this home-style cooking at its best, it's also sophisticated home-style cooking. Be sure to ask for the wine pairing menu, because this burger even has its own chef-approved drink selection.
If you can't make it to the city for this dining experience, don't visit the heartbreak hotel just yet. Southern Hospitality has big plans to expand into cities like Denver, Nashville, DC and beyond.
---
More Burgers of the Week from Food Republic: