Le Fooding Takes Manhattan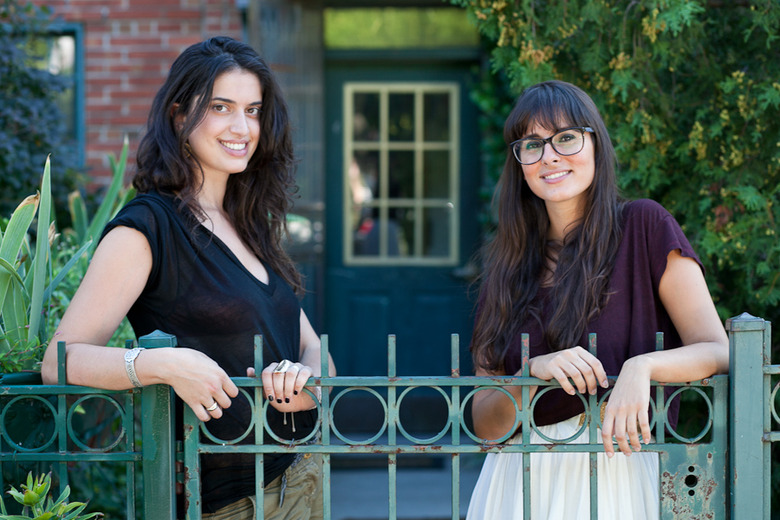 Anna Polonsky and Emilie Papatheodorou of Le Fooding
Le Grand Fooding comes to New York City for the third straight year starting this weekend, which made us think it'd be a good time to check in with the two French women who've been busily organizing the slate of culinary events from a Brooklyn apartment.
What is Le Fooding? At its core, it's a combination of the words food and feeling, but the organization itself was started in France in a generational shift toward treating food not only with blind respect but with more of a celebratory spirit. Or as Le Fooding's manifesto puts it, "Fooding is an artful approach to eating, to cooking, at your home or in a restaurant. It is an appetite for newness, imagination, quality, a love of beauty in the ordinary, a rejection of what is boring and a desire to take your time with your food."
Le Fooding's founder, Alexandre Cammas, is a guy we're down with here at Food Republic: a former music journalist associated with the insanely good freestyle radio station Radio Nova (which thankfully streams online), he started Le Fooding as a movement in part to change the conversation about food — while having a good time.
The latest example will be Le Grand Fooding, this year held in two parts in New York City, beginning with a "campfire session" on September 17, which will include eats from chef Inaki Aizpitarte from Le Chateaubriand in Paris; Dante Gonzales of Dante's Fried Chicken in L.A.; Wylie Dufresne of WD-50 in New York; and Milk and Honey's Sasha Petraske mixing cocktails. The following weekend in Chelsea, from September 23-25, Le Fooding will host the Exquisite Corpse event, which will feature a meal that is collectively assembled by 13 chefs from around the world over the course of 52 hours. Andrew Carmellini of Locanda Verde and The Dutch along with Hugue Dufour of M. Wells will start the assemblage Friday at 9 p.m., and Massimo Bottura will shut it down on Sunday from 9 p.m. to midnight — in between, 10 chefs from France, Belgium, the U.K., Italy and Slovenia will cook for the crowd in four-hour shifts. For the whole line-up and the menus (and to purchase tickets should you be in NYC), check out the Le Fooding site. A portion of the proceeds from the events — with support from San Pelligrino — will benefit Action Against Hunger.
But let's get back to the subject at hand. Here, the two organizers for Le Grand Fooding in New York and women we'd cook for, Emilie Papatheodorou and Anna Polonsky, recall their best man-cooked meals and why "a man who doesn't eat isn't sexy."
Emilie on her best man-cooked meal: My ex-boyfriend cooked for my whole family for my birthday — my brother, my parents and the two of us. Cooking for my family was quite a commitment. He bought and prepared everything. I didn't think he'd do the whole thing but he made a menu and printed it and gave it to the whole family. It was nice that he did it not just for me, but also for my family because I'm a family person. That was the best meal that a man has cooked for me.
Were there any special touches? I had never had oeuf cocotte au foie gras (a little egg dish with cheese, ham and crème fraîche) — his meal made me discover new dishes. He also taught my mom how to make oeuf cocotte.
What did you drink? We had champagne — it goes with the foie gras, so it makes sense.
Anna on boyfriends who cook: All of my boyfriends have loved food. A man who doesn't eat isn't sexy. I don't want an obsessive, but he must know a little about art de vivre. It's a turn-off otherwise.
Are there any boyfriends who stand out in particular?

Anna: I like simple things. One boyfriend stood out. The first meal he cooked for me — he started with good vegetables seared with bacon. Then he did a rôti de boeuf marinated in olive oil and thyme seared in the pan — almost raw but filled with thyme and salt. That's the kind of thing I'm sensitive to.
On men and cooking:
Anna: Men are more instinctive.
Emilie: They can open the fridge and improvise.
Anna: I have a story. When I first started working on Le Fooding in New York, I met this guy at a dinner party. At first I thought he was an obnoxious hipster but we talked about the cultural difference between meals in France and the U.S. and the fact that meals are to be shared. In France, as soon as you're doing something leisurely there's food and it's shared; that's why I miss dinner parties living here in New York. Anyway, this guy started talking about roasted chicken — especially the carcass. I said, "You too?" It turns out we both like the carcass most. Soon after he ended up inviting me over to his place for dinner. He made roasted chicken, removed the meat and served me the bones and carcass and vegetables. It was unexpected and I loved it.
The other story is the opposite in a sense. I used to have an Italian boyfriend. Italians outside of Italy really play up being Italian with the love of food and everything. This boyfriend planned and cooked a meal for me — arancini, cannelloni and lots of other typical Italian foods — he did Italian wine pairings and even served Italian water, San Pellegrino. Everything Italian. He was over the top. That was one of my funniest meals I've had cooked by a man — the décor and presentation and everything ultra Italian. It would be like a French guy cooking for you wearing a beret, playing the accordion and serving escargot.
What makes for a clever meal cooked by a man?
Anna: A clever meal is instinctive. It's almost prehistoric. You're a man and you find solutions. In this way a man can make you feel taken care of.
Emilie: Men don't intellectualize about food. There's no pretense. When a guy cooks it's a choice. It's also refreshing when guys aren't so into food to the point of being "gastrosexual."
What are your favorite restaurants in New York and Paris?
Emilie: In New York: Momofuku noodle bar — a "classic," but we don't have the equivalent in Paris! Marlow & Sons — I love how low-key it is and Anna initiated me to the chicken liver obsession.
In Paris: Guilo Guilo — I love Asian food way too much — and La Bocca Della Verita, to soothe my craving for risotto.
But most of all, I prefer picnics in the vineyards in the 18th arrondissement — more for the scenery than for the food!
Anna: In Paris: L'Ami Jean and Le Verre Volé
In New York: M. Wells; Franny's; Torrisi
Okay, last question: What's your relationship status?
Emilie: in a relationship
Anna: single
---