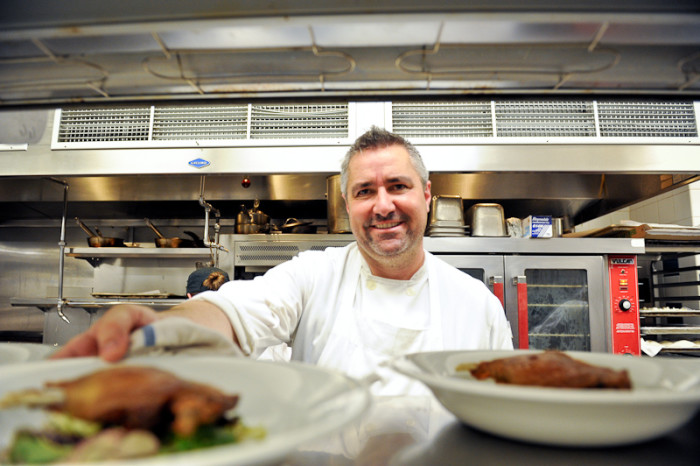 Model Elettra Wiedemann is out to dash that nasty little perception that people don't eat at Fashion Week. For four days this week, the model and activist has run a well-curated pop-up restaurant called Goodness at Ed's Chowder House — located just across Columbus Avenue from the tents at Lincoln Center. Participants included Iron Chef winner Christopher Rendell, Nicholas Wilber from New York City's Fat Radish and our coffee-loving friend Rob Newton from Brooklyn's Seersucker.
Yesterday Food Republic hosted a Fashion Week lunch at Goodness, where Newton did modern Southern dishes like fried green tomatoes and lettuce wedges with black walnuts and rich pork jowl. Duck confit—cooked with both duck and bacon fat—and shrimp and grits completed the savory side. Rice pudding with stewed plums and pecans praline closed the meal, which was enlivened with flutes of Moët making the rounds.
Editors and reps from Food & Wine, Thrillist, Wallpaper* and GQ joined the Food Republic lunch, alongside Sean Rembold of Marlow & Sons and Diner fame, and others.
Wiedemann says this initial iteration of Goodness is a dry run for a series food events tied to Fashion Weeks around the world. The face of Lancôme and a grad of the London School of Economics, she's the latest to explore the intersection of style and food, and Food Republic was glad to get in on the Goodness.
---
More style coverage of Food Republic: