Q&A: Spike Mendelsohn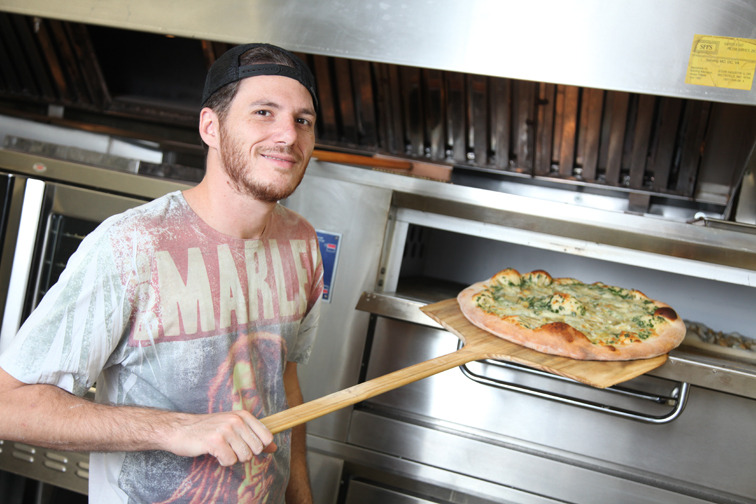 Spike Mendelsohn at We, The Pizza
When Spike Mendelsohn graduated from the Culinary Institute of America in 2005, he was awarded the school's highest recognition: The Francis Roth Leadership Award. (Which led him to work for Thomas Keller at Bouchon Restaurant in Napa Valley.) It's a big honor for a guy you most likely know from Scallopgate on Top Chef Season 4. Long story short, he cooked with frozen scallops and lost. And the Internet exploded the next day.
Mendelsohn has moved on, opening a number of successful restaurants in his adoptive hometown of Washington D.C. Good Stuff Eatery does burgers. We, The Pizza does NYC slices. The Obamas are fans of both. Whoa. We had to get the scoop.
You've mastered the art of both burgers and pizza, which is almost like left-brain versus right-brain. Or something like that.
They're very different. Cooking meat in general comes from a chef's background. Knowing how to come up with a really good grind — and cooking at the right temperature and using the right equipment — is what a cook does. The pizza business was something very risky and out of the box for me. By trade I'm not really a baker and I don't do any pastry. The process of learning how to bake a bread dough is definitely different. There's a science to it. A lot of it depends on the weather, humidity and the heat. There's so many different things that can go wrong for that product.
You pizza is described as New York-style. In what way?
When you think of a New York-style pizzeria you think of a joint where the pies are in the windows and you're picking a slice. It's a relatively thin crust with minimal toppings. The dough for a New York-style pizzeria really isn't that artisanal. There no double-zero flour and it's not Neapolitan.
President Obama celebrated his birthday with one of your burgers and the First Lady is a fan of your pizza. So, basically, your mind must be blown.
It definitely blows my mind. I opened up a restaurant on Capitol Hill with really no expectations. Michelle Obama comes in a lot with her kids and her administration, and I've been able to involve myself a lot with the community here in DC. The President coming in for a burger — that was like the first time for me since I opened up the restaurant. And he came in style, which was really cool.
What does that mean he came in style?
He came with a purpose. One of the reporters asked him for his first order of business after he settled the debt issue and he mentioned that it would be going and having a hamburger. And three days later he chose to come to my place. It was his birthday and they sang happy birthday to him.
You're hosting a late-night pizza party at the New York Wine & Food Festival. Will you be wearing a costume — as you have in many events in the past?
I think I'm opting out of a costume for the pizza party. I'm just gonna come as my regular self, which could be scary.
What's the party going to be like?
It's all about having some fun and throwing some pies in the ovens and feeding people and just keeping it really chill.
It's an all-you-can-eat sort of situation. What was your last experience with all-you-can-eat?
My last all-I-can-eat was a Korean buffet. It was this place called Honey Pig in Annandale, Virginia. It's just, you know, as much food as you can possibly put down.
Tell me about your hats. You wear them often. Do you have a hat maker?
I don't have a hat maker. I usually shop a lot at fedora.com. And there's a place in Annapolis that I really like.
And what do you look for in a hat, when you're shopping?
Something that is a little different. I usually like darker colors and woven hats, so that's kind of where I'm at.
And hey! If you're in NYC or planning to be for the fest, Food Republic is media sponsor for a late-night pizza party co-hosted by Spike. Purchase tickets for Pizza After Dark at Pulino's at the Food Network New York City Wine & Food Festival, Saturday, Oct. 1 from 11 pm-1 am at Pulino's Bar Pizzeria, 292 Bowery, New York City.