Field Report: Elway's Chef In Manhattan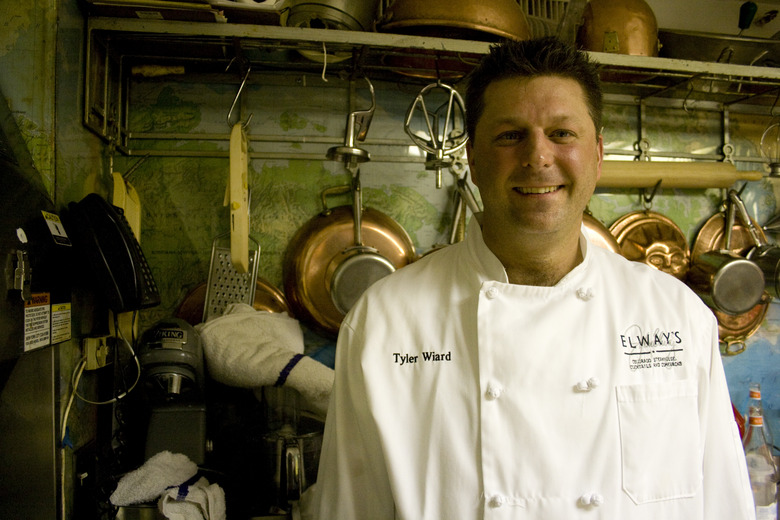 Chef Tyler Wiard
Last Friday, Chef Tyler Wiard of Elway's Steakhouse — yes, that Elway — in Denver came to New York to cook a Colorado-themed meal at the James Beard House. Among the highlights of the seven-course dinner were duck confit fritters, grilled Colorado goat loin, Colorado prime New York strip steak, and peach and blueberry cobbler. Even the bread looked tempting, but when goat and steak is coming your way you have to stay focused.
Wiard told us about his obsession with goat (especially in taco form), why he thinks vegetarian cooking is one of the hardest things to master, and what owner and Denver Broncos legend John Elway likes to order when he comes in. And for those of you who like to ski, you're in luck, the newest Elway's opens at The Lodge at Vail November 2011.
What interests you about cooking?
I love the instant gratification that food gives me because I'm an instant gratification kind of person. You make a prep list, you do the prep list — it's just so satisfying to me. You have to think but you also have to work. There's a craftsman part of it that I really enjoy.
What is Colorado food?
There's a Hispanic sense about food in Denver. We certainly dabble in that at Elway's even though we're a steak house.
The goat on your menu was really delicious. Is that a protein you use a lot?
I'm trying to "pioneer" goat. I truly have found that it's not a "shock" food. I think sometimes chef do things just for the shock of it; to be honest with you, I think I was like that, but I stopped doing that. I absolutely love goat because it's amazing for you and I really enjoy not only cooking goat loin, but goat leg.
How would you serve goat?
[Mexican] food. We roasted a couple of whole goats this year, shredded the meat and made a few goat tacos.
What do you cook at home?
Vegetarian. And the reason for it is because I believe that it's one of the hardest cuisines to cook. It inspires me. Protein itself is sometimes a no-brainer. But cooking vegetarian I really have to use what I call the trinity — my brain, my heart, and my gut instinct — and if all three of those are working I'm probably doing OK.
What about the man himself? What does John Elway order when he comes in?
He truly loves his ribeye. He likes good food and he loves the restaurant and I will quote Elway — he said this in a meeting a couple weeks ago — "The name Elway's may bring them to the door, but what the staff does inside that door keeps them coming back." I love that.