Rain And Champagne Soaked The U.S. Open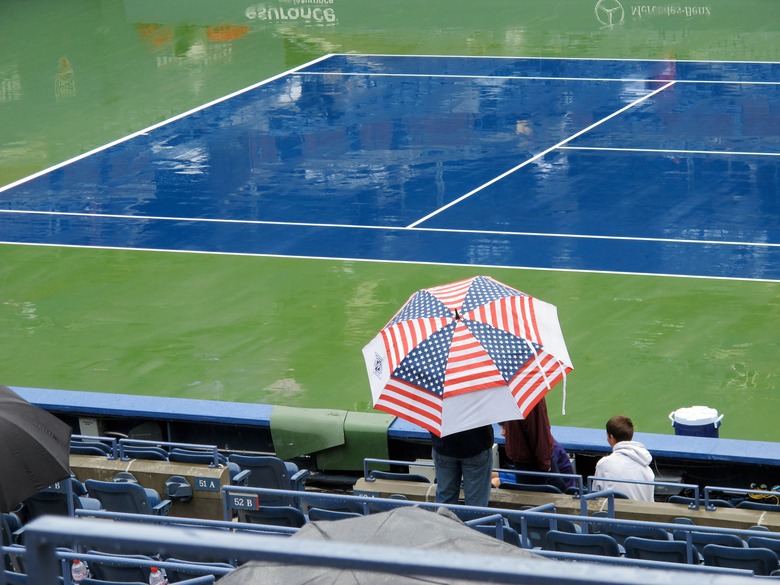 Today is the Men's Final at the U.S. Open tennis tournament (at 4pm Eastern). Because of rain delays throughout the two-week Grand Slam event, the finals was rescheduled from its usual place on Sunday. Tennis fans have not been the only ones frustrated by the weather. Players have complained about unsafe playing conditions. Those with tickets to rained out matches don't always like the ticket replacement policy — and sponsors have had their trials, too.
Moët, for instance, a first-year sponsor of the event, spent heavily to become one, to secure a luxury box, and to establish a champagne cart to sell bubbly to those entering Arthur Ashe Stadium throughout the event.
On the day I visited the Moët box, there was less than 20 minutes of live tennis. There was however, a nice tray of sushi and some fine goat cheeses to help pad the stomach, as two kinds of Champagne were poured, Moët Imperial and Moët Ice Imperial, a year-old variety.
We passed the time as best we could. Two guys in nice suits posed for photos with a display of magnums in the corner. Realtor Lori Huler Glick chatted about the time she dined with Todd English and Emeril Lagasse after Super Bowl XXXII in San Diego in January 1998. "There was a different over-the-top wine with every course," she said. "It was flowing."
Ben & Jerry's ice cream bars were brought into the box as a vintage match pitting Tracy Austin v. Martina Navratilova played on the flat screen. It rained some more. It stopped raining. They dried the court with suction machines. It started raining again. The cheese arrived.
Paige Pedersen, executive director of communications for Moët & Chandon, said the rain actually helped her appreciate the spirit of the Open. "We had one wonderful experience happen to us," she said today as she prepared to attend the Mens final, with number one seed Novak Djokovic facing reigning champ Rafael Nadal. "We had guests show up half an hour after the tennis had been canceled one night. They were nearly the only ones in the stadium. The kids from the US Open Fan Patrol happened to be down on the tennis court and they gave me and my guests a full performance of tumbling and cheering."
Also good for Moët was the approximately 10,000 glasses of champagne sold during the Open from their one little cart, she said.