5 Places To Eat & Drink In Venice, Italy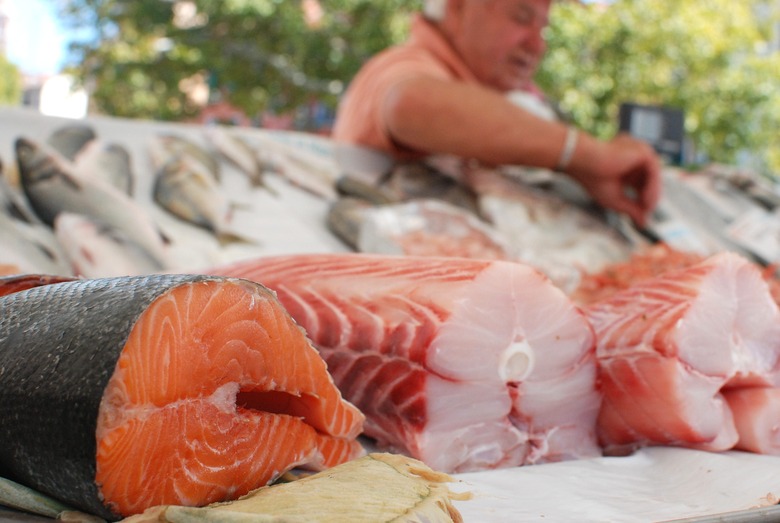 Fish monger
Venice. It's a centuries old city that excels in minutes-off-the-boat seafood, knee-buckling architecture and hospitality like only Italy knows how. However, hold on to your pocketbooks people! Between rampant street thievery and skyrocketing menu prices, Venice can be quite the expensive proposition. In my recent jaunt through the various campos and cobblestoned back alleys, I wish I could say I found deals. I did not. But here are five places worth a shot — alongside some hard-earned advice on avoiding Venetian pitfalls.
Four Indications of Authenticity
Venice has some of the best food in the world, though tourist traps are also as prevalent as rats and shouts of "ciao bella" from the randy gondoliers. Here are a few indicators that you've found a local food source:
The menu is entirely in Italian or contains the bare-minimum English translation. If the owner has taken the time to print a second menu entirely in English, beware.
The drink menu pays homage to fine Amaros and Italian beers. There's nothing wrong with a piña colada. In Aruba. Or a frosty Heineken. In Germany. Don't let the oppressive heat cloud your judgment on this one.
You aren't paying for the seat, the view or the band. Many of the famous places, like Caffé Florian, will tack on an extra charge for prime seating or the live band. While it's just a common practice, it's not appealing to the locals.
There's a squat toilet. While "squat toilet" may not make you immediately think "awesome linguine," true Italian family-owned joints more often than not have them. Wash your hands twice and get over it.
5 Places to Eat & Drink in Venice, Italy:
Possibly the most recognizable place to "park it" in Venice, Caffé Florian is still a must. Sure, it's touristy as hell, but it offers incredible views of the St. Mark's Basilica — it's been open and serving since 1720. To lean back in a wicker chair like so many hundreds of thousands before you and enjoy a cold drink on a hot day is a reminder that the real pleasures in life are the simple, timeless ones. Plus, you know a place like San Marco Square is intoxicatingly charming when parents forgo rational thought and let pigeons land on their firstborn child.
Order: The Spritz L'Aperitivo (12 Euros; one Euro is trading for $1.36 US on 9/12/11). The perfect shade of orange, this palate-cleansing bitter cocktail comes with an American amount of ice, a side of plump green olives and deliciously flaky pastry sticks. Best Time to Go: 11:30 p.m. Remember, Venice stops serving at midnight.
About a 10-minute walk from the chaos of San Marco, Campo Santa Marina is a tiny slice of quiet, with a charming hotel of the same name and a renowned restaurant that consists of 10 intimate outdoor tables. As I sat, the British man one table over loudly questioned the mustard ice cream. "Well, I've never had it before, but it's really quite clever." That applies to the entire menu, which offers fresh preparations of local spider crab, scallops crusted in Parmesan and garlic, and ink of cuttlefish over creamy polenta.
Order: The misto di cicheti (18 Euros) for a four-part sample of their freshest seafood preparations and a lovely 5 Euro glass of Ribolla Gialla. Best Time to Go: Lunch. Dinner demands reservations.
Many, many foodies engorged with insider travel knowledge and the self-assuredness that they "know best" might tell you to skip Harry's American Bar (where the Bellini was invented in the 1930s). They are judgmental morons. While the 15 (cough) Euro pricetag is extreme, imbibing Bellinis here is about the overall historical experience.
I've had a drink in many a bar where Ernest Hemingway liked to get sloshed (it's almost a sport for me at this point) — from The Old Absinthe House in New Orleans to Sloppy Joe's in Key West. Each has a style as elegantly simple as his writing. What's wanted and needed is provided. Extraneous words and frivolous adornments are banished, and the resulting place or page has a timeless feel because of it.
Harry's is a fine example, and the Bellini is epic.
Order: We've gone over that. Best Time to Go: Around 5 p.m. on a weekday.
Behind the market at the end of the Rialto Bridge lies a small strip of restaurants along a dark, sleepy portion of the canal. The first, Al Pesador, invites you to relax waterside in cushy chairs with a menu of reasonably priced petit portions. The seafood is ample and excellent, but opt for the duck breast — lacquered in honey with a cordon of red wine and rosemary sauce (22 Euros). It rests on a tuft of bitter lettuce that wilts slightly from the wonderful heat of duck jus. Consider washing down with a local beer as you partake in the owner's philosophy, printed on the menu. "To eat is a fundamental act of life. A respectful choice of food, presented in an aesthetically pleasing way, can simply help us to be better day after day." Amen.
Best Time to Go: 10 p.m. They are still serving, but the crowds have quieted. This spot also becomes a bar hangout for locals 'til midnight.
Campo Santa Margherita
There are a handful of places to grab lunch, dinner or late evening drinks in Campo Santa Margherita, located in the Dorsoduro district. Park benches, friendly dogs, fish mongers calling out the morning's catch and locals chattering away behind cigarettes and large sunglasses creates a local menagerie begging for a picnic. Grab a panini at Il Caffé Rosso for a mere four Euros and find a shady spot near the fountain. For late-night Negronis or cold beers, check out tiny Al Drogue bar or cross the piazza to sprawling Margaret Duchamp.
Order: The panini with rucola, speck and brie at Il Caffé Rosso. Best Time to Go: Any time of day or night.
---