Your Food-Related Dating Dilemmas Solved!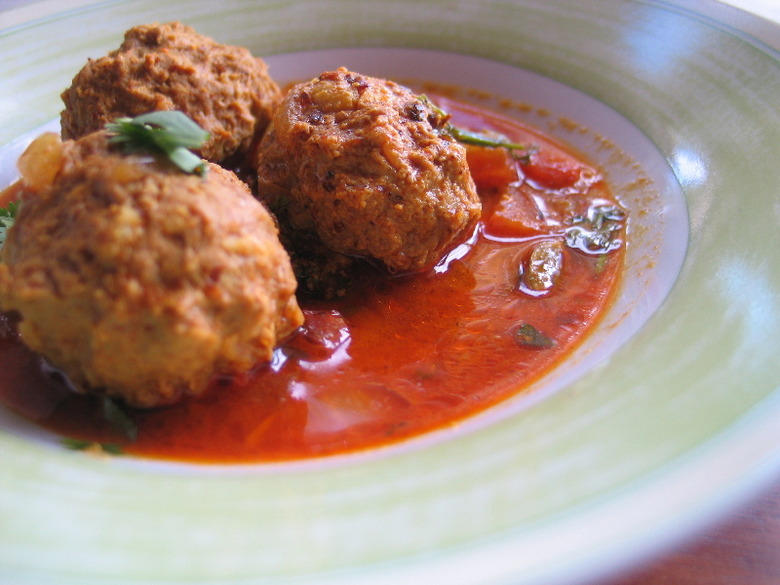 Meatballs
While the U.S. Postal Service may be in dire straits, the Heart Attack Mail Call is alive and kicking! I'm proud to say that people actually responded after my last call-to-arms and today I'll be answering my very first question:
"I like to make a special first dinner for a date once we've gone out a few times. I typically pull out my best dish: rack of lamb w/ a mustardy wet rub marinade, potato gratin w/ gruyere and heavy cream, slow-sautéed mushrooms and a salad of some sort. The problem's probably obvious so... What's an impressive and delicious alternative meal I can make that isn't so heavy?" — Date-dazzler in NYC (*for the record, Date-dazzler's a lady)
Date-dazzler,
I have to say, that meal sounds delicious and I'm totally jealous of your suitors. I'd love to encounter somebody who would make a feast like that for me. Your issue is definitely obvious, though. While most successful dates wind up in bed, it's usually not for a nap and that's exactly where I see this meal leading. You've got to lighten it up and I think I've got just the thing to help.
First off, I think you need to ditch the potatoes. Heavy cream and dates go together like skinny nerds and prison — the situation ends up badly. Why not stick with lamb as your protein, but do something a little lighter, like a meatball? You can still make your slow-sautéed mushrooms, but get creative with the meal. Put out your meatballs, mushrooms and a few other options like grilled veggies and basmati rice and turn your evening into a make-your-own pita adventure. That way, your date can be responsible for just how heavy or light they want to make their meal and you're absolved of any responsibility for possible food comas. It also adds a fun competitive element as you both try to make the best pita possible.
You can even take the theme a little bit further and get a bottle of arak, an anise-flavored spirit found in Middle Eastern countries like Lebanon, Jordan and Syria. Make your own arak cocktail and your date will be impressed forever. You may even be able to turn that rack-of-lamb nap of yesteryear into a lamb meatball sleepover of a much more appealing variety.
Hope this helps,
Jason
If you have a question that hits the sweet spot of food and dating, go ahead and send it to: editorial@foodrepublic.com.
---