I Survived The National Buffalo Wing Fest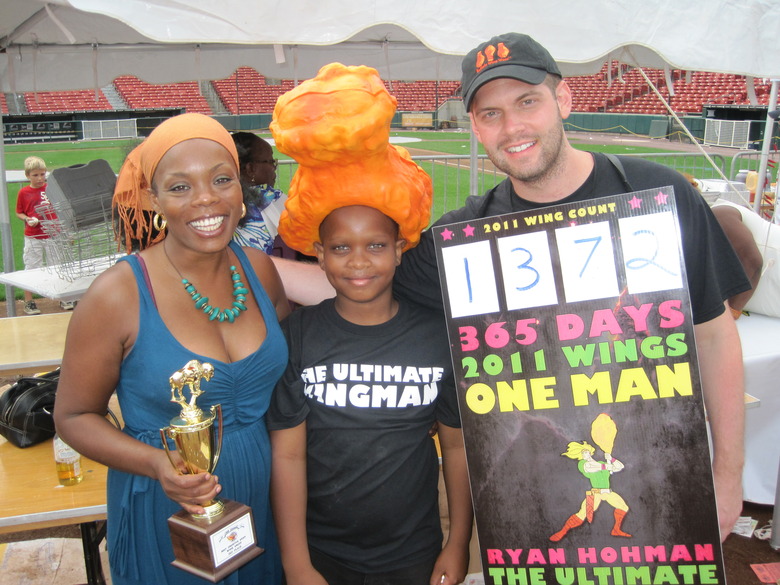 Super Wings
Let me start by saying that being an official taste tester at any chicken wing festival is a pretty sweet gig, let alone for the "Super Bowl" of wings, the National Buffalo Wing Festival. Free wings, more free wings, and even more free wings. For two days, I can let my gut hang out and it's alright. Everybody's doing it. If you don't, you're not cool. Sounds like the best gig ever, right? Actually, it's not as easy as you'd think, especially if your New Year's Resolution is to eat 2,011 chicken wings and you roll into the festival with a 24 x 34 sign strapped to your chest that boasts how many wings you've eaten so far this year (1,314 for me). I've been hyping up my appearance at this fest for months. It was now time for me to deliver.
How Do I Do This For A Living?
On Day 1 of the festival, I arrived at Coca-Cola Field early to chat with the festival organizers about my obligations. They were pretty simple. Eat wings, take pics, Tweet and Facebook like crazy and have fun. No problem.
The People
I strapped my wing count sign to my chest and started making my way through the crowd of 40,000 plus. Immediately, I felt curious, puzzled eyes on me. By the end of the weekend, it was a normal feeling.
After staring at my sign, trying to figure it out, people would approach me and say, "What's this all about?" and I'd explain my wing project. It took a few minutes for them to digest the concept, but when they got it, they loved it! Several questions followed. "What does your doctor say?" "Have you had your cholesterol checked?" "What made you think of this?" "Where are your favorite wing places in NYC?"
These conversations usually ended with a photo. Sometimes even an autograph. For once, someone was asking me for my John Hancock besides my landlord. We then say our goodbyes, where "Bye" was usually replaced with "I'll look you up on Facebook. Good luck."
The Vendors
One of the best perks of being an official wing taste tester was the VIP credentials. This allowed me to bypass waiting in line, which was especially nice considering the temperature reached 95 degrees on Saturday.
Like the spec-tasters, the vendors were curious about my meaty resolution and eager to hear what I thought about their wings. All the vendors were extremely nice and excited to be there. However, one vendor stood out from the rest. Ira Levy, owner of Buffalo Wings and Beer (Gaithersburg, MD), was that vendor. At the 2010 festival, his wings took home first prize in the "Creative Sweet" category for his Sweet & Tangy sauce. Not only did Ira give me a special plate full of his award-winning wings, but he showed me a chicken wing tailgating trick that he likes to call The Pinky Wing. I will definitely break it out during the upcoming NFL season.
Another vendor I enjoyed getting to know was Frank's For The Memories (Mundelein, IL) owner Jim Schultz Jr. His restaurant's strategy coming into the fest was simple. Don't mess with something that's good. While several other vendors debuted new and exotic sauces at the festival, Jim's team brought the three most popular flavors from their menu: mild, medium, and hot. His decision proved to be the right one as they won the Chairman's Award for Festival Spirit and placed third for its recipe in the traditional medium sauce competition.
Bringing The Heat
From tear-jerking homicide to sweet and tangy, I sampled wings that reinvented the heat meter and ones that could be mistaken for candy. Lots of people were talking about Arooga's (Harrisburg, PA) Ghostface Killah Wing. Its sauce is made from the "ghost chile," which is certified as the hottest chile in the world. It took some convincing (from pretty girls) for me to try it, and it lived up to the hype. Hot! The Wing Dome (Seattle, WA) traveled across the country to the fest packing heat with their 7-Alarm wing. Five times hotter than the Ghostface Killah wing, it brought tears to my face, made my two front teeth hurt, and impaired my hearing for two hours. What?
And believe it or not, that wasn't the hottest wing at the festival.
My award for hottest wing at the festival goes to Wings To Go for their Homicide wing. You should have been required to sign a waiver to try it. I had to down a LaBatt Blue and a milk shake just to erase the burn enough to form a word. I wasn't the only one in a daze after leaving their tent. After watching me suffer through the homicide wing, two fellas by the names of Joe and Donovan stepped up to the challenge. Before either one took a bite, Donovan said, "This might be the dumbest thing we've ever done." In the midst of the challenge, Joe said, "It feels like my lips are trying to escape from my face."
Wing Count Update
I arrived in Buffalo with 1,299 wings under my belt and left at 1,390 — and five tacos. My flight landed Friday at 10pm. With the festival less than 14 hours away, I was hungry and needed to stretch my stomach to make room for all the wings I was about to eat over the next two days. To ensure I was in tip-top shape for the wingtivities ahead, I went on a mini food tour of Buffalo. The first stop was Mighty Taco. I've been craving to check out this Mexican fast food chain for a long time. After crushing a Mighty Pack, I went to Duff's Famous Wings. Everybody talks about Duff's. President Obama even stopped in for a taste back in 2010. People say their wings are better than The Anchor Bar and I'd have to agree. I visited Anchor Bar before I went home and they have nothing on Duff's.
In my first 24 hours in Buffalo, I consumed 59 wings. On Day 1 of the festival, I threw back 44 wings. Due to some complications (I'll leave it at that), I was only able to throw back 17 on Day 2. But I did have enough in me to check out Anchor Bar on Sunday night, where I fought through 15 wings.
Team Effort
I knew I was going to have a great time in Buffalo, but I could have never imagined it would play out the way it did. Everything fell into place perfectly. Pete, my wingman for the weekend, was a tremendous help. A Buffalo native who now lives in Brooklyn, it was Pete who tipped me off on Mighty Taco and all the other good spots in Buffalo. If you follow me on Facebook, your news feed was sprinkled with updates every hour for both days of the fest. That was all Pete. He'll probably hate me for saying this, but not only did he hold my drinks while I ate, but he had his pockets stuffed with napkins and wet naps for a vast majority of the weekend. I used these to clean my sauce-stained face and hands. Hey, you try maneuvering through 40,000 people with a 24 x 34 sign strapped to your body and wings in both hands. You need a good wingman.
---
Do you have a favorite chicken wing spot? Let us know on Twitter: @foodrepub