Tailgate Toe-To-Toe: Packers Vs. Saints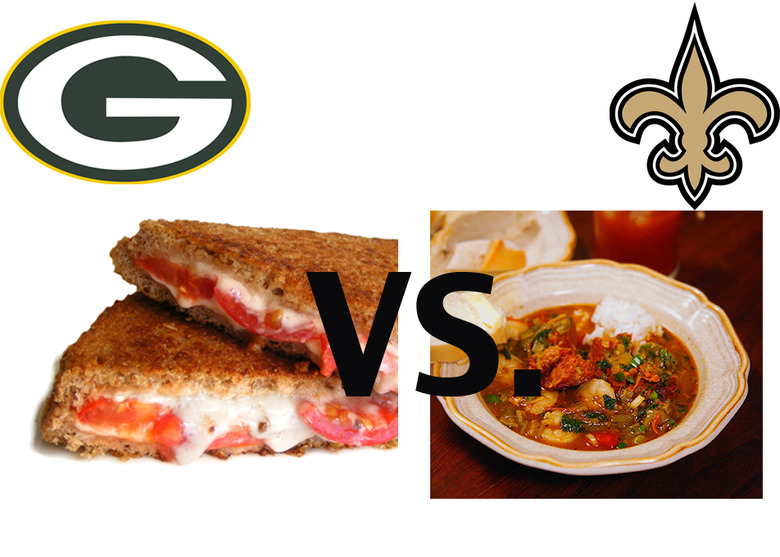 Tailgate Toe-To-Toe picks a weekly NFL game and analyzes the matchup—on the field and in the parking lot.
I don't have any exact data to back this up, but I would surmise that chicken wing consumption goes up roughly 600% during the NFL season. We should probably ask this guy. I'm a contributor to this inflated statistic. I even hold off eating wings for weeks prior to the start of the season, knowing that my first New York Giants games are perfectly paired with a smoky, buffalo flavor—accented with less-than-subtle notes of blue cheese and perhaps a tangy barbecue rub. A man can feel like a man when he sinks his teeth into chicken flesh and rips it from the bone. NOTE: I do not consider myself a man but rather a dude, guy, fella, gentleman, etc.
While the idea of downing at least 44 in this coming weekend is awfully enticing, my appetite will likely grow tired of the routine by Week 4. Why not cut off this potential tailgating boredom at the pass?
The mission of this weekly column is to pick a game and pit dishes that are unique to the two cities represented against one another. And although there will be analysis of the actual sporting event at hand, the breakdown will focus more on the regions' contribution to the culinary world.
This week's featured match up faces the 2010 Super Bowl Champion Green Bay Packers against the 2009 trophy hoisting New Orleans Saints.
So instead of giving into poultry appendages Thursday night, start the season off Green Bay-style with an Aaron Rogers-inspired trio of cheeses (one for each touchdown I predict he'll throw.)
Begin with a grilled cheese sandwich. Easy enough. Spice it up any which way you'd like: bacon, tomato, truffle, gouda, Meunster or brie. Personally, I've been dying to try a grilled macaroni and cheese sandwich that I assume only exists in heaven.
Move on to a more culturally diverse queso fundido. The best way to describe this to those who are in the dark: a Spanish dish with a ridic amount of melted cheese. Add a kick with jalapeño or add color with guacamole. Scoop and enjoy.
Mozzarella has to be repped here too. Set her up on a blind date with your friend ricotta and together they can make sweet, sweet love in your mouth via white pizza.
As for New Orleans, I have a feeling this won't be the last time we'll talk about cuisine from the Big Easy. There's just too much to choose from. Muffalettas? Crawfish? Red beans and rice? It's all amateur hour compared to the city's MVP — gumbo. It's tough to prepare due to the amount of time needed to cook a sufficient roux. But if you seek the dish out, I'm confident you'll find a source in your own city. I dare you to find the average football fan that would turn down a bowl regardless of the meat included in the southern stew.
As you unbutton your jeans — don't worry, your Marques Colston jersey will cover that up nicely — watch what should be an offensive shoot-out between the Packers and Saints. Both quarterbacks are poised for big seasons, let alone big games. The most interesting part of this match up, especially for fantasy owners, is to see how well Ryan Grant runs the football in his return from a season-ending ankle injury last year. Similarly, the Saints have a question mark in their backfield as well. Pierre Thomas has been good at times, but inconsistent to truly be a #1 RB. And with Reggie Bush taking his talents to South Beach, Coach Sean Payton has to look to rookie Mark Ingram and former Drew Brees cohort, Darren Sproles to add some yards on the ground.
In 2004, the NFL started the tradition of having the prior season's Super Bowl champ host the opener. And every single year since, the home team has gone 7-0. Ultimately, Rogers's younger arm and a defense anchored by super freak Clay Matthews should send New Orleans to an 0-1 start. GAME PICK: Green Bay 27, New Orleans 21
But that's only half the battle, isn't it? Cajun enthusiasts and those who are lactose tolerant still have an unsettled score. This faceoff is much closer. Cheese is versatile. It's everywhere and can do almost anything. It makes everything better. However, it feels like a more universal contribution that can come from a whole lotta locations (see: various cheeses exported from all over the world.) Yes, cheese would probably edge out over other Bourbon St. products—but not gumbo. FOOD PICK: New Orleans Gumbo 24, Green Bay Cheese Trio 21
---
More football food and drink on Food Republic:
Photo credits: For Grilled Cheese FotoosVanRobin on Flickr. For Gumbo: Southernpixel on Flickr