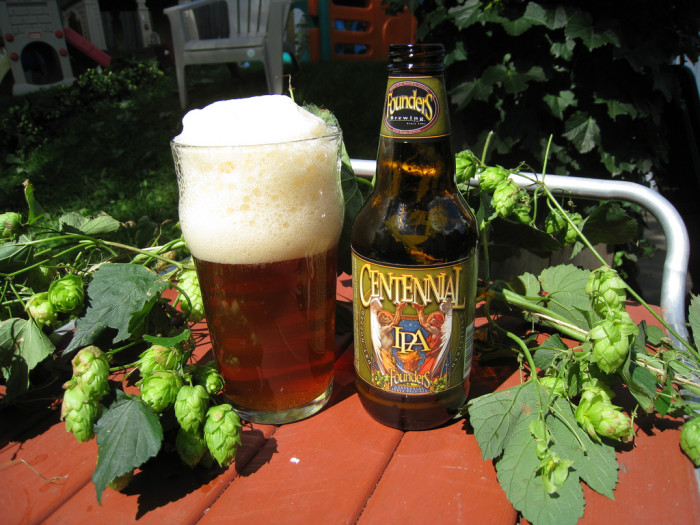 The story of Centennial hops starts in 1974. That year, U.S.D.A. researchers in Prosser, Washington crossed a grab bag of hops, including pungent Brewer's Gold, earthy and fruity Fuggle, smooth and somewhat sweet East Kent Goldings and several other bits and bobs. The hybrid was dubbed CFJ90, and over the next 16 years the hop strain underwent rigorous testing in order to answer one very important question: Will this make a great beer?
In 1990, the researchers answered with a resounding "yes." The hop, dubbed Centennial, was released to the public—boasting heady floral notes mixed with loads of citrus and a clean, dry bitterness. Centennial was singular, yet few mass fizzeries found a home for the aromatic hop in their light lagers and ales.
But before Centennial was consigned to the compost bin, craft brewers came to the rescue. Bell's Brewery began using Centennial in its flagship Two Hearted Ale, while Founders found success with its plainly named Centennial IPA. Now, Centennial is a signature flavor in American craft brewing—it's one of the "three Cs," along with Columbus and Cascade (more on those in future lessons).
So now you probably want to give Centennial a spin? Head to your local craft beer bar or store and try these five brews that proudly feature this once-overlooked hop.
1. Pelican Pub & Brewery: India Pelican Ale
Hailing from Pacific City, Oregon, this golden-orange IPA smells of oranges with a pinch of biscuits, pine and earth. When sipped, grapefruit and more pine resin appear, with a dry and herbal bitterness and somewhat crisp carbonation.
2. Stone: Ruination IPA
Hold on to your taste buds: Stone calls this potent palate wrecker "a liquid poem to the glory of the hop," sending a cannonball of grapefruit of pine screaming across your tongue. It goes down slick and creamy, with a bitterness that'll linger long after you finish the bottle.
3. Founders Brewing: Centennial IPA
The orange-amber, Michigan-made IPA is a full-on floral assault, with gobs of grapefruit and lemon too. There's a sweet malt base, sure, but the bright citrus and bitter blast keep the equation balanced. It drinks creamy and finishes surprisingly dry.
4. Bell's Brewery: Two Hearted Ale
It pains my heart that Two Hearted Ale is not distributed in New York. Thus, whenever I return to my Midwestern home, I guzzle this IPA by the case. Orange-gold Two Hearted has a gorgeous floral aroma with notes of sweet, sticky citrus. Flavor follows aroma, with a touch of pine tossed in a smooth bitterness that's often absent in IPAs.
5. Flying Dog: Centennial Imperial IPA
The latest in the Maryland brewery's single-hop series, Centennial is a love letter to floral and citrus aromas, with a fresh, juicy hop bitterness and honey malts to boot. Be careful about drinking too many: That 10-percent ABV will bite you like, well, a dog.
---
Get to know your hops!