Five Great Places For Beer In Milwaukee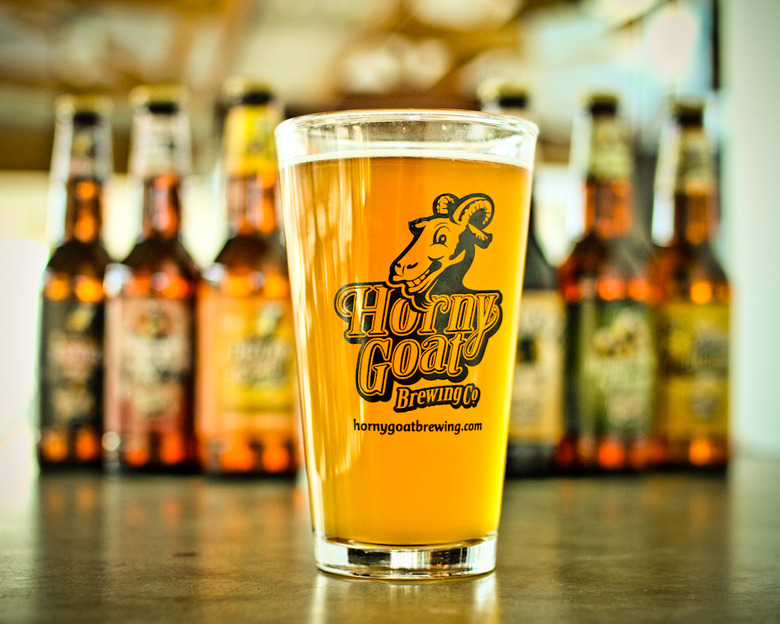 Beer barons like Captain Frederick Pabst, Frederick Miller and Joseph Schlitz put Milwaukee on the map as a beer-making city that could supply much of the country with cans of cold, crisp brews. Over time, however, these huge beer companies left the city. Today the only one still in Milwaukee is Miller Brewing Company.
Yet what locals salivate over is not MGD. I've lived in Milwaukee long enough to know that regional microbrews, those made in Milwaukee and other pockets in the Dairy State, are what's hot. A stay in Milwaukee would not be complete without a sip through the offerings because, given the storied history, Milwaukeeans know their suds. But first, you need to know where to go, especially if you have limited time.
Before the state of Wisconsin went smoke-free in 2010, Sugar Maple — named after the state tree — had already banned smoke, promising a clean-air environment inside the former Bay View Sikh Temple when it opened four years ago. The squat, one-story building with mustard-colored paint trim is in the hip Bay View neighborhood (full disclosure: I live a few blocks away) just south of downtown and near Lake Michigan. Sixty domestic craft beers are on tap, including these goodies from Wisconsin: Lakefront Brewery (Milwaukee) Snake Chaser Stout, New Glarus (New Glarus) Totally Naked Lager, Ale Asylum (Madison) Hopalicious American Pale Ale, Milwaukee Brewing Company Godzilla Imperial Wit and Sprecher Brewing Company (Glendale) Bourbon Aged Russian Imperial Stout. From time to time beermasters touring the region are invited to drop in and dish on beer, and on some nights live music fills the space. Soup-of-the-day creations are prepared by nearby Triskele's, including Bock Beer Soup with Potatoes and Polish Sausage and Creole Tomato Soup.
This Brewers Hill tasting room — also housing the brewery — is worth spending an afternoon at, even after the tour ($7, includes a souvenir pint glass and four 6-ounce pours of beer) has wrapped and you've sipped your last sample beer. You can drink beer by the pint in a large hall with high ceilings, Arts and Crafts-style hanging lanterns (salvaged from a former hotel), Cream City brick, windows overlooking the Milwaukee River and an expansive patio. (Talk to enough Milwaukeeans and you're sure to find someone who has attended a wedding reception here.) On Friday nights the place fills up quickly, with fish-fry platters on offer and live polka music, so you'll want to arrive as early as you can. Designated drivers can be satisfied with Lakefront Brewery's Maple Root Beer, infused with Wisconsin maple syrup. Founded by brothers Russ and Jim Klisch in 1987, Lakefront Brewery is a national leader in green-business practices, from growing hops less than 100 miles away to sending spent grains to Growing Power, a local urban farm. In 1996, it produced the country's first certified-organic beer, and a gluten-free beer called "New Grist" (another nationwide first) debuted in 2005. Not to be outdone, the Local Acre Lager arrived on the microbrew scene in 2009, the first beer made with 100% local ingredients.
An ode to the pubs and bistros of the Netherlands, Luxembourg and Belgium, Café Benelux is the latest from a local restaurant group (sibling eateries Café Hollander and Café Centraal also carry the Lowland Europe theme). But what this one has that the others don't is a rooftop patio, providing a bird's-eye view of the Historic Third Ward neighborhood, and across the street from Milwaukee's version of Pike Place Market (Milwaukee Public Market). The beer selection is, of course, heavy on Belgium picks, and with 30 beers on tap (including Piraat, Gulden Draak and Duvel Singel, and a lone Wisconsin brew: Lakefront Fixed Gear). The food portion of the menu is just as focused on Belgium, with frites, mussels, bitterballen and pannenkoeken, as well as burgers, sandwiches, salads, flatbread pizzas and meatloaf.
Two summers ago, this microbrewery opened inside an historic little two-story building in the industrial Walkers Point neighborhood, a five-minute car ride south of downtown Milwaukee. It's small inside, but it's got five times the space outside, with volleyball courts, contemporary patio furnishings, fire pits and seating along the Kinnickinnic River (where several boats dock). Flat-screen TVs keep sports fans happy and on occasion there is live music. Six year-round beers are made on-site, and seasonal brews roll out every once in awhile, including Oktoberfest (fall), Nutcracker (winter), Baby Got Back (spring) and Summer Berry (summer). Sexual innuendo informs beer names like Exposed, Hopped Up 'n Horny and Honey Blonde. As for food options, a weekend brunch shifts the focus to Bloody Mary, but on other days of the week a cold beer goes great with any number of menu items that include Horny Goat beer, like Loaded Tots topped with Hopped Up 'n Horny Beer Cheese Sauce, Red Vixen BBQ Pizza containing Red Vixen beer in the sauce, or House Salad drizzled with Honey Blonde Ceasar dressing.
The only restaurant/bar with a two-level patio overlooking the Milwaukee River just before it flows into Lake Michigan, the establishment in the Historic Third Ward not only puts out good bar food, it also brews beer on-site. Eight beers are available, including two seasonal ales (Weiss and Solomon Juneau Extra Pale Ale, named after the fur trader and early founder of Milwaukee). Although fried food reigns, so do salad greens (Island Salmon Salad with sweet-mango vinaigrette dressing), burgers, build-your-own calzones and what the restaurant calls "craft foods" (chicken pot pie, baby back ribs and stout pot roast that's baked in Milwaukee Ale House's sheepshead stout). But if it were me, I might just order a pint of Louie's Demise (an amber ale), pair it with smoked-gouda bruschetta and sit back on the patio to watch the sailboats, dinner cruises and kayakers journey down the river. If you want a little more noise, drop by on Thursday, Friday or Saturday nights when local bands show their love for Milwaukee through their music.
---