9/11 Remembered: Marcus Samuelsson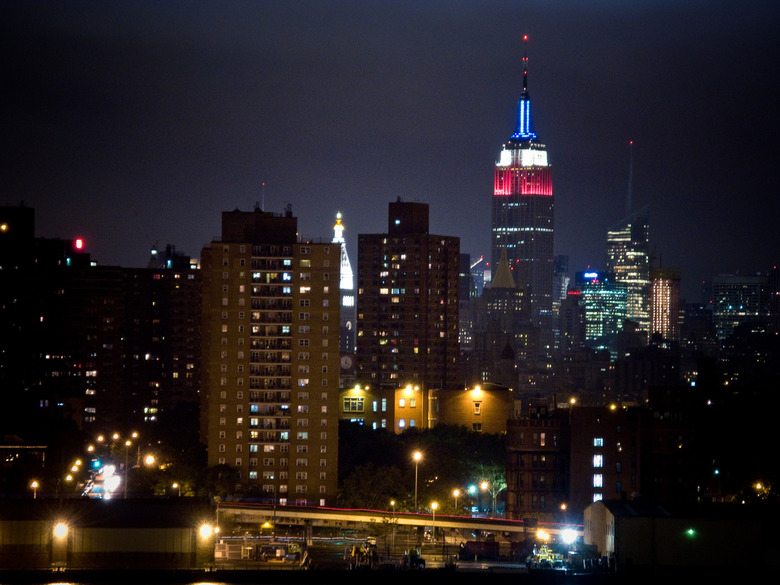 Photo: Jeff Howard on Flickr
Over the next few days, we'll feature the personal stories of several chefs from New York City and around the country to see what they went through on that morning 10 years ago, and how 9/11 has affected them as people and as chefs.
The 10th anniversary of 9/11 is triggering emotions is many Americans, and certainly all New Yorkers. For me, the most bittersweet memory was watching one of my favorite bands, Luna, play a concert in the plaza barely a month before; I remember peering up at those towers, taking in the music, feeling good.
Then one morning the phone rang as I was getting ready to go to work, a voice telling me to turn on the TV. The sky was blue. My windows were open. I lived a mile and a half away from the World Trade Center in Brooklyn. I remember watching on the TV and then seeing debris floating down into the yard of my building and, after I rushed to close those windows, thinking of the people who were in those buildings where that paper was coming from. I'll never forget.
Last year, while editing Manhattan magazine, I commissioned an oral history of the restaurant that sat atop the World Trade Center, Windows on the World. Compiled by frequent Food Republic contributor Tom Roston, it featured many of those instrumental in running and championing the fine dining establishment, which lost 79 employees when the towers fell. Chef Michael Lomonaco recounted his 9/11 experience then: "I typically started my day at the health club," he said, "and I'd be in my kitchen by 9:30. That day, my reading glasses broke, so instead of going upstairs at 8:15 in the morning, I went to the plaza level to a LensCrafters. I sat for an examination. They checked my eyes. We were just about finished when I felt the building shake. There were 102 food-service workers who died. Windows lost 79 people. Nobody got out."
The weeks that followed were filled with pain, anguish, and then slowly, hope and recovery. Many chefs and restaurant workers played a key part, setting up shop downtown to serve firefighters, police and volunteers, or simply continuing to run their businesses through the darkest days in the city's history, fighting to stay open if for no other reason than to show resolve and serve their neighborhoods.
The first chef we're featuring is Food Republic co-founder Marcus Samuelsson, who, as it turns out, cooked in Lomonaco's kitchen at Windows on the World a week prior to 9/11. Marcus was shooting a Swedish TV show, and the staff at Windows helped out. A few days later, Marcus left for an event in Australia when he too got a phone call telling him to turn on the television. He and his team from Aquavit were stuck halfway across the world, wondering what they would come back to, though his thoughts were mainly with the victims whom he'd just been working with a week earlier.
Where were you and what happened on the morning of 9/11?
I was in Australia. I went there with two other chefs from Aquavit and we were going to be cooking a dinner there. At around 1 in the morning, I got a call from Nils, one of the chefs, who was like, "Turn on the TV. They're bombing the World Trade Center." I turned on the TV and because I was so jetlagged it felt like I was watching a movie. So it went from us being really excited about being in Australia to complete panic attack.
We started questioning everything: How do we get the hell out of here? What are we flying back into? Is the business going to be okay? Is there a business? Are there loved ones, people I know, who are going to be hurt?
In the next day or two when things settled down a bit, the first person I thought about was Michael Lomonaco. A week before 9/11, Michael was gracious enough to allow me to cook with my Swedish TV team at Windows on the World.
We were shooting the best locations in New York City, so we did two days straight of shooting at Windows on the World. We shot in the morning around 6 or 7 until 10. And for each set, his crew was there to help us out, and all of those who worked on the morning crew passed away on 9/11. I got to know them as just helpful, nice co-workers, but for Michael, that was his staff — his waiters, his cooks, everything.
What kind of lasting effect has 9/11 had on you?
Well I think as an immigrant, as a lucky immigrant coming from Sweden, I questioned hard is it worth it living here? I came to the conclusion that I'm staying. This is not gonna beat me. It made me more patriotic for America, more patriotic for New York. I think once I came to terms with that, it just made me love the city more, and to not want to let these [terrorists] win. And of course, it had an impact on me afterwards.
You know, I didn't grow up during Vietnam or, I mean I heard stories from the Second World War from my grandparents, but in a weird way, this became my Vietnam or Second World War, because in this day and age when the world is connected even more, I don't think you can do any kind of industry and not be affected by 9/11.
---
More memories from September 11: