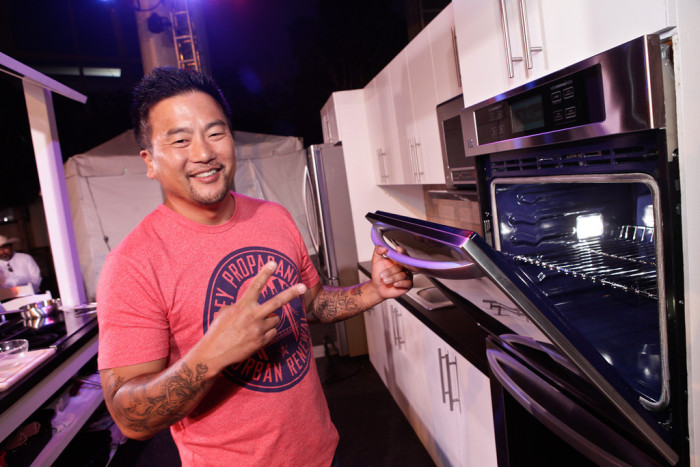 Jason Kessler reports from days 3 and 4 of The Taste of LA, following his harrowing recap of too many burgers, beers and babes from days 1 and 2.
SUNDAY
The Taste kicked into high gear on Sunday with four very different events going on throughout the day. Since we're not superhuman and we haven't quite perfected our cloning apparatus yet, we could only pick two to attend. Our apologies to the Fashion Bites Brunch and Food Noir events — unfortunately, they just didn't make the cut for us this year. Better luck next year. We decided we'd be better off spending our afternoon at Street Eats and finishing up with the sugar-charged Desserts After Dark.
Street Eats took place on the backlot of Paramount Studios, which you've definitely seen before as a stand-in for your favorite big city. TV shows like How I Met Your Mother use it as a surrogate New York and when the Black Eyed Peas want to "Rock Your Body," they do it here. The location added a fun urban element that almost made it feel like you were eating on a real street. We say almost because this street came with cleaner bathrooms, more security guards and a $150 price tag per ticket.
The afternoon was meant to be a celebration of street food, and yet the food offerings tended more towards traditional restaurants than street food purveyors. Eating the trofie pasta with duck sausage and fennel from Fabio Viviani's Firenze Osteria was pretty difficult outside, but that didn't change the fact that it tasted great. Palate, the most exciting restaurant in Glendale, served up a lahmajoun (Armenian flatbread with braised lamb, pistachios, sumac and yogurt) that would fit in on any street corner in Cilicia, while Loteria Grill came through valiantly with an excellent version of esquites: grilled corn infused with epazote, salt, chili powder, cotija cheese, mayo and lemon juice. It tasted exactly like summer in LA.
Food trucks were in the minority but still present. The Grilled Cheese truck served their signature sandwich with cheesy macaroni, house smoked BBQ pork and caramelized onions. We'd like to suggest they change the name to "The Gut Bomb." Other trucks included Great Balls on Tires and the month-old Steel City Sandwich, but neither wowed us with their offerings.
Halfway through the afternoon, something happened that was extremely rare for LA: it rained. Luckily, we were safely underneath the tent of the best panel of the weekend. "Food City: The New Language of LA" was capably hosted by LA Times Deputy Food Editor Betty Hallock. The panel featured Roy Choi (Kogi, Chego, A-Frame), Sang Yoon (Father's Office, Lukshon), Jet Tila (Wazuzu) and Mario Alberto (Chimu). The chefs are all native Angelenos and grew up as the children of immigrants. The way this shaped not only them as chefs, but the entire culture of today's food scene in LA, is remarkable. Jet Tila, who will make his triumphant return to LA from Vegas in the fall, said that "LA is the one city that's a true melting pot," and that's especially true now because LA food has really focused on blending its different food cultures. The chefs debated whether or not there was a good way to describe LA food, but Roy Choi put it best when he proclaimed that we should just "called it comida and let everyone else catch up." Discussions of authenticity and future plans dominated the rest of the conversation, with the most amusing moment coming when Choi started describing his upcoming menu overhaul of Venice's Beechwood as "an Alice in Wonderland trip through the West Indies." When pressed how he came up with the concept, the chef checked the crowd for children and when he didn't see any, he openly admitted it came from smoking a lot of weed in his car late at night. Perhaps he'll change the restaurant's name to Mota.
Our Sunday Doubleheader continued on swanky Rodeo Drive with Desserts After Dark. This event stretched on for blocks and blocks amidst the high-end boutiques and we ended up walking a huge distance over the course of the evening. The good news is, it gave us some exercise to counterbalance the extreme amount of sugar we consumed.
The Ace of Cakes himself, Duff Goldman, was the evening's host and he contributed a huge angel cake sculpture in addition to walking around with what one guest called "his Duff-tourage," a phalanx of fans that hung on his every word. He also served a chocolate raspberry cake from his new West Coast outpost of Charm City Cakes that seemed like it would make for a perfectly acceptable wedding cake. The assorted booths were split between confectioners, bakeries, ice cream makers, restaurants with notable pastry programs and drinks that may or not may not actually pair well with dessert.
The throng surrounding Swedish chocolatier Emanuel Andren's booth was always several people deep, but that's mostly due to the extensive "spiel" that everyone had to listen to before tasting the extremely expensive chocolates. Each chocolate is handmade by Andren himself in the tiny town of Lilla Edet and he can only produce roughly 70 a day, which supposedly justifies the $29 per piece price tag. While the price may be worth it to some, we're really glad we got to try the chocolates for free.
We're also glad we stopped by Farmshop for their lemon verbena meringue and at Sweet Butter for their peach basil hand pie. Perhaps our favorite sugary treat of the evening was Waylynn Lucas's Fonuts, the quintessential LA dessert. These doughnuts are baked instead of fried and the deceptively good lemon flavor turned out to be vegan and gluten-free, much to our chagrin. Strawberry buttermilk was our top choice, but with the shop selling out regularly, we'll be lucky to get our hands on these any time in the near future.
Not ones to pass up a good after-dinner drink, we sampled a well-aged port from Dow's that really hit the spot and then attempted the "Adult Chocolate Milk." We can't decide what was worse: the actual drink or the slutty sailor girls trying to pass them out to passers-by. Either way, we immediately turned our attention to the alcohol-infused Drunken Udder Ice Cream out of Orange County, where the milk chocolate stout flavor helpfully cleaned our palate.
MONDAY
The Taste finished the weekend off with a Picnic in the Hills — the Beverly Hills, to be exact. Hosted by Giada De Laurentiis, who probably spent most of the afternoon over-pronouncing Italian words, this family-friendly affair was a big contrast to the other events of the festival. The presence of children everywhere gave it a more casual tone. It also made it much harder to walk without hitting a stroller.
The food being served was also different than the other events because everything seemed much more focused on the picnic theme. Huckleberry served a full picnic plate with Niman Ranch BBQ pork sliders, tabouleh salad and a raisin and pine nut-studded kale salad that was the true standout of the plate. Neal Fraser's BLD and Grace continued the picnic fare with a farro salad dressed in a lemon vinaigrette and covered with thin slices of pecorino and arugula. We'd add it to our picnic baskets any day of the week. Pitfire Artisan Pizza served pizza cooked in a portable wood-fired oven, although their refreshing watermelon lemonade was a better fit with the wonderful summer fruit crisp from Clementine. The big oddball of the day was Angelini Osteria, which served a spinach lasagna with bolognese and fried spinach that would match up better with a harsh Chicago winter. No matter, though, because it was so good we almost went back for seconds. Then we started sweating profusely and decided against it.
Overall, the Picnic in the Hills was a great way to end The Taste. Over the course of four days, the organizers managed to cram in a lot of really fun panels and demonstrations in addition to showcasing much of what LA has to offer from a food perspective. We ate, we saw, we conquered… our impulse towards portion control. We're definitely looking forward to going back next year, although we may need the whole year to recover from the amount of food we just ate.