Frenchy's Grouper Sandwich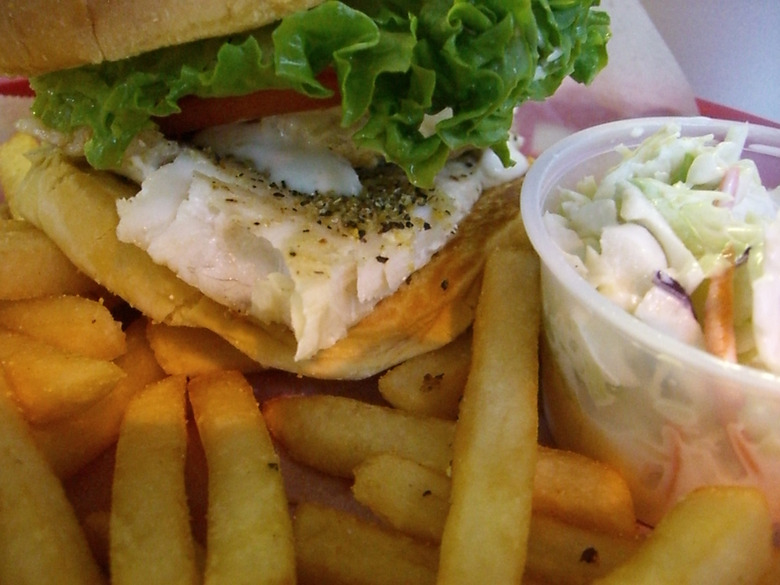 grouper sandwich
Tired of the same old sandwiches made out of cold cuts, chicken, pork or beef? Neither are we. In fact, we can't get enough of them. But there comes a time when you just have to shake things up and add some new items to your sandwich repertoire. Frenchy's in Clearwater, Florida has a grouper sandwich perfect for renewing your vows to sandwich commitment. Hey, did you know they invented the grouper sandwich in 1981? No, really, nobody had ever eaten a grouper sandwich before Frenchy's. Well, maybe someone had, but Frenchy's wants you to know they took it super-seriously first.
Regardless, this sandwich is available in three different, extremely tasty styles: Fried, grilled or Cajun. We like options, especially when one is fried, the way the original Frenchy's grouper sandwich (and the universe) intended it to be. The über-fresh filet is served on a bun with lettuce, tomato and mayo, and arrives with kettle chips and a pickle. Equipped with its very own fleet of fishing boats, Frenchy uses its proprietary Frenchy's Seafood Company to bring you the freshest, meatiest, never frozen-est seafood possible, straight from the Gulf of Mexico.
Next time you find yourself in the Clearwater vicinity, be sure to check out Frenchy's restaurant and enjoy every fishy bite of the Super Grouper Sandwich, or take inspiration and make your own at home.
---
More sandwiches of the week from Food Republic: