British Beer Meets Indian Food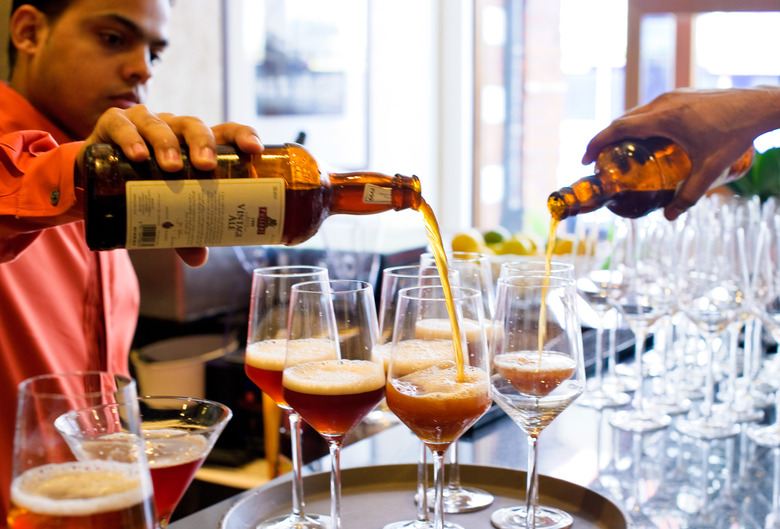 British beer and Indian food may seem like an unlikely pairing, however it's exactly what you'll find at the British Beer Experience at London's Quilon Restauarant. How about some Chalky's Bite from Cornwell with Lamb Biryani and Malabar spice?
Chef Sriram Vishwanathan Aylur is the mastermind behind Quilon, and has found that many Indian dishes enhance the flavors of a good English brew (and vice versa). The "experience" includes five courses of spicy Indian cuisine paired with the the best British beers Aylur and his team could source. Here beer is treated with respect — the menu includes vintage beers aged just like wine.
Drawing inspiration from his father's restaurant, Aylur began his cooking career in India and made his way to England. Aylur now lives in a country boasting over 1,000 varieties of beer and has cultivated a true love for it. "The taste, flavor and complexity of beer shows the passion with which it is made. Indian cuisine has dishes that are varied and complex with multiple tastes, textures and flavors, and this makes it very interesting to match and enjoy," says Aylur.
Don't come to Aylur's restaurant looking for Miller Lite. To ensure an exemplary beer experience, Aylur receives samples from both his regular supplier and private brewers. The Quilon Restaurant also works with a variety of brewers, beer experts and other industry regulars to select their brews. Their picks are then paired with Aylur's signature southwest Indian cuisine: dishes made with seafood, poultry, lamb, vegetables and flavored with freshly ground spices. British beers bring these flavors to new levels.
If you're more of a Coors man, Ayler challenges you to try things his way: "Maybe I shall convert you by the time you complete a meal at Quilon." All willing converts planning their next trip to London should consider trading that tour of Buckingham Palace for his British Beer Experience.
---
More beer coverage on Food Republic: