Burgers, Beers & Babes At The Taste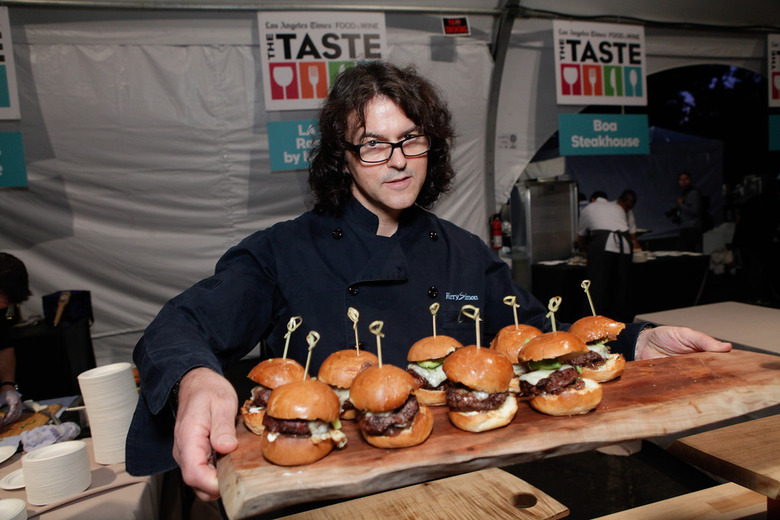 kerry simon and burgers
FRIDAY
On Friday, Taste-goers had the option of going to two different events: "Burgers & Beer" held in the middle of Beverly Hills and "The Art of Mixing" at Paramount Studios in Hollywood. Considering our efforts to seem as manly as possible, we chose to hit up "Burgers & Beer." Four out of five cardiologists agree that we made the wrong decision, but the fifth cardiologist was right there with us chowing down on burgers galore.
The event was everything you'd expect from a glitzy Beverly Hills party: a hopping red carpet, an out-of-place DJ, lots of Botox and, of course, Kathy Griffin. The space was actually converted from an old department store parking lot but you'd never know because it seems like a perfect fit for an event like this. There were two main tents, each full of restaurants and breweries vying for your attention. It felt a little like those uncomfortable Millionaire Matchmaker date parties where gorgeous girls clamor for the attention of schlubby millionaires just because they're loaded. In this case, we were the schlubby millionaire and we definitely got loaded — on meat. (Apparently we also watch Millionaire Matchmaker. Shhhh.)
The night promised 26 different burgers, but apparently burger means something different to everyone. Among the non-burger burgers were a pulled pork sandwich, a short rib sandwich, and, for some odd reason, a cup of chicken liver mousse. The short rib came courtesy of ritzy Sunset Strip steakhouse STK and, honestly, it was one of the better items of the night. Topped with a red onion and cilantro-tinged corn salad that resided somewhere between salsa and succotash, this sammy had us wishing we had room for more, especially because of the sweet Hawaiian roll it was served on. We've always said that you should never bring a braising cut to a burger fight, but in this instance the short rib worked out nicely.
The real stars of the night, though, were the burgers. Our favorite was the salty behemoth from Rustic Canyon. It was a perfectly ground blend of brisket and short ribs topped with slow-cooked onions, house-made pickles and a creamy herb remoulade. We weren't the only ones who liked the Rustic Canyon burger. Apparently there was a contest to crown the best burger and Rustic Canyon claimed the top spot, although it's kind of insulting to play favorites when all the restaurants are donating their time and services. Next Food Network Star Aarti Sequeira (Aarti Party) was also a fan, based mostly on the admirable char on the outside, in addition to the stellar pickles. "I'm a big fan of the pickle on the burger," she told us. "I love the crunch." Come on, Aarti, who doesn't love pickles?
There were other standouts. Neal Fraser's BLD and Grace served a lamb burger topped with tzatziki, feta, and vinegar-marinated red onions that made us wish all Greek restaurants would add a burger to their menu. The Tasting Kitchen's burger could be smelled from booths away because they set out a giant platter of epoisses cheese that they used as their main topping. Osteria La Buca proved so popular (and so conveniently placed right at the entrance) that they ran out of food thirty minutes after opening. Luckily, we snagged one of the last burgers and it was the best blend of the night: brisket, hangar steak, and short rib all smoked and ground before being griddled and topped with macerated onions, taleggio and pickled garlic aioli. By the time we got there, they were all out of buns so we had to settle for "protein style" with a leaf of lettuce doing its best bread imitation. Even without the bun, we were seriously impressed by Chef Jason Neroni's creation.
In terms of beer, there was something for everyone. We stopped to try the "Fireworks," a red saison from Pasadena's Craftsman Brewery. While Mark Jilg may be the surliest brewer in America, his American-hopped beer was pleasantly smooth and just bitter enough to cut through the richness of our first round of burgers. The Estrella Damm Inedit, a collaboration between Spanish brewery Estrella and Ferran Adrià of elBulli, was grassy with a citrus note that also made for good beer pairing.
We finished up the night with a mini chocolate beer cupcake from The Cake Mamas and headed home to check our cholesterol. Organizers estimated that over 1,500 people attended, and a good portion of them were much more attractive than we were expecting. Apparently, the beautiful people love a good party, even when the star of the show is extreme amounts of ground beef.
SATURDAY
On Saturday afternoon, we hit up the "Secrets from the Kitchen & Cellar." While we learned no secrets from the kitchen nor cellar, we did eat a lot of really good food. The event was in the same location as Friday's burger extravaganza and setup was exactly the same: two tents, tons of people and massive amounts of small plates. This affair seemed much more casual though. The red carpet was still there, but merely served as a way to get from point A to point B. The whole place seemed less crowded overall and that may be due to the fact that a lot of people attended the various panel discussions and wine seminars.
While we didn't watch Scott Conant make spaghetti aglio e olio with breadcrumbs and bottarga or listen to LA Times Food Editor Russ Parsons interview French crazypants chef Ludo Lefebvre and his wife/business partner/Playboy model Krissy Lefebvre, we did attend the panel on "Tasting & Tweeting: The Use and Abuse of Social Media in Restaurants" moderated by LA Weekly critic Jonathan Gold with chefs Michael Voltaggio, Walter Manzke and Craig Thornton. Voltaggio really lived up to the theme by wearing a t-shirt showcasing his Twitter handle, which obviously qualifies as an abuse of social media. The questions weren't exactly hard-hitting, but we did get a few gems. Walter Manzke appreciates people taking photos of his food and posting them on Facebook because he think it honors all of his hard work on a dish before it disappears into somebody's belly after two minutes. Michael Voltaggio said that he appreciates social media interactions with his diners and even made changes to his new sandwich shop ink.Sack because "Twitter gave us direct access to the people eating in the restaurant." It's nice to know that we've evolved past the comment card box at the Olive Garden to give our feedback.
Onto the food! Ray's and Stark Bar, usually located right in the middle of the Los Angeles County Museum of Art, served the most elegant dish of the day with bay scallops marinated in lemon juice with really good olive oil, smoked tomato jelly, avocado crema and caviar. Honestly, the avocado crema should earn the title of Best New Condiment 2011. Scarpetta went both light and heavy with a yellowtail crudo and creamy polenta with truffled mushrooms. We saw more than one person go back for seconds of the polenta, although we certainly can't blame them. Ricardo Zarate served a beef wrap with quinoa risotto and a rocoto salsa. The dish encapsulated all the good work he's doing these days at his new Peruvian hot spot Picca. Momed's duck shwarma was spot-on, as always, and Mezze's ice cream sandwich with ginger cookies and honey sorbet was a nice contrast to the more savory fare. The highlight of the afternoon may have also been the most decadent. Former Top Cheftestant and Black Market chef Antonia Lofaso was serving up a deep-fried fluffer nutter with panko breadcrumbs, marshmallow fluff, peanut butter and bananas. It was so attractive and elusive that anybody seen holding one was immediately asked by passers-by where they had procured it. If Elvis were still alive, this sandwich would most definitely have led to his demise.
In contrast to the burger event, Saturday afternoon's offerings were more balanced and varied. With so many intriguing panel offerings and cooking demos, the "Secrets from the Kitchen & Cellar" morphed from a giant food court into a fun educational experience with really great food. We imagine that's what college is like in Italy.