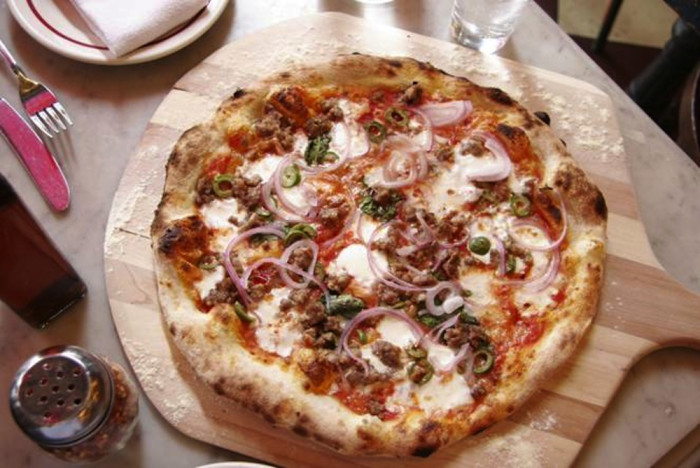 If there's one thing everyone has to say about Pulino's Bar and Restaurant, it's that the pizza is outstanding. This is considered to be something of a rarity in a city where everyone has something to say about every slice in the borough. Coupled with a chic interior that calls to mind a couple of its frequented trendy sister restaurants, you're facing a packed house night after night.
Pulino's salciccia pizza is our dream come true, packing sausage, onion, olives, chiles, mozzarella and pecorino. The super-crisp thin crust can be attributed to Soho sibling Balthazar's best-kept secret: its "mother" dough. If that's not worthy of Pizza of the Week, we'll eat an entire pie by ourselves. (Maybe not the best sneak attack we've ever launched).
We're especially excited about this pizza because Food Republic will be sponsoring their event, Pizza After Dark at Pulino's, for the upcoming Food Network New York City Wine & Food Festival. Executive Chef Tony Liu and former Top Chef contestant Spike Mendelsohn will be teaming up to bring you the best pizza at the best possible time: 11 p.m. to 1 a.m. Weren't you just going to locate and hoover a slice then anyway? No need to put the party on pause, come join us!
Purchase tickets for Pizza After Dark at Pulino's at the Food Network New York City Wine & Food Festival, Saturday, Oct. 1 from 11 pm-1 am at Pulino's Bar Pizzeria, 292 Bowery, New York City.