The Out-Of-The-Ordinary Date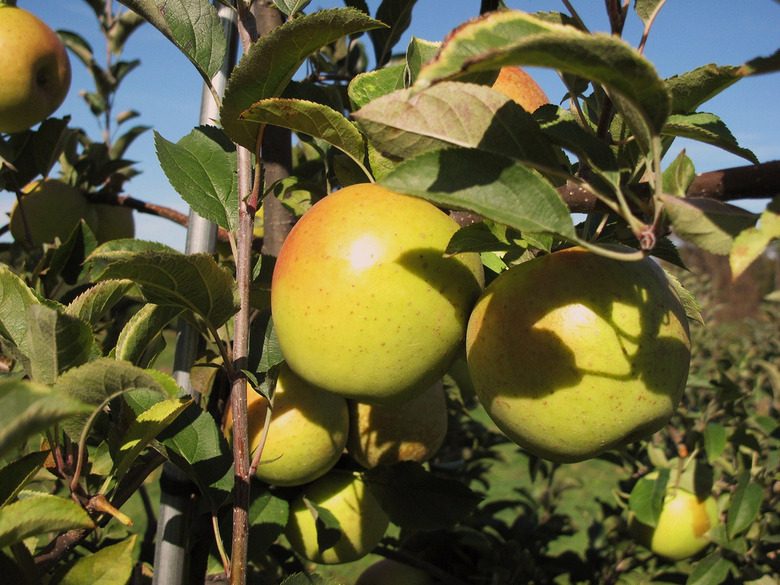 Apples
Let's play a little Heart Attack Game Show for a moment. I'll give you the clues, you give me the category. Your clues are "Dinner and a Movie," "Mini-Golf," and "Ice Skating." Want to take a stab at it? No? That's okay. I'll just give you the answer. The category is "Lame, run-of-the-mill options for a date" and when that's the category, everybody loses.
I get it. It's hard to come up with creative ideas for a date. It's hard to come up with any ideas for a date, especially when you're already in a relationship and take-out is just a phone call away. I think that sucks, though. I believe it's our duty to keep things interesting for our significant others. That's why I'm going to start to offer suggestions for great food-related date ideas that break you out of the humdrum dates you've been going on since the invention of the roller rink.
Here's the first one and it's perfect for Fall: go out and pick some fruit. Every year, my family would go apple picking and the joys of taking home fresh apple cider and apple turnovers were not lost on me. When I got older, I started going fruit picking as an out-of-the-ordinary date choice and it's a perfect way to spice things up in your dating life. Think about it: you get to commune with nature, you get to work collaboratively with your significant other in something other than picking a movie, and the best part is, you get a whole bunch of fresh fruit for really cheap. What could be better? If you're smart, you can even turn it into a whole day activity by coming home and making some pie with your new bounty. I honestly believe there's nothing sexier than pie. Except for pizza, but come on, that's just a pie made with cheese and tomatoes. You also have the option of using the extremely uncomfortable come-on line "Let's go make some pie and then make some pie." If you play your cards right, you just might wind up with pity sex for making such a bad joke.
If you need help finding orchards near you, check out PickYourOwn.org. While the website seems like it's from 1994, it's actually a pretty good resource. Some places just offer fruit picking while others encourage you to make a day out of it and go for a hayride or walk through a haunted house. My suggestion: stay out of the haunted house unless you like getting groped by a depraved apple farmer. My second suggestion: if the orchard offers homemade baked goods, buy as many as you can possibly carry. If they grow the fruit, chances are they know how to use it. I still have dreams of Helga Zeigler's apple strudel.
Go find yourself an orchard and get ready for the marital/relationshipal(?) bliss that comes from getting out of your ordinary routine. Your spouse/girlfriend/common law wife/date will appreciate it and the best part is, you'll have so much fruit you won't know what to do with it. If the date backfires and you're left alone with thirty pounds of apples, go ahead and make a personal pie – after all, it worked for Jason Biggs.
---