How To Preserve & Make Jam From Tomatoes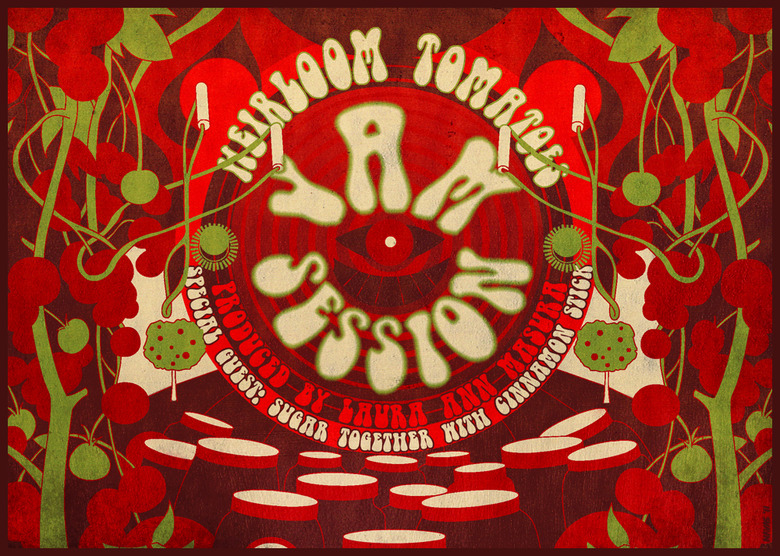 We may receive a commission on purchases made from links.
With a case of heirloom tomatoes from a local Southern California farm, more sugar than we've ever had in our cupboard at one time before, and a couple of lemons, we're ready to preserve late summer in a batch of tomato jam. To solve the mystery of proper canning and sealing, we called Laura Ann Masura of Laura Ann's Jams, whose recipes include Bourbon Blood Orange Marmalade and Blueberry Basil Jam. She arrived for our late-night jam session carrying the familiar Ball screw top jars and a big enamel pot, her wild hair adding a rebel yell to her vintage dress. The former rock drummer, whose spreads were named "Best Locally Made Jams" by Los Angeles magazine, shops the farmers markets and cooks up an evolving lineup of jams and marmalades for local restaurants and shops. Customer favorites become part of the artisanal jam maker's Greatest Hits line.
Preserving runs in Masura's family, and she grew up jamming and canning to prepare for the Midwest winters of her childhood. Her great grandmother's handwritten tomato jam recipe is captured on her iPhone, and she's brought the cinnamon sticks Gram Jen stuck inside every jar.
For enthusiastic beginners like us, Masura recommends purchasing a canning kit, easily available online, which can include the big pot, metal jar holder, pincers and a small funnel for pouring the jam into the jars. Add a pair of gloves, and you're ready to jam.
Here, in 10 steps, courtesy of Gram Jen, is Masura's basic recipe for tomato jam:
Blanche then core four pounds of tomatoes. Score the bottom with an x, peel the tomatoes and give them a rough chop. "I try to cut them in a size I'd put on a piece of toast," Masura says.
Put tomatoes in a large saucepan.
Add 6 cups sugar and a pinch of cinnamon.
Cut the peel of a couple lemons thinly. Deseed and slice the lemons and put those in the pot. "The lemons give it a bit of pectin for thickening." Put a plate in the freezer.
Heat on high flame, stirring frequently as it thickens so it doesn't stick to the bottom of the pot, until it reaches 222 degrees on a candy thermometer and starts to thicken to a jam-like consistency (About 30 minutes). To test if it's done, take your plate from the freezer and put a spoonful of the mixture on it. If it looks like jam and doesn't run off the plate, it's done. If not, keep cooking.
Heat water in the canning pot and immerse mason jars to sterilize them (this recipe yields enough jam for 6 ½ pint jars).
Take the jars out with pincers, and handling with gloves and using a canning funnel, fill them with the jam mixture, leaving a quarter of an inch of head space at the top. Put half a cinnamon stick in each jar.
Put the lids and rings on the jars, and give it a twist. Do not close jars too tightly as air must be able to escape in order to seal. Place the jars in boiling water on the canning pot rack for 10 minutes (this is called processing). You will see bubbles coming from the jars.
Remove the jars and give the lids a little twist to tighten.
Let them cool overnight and enjoy. Store your stash away from light and keep opened jars in the refrigerator.
For more information about Laura Ann's Jams and to order online, go to lauraannsjams.com.
For jam recipes, Masura recommends The Ball Complete Book of Home Preserving ("the jam bible") and The River Cottage Preserves Handbook.