What To Eat At The End Of Summer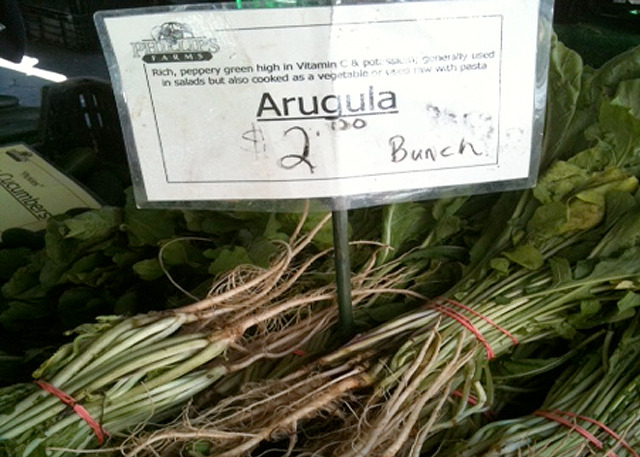 Arugula
This is truly my favorite part of the year: the end of summer and beginning of autumn — the only season with two names. This is a time when eating is a great experience because you get to enjoy the best of fresh summer fruits and vegetables, and the first crop of hearty fall vegetables. You get your first real craving for soup or potatoes — a welcomed heaviness on the crisp nights. In this column, I will be exploring easy creations from all the best veggies this season, leading up to the first day of fall.
The other day I was at the farmers market and saw some fresh arugula. This peppery, soft-leaf lettuce is great for salads, but has such great additional flavor that it is really nice as an accent, too. Arugula also has high levels of potassium and vitamin C, making this fancy little lettuce great medicinal food.
Here is a quick and easy lunch I had the other day:
Arugula, Hummus & Tomato Crostini
8 ounces hummus, store bought or homemade
1/2 a baguette, sliced in 2-inch rounds
12 pieces fresh arugula, cleaned and stemmed
1/2 cup cherry or vine tomatoes, sliced
1/4 cup extra virgin olive oil
Directions
Brush bread with oil and toast until brown and crusty.
Spread hummus on bread, then add arugula, then tomato.
Top with salt, pepper and olive oil. Enjoy!
---