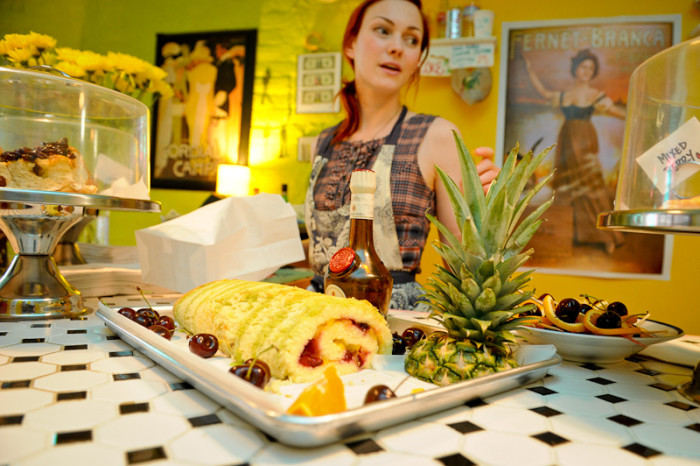 Celebrating its month and a half anniversary, Jane's Sweet Buns in New York's East Village — run by sugar-sweet proprietress Jane Danger —has planned a series where guest bartenders from around the city drop in and craft a batch of sweets based on a cocktail of their choice. This week, Sam Ross of Milk and Honey stopped by to translate the Singapore Sling into a baked good.
In case you're confused as to whether this is a bakery or a bar, Ms. Danger earned a following as a mixologist at places like PDT and Ravi de Rossi's Cienfuegos. Now she has brought her mixology skills into the world of Betty Crocker by concocting a list of cocktail-inspired pastries. But do not be confused — these are not the basic raspberry rum cupcake shots you saw being prepared on the Food Network. These sweets have a real mixology backbone — with sense of flavor pairings and history. Plus, Danger uses quality booze in the mix.
"I'm thinking of giving up the bartending gig," Ross joked as he cut off a thick slice of the Singapore Sling jelly roll to hand over to waiting customers perched on — what else — bar stools at the counter. The jelly roll is a light and airy sponge cake with pineapple and orange subbing in for the juicy flavors in the classic tiki cocktail. The jelly holding the roll all together is a compote of cherries and pineapple poached in gin and lemon. Drizzled over the top is a Benedictine glaze that took some time to perfect. "The first round was more like Benedictine candy," he admits.
We asked Ross if he had done any of the actual baking himself, and he grinned. "No! I just told her [pointing at Jane] what I wanted it to taste like and she did all the work."
Future guest "bartending" spots at Jane's Sweet Buns will be taken by Karin Stanley (Dutch Kills) and Frank Cisneros (Dram).