Tony Mantuano, Stadium Food Master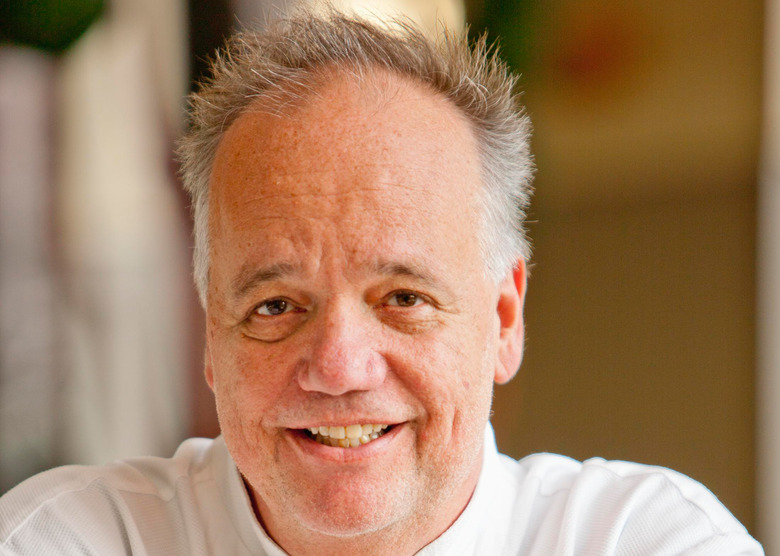 Tony Mantuano
Tony Mantuano is the James Beard Award-winning chef-owner of Chicago's Spiaggia (also known as Barack Obama's favorite restaurant). For the next two weeks he will be in New York City running the wildly popular Wine Bar Food cafes at the U.S. Open. SEE OUR COMPLETE EAT-DRINK GUIDE.
The dishes are all Mediterranean small plates, so think tomato bread with Serrano ham and a really good ouzo shrimp—the flaming crustacean is blasted with a burst of lemon. It's our favorite sports stadium bite of all-time, trumping even the Shack Burger at Citi Field. We caught up with the busy chef yesterday, on the tournament's opening day.
What's the biggest challenge to running what is essentially the world largest pop-up restaurant?
Honestly, what makes it the most-difficult also makes it the easiest. We have a lot of people here who are extremely happy to be watching tennis, but also happy to be served incredibly fresh food. People are surprised that there is a real wine bar on the grounds, serving imported mozzarella and prosciutto.
And you serve this sizzling shrimp ouzo dish that is one of the most popular dishes in the entire tournament.
The fun thing about the ouzo shrimp is that when you sell one, you sell a hundred. The aroma carries for 30-40 yards. It perfumes the whole South Plaza. People come back every day for that dish. They order a double and a glass of Pinot Grigio.
How did Hurricane Irene affect preparations for the tournament?
It was a huge hassle. We had to completely dismantle our wine bars, and build them back up in 12 hours. There was literally nothing here 12 hours ago. But right now we are taking a deep breath and waiting for our next round of deliveries to arrive.
And what happens if they don't?!
There is a whole purchasing mafia down on the dock who assures me that [the products] will arrive. They are going to bypass other people to make sure we get our products. They are pretty persuasive.
Are there any new dishes you've added to the menu this year?
It was such a banner year for watermelons with all the rain, so we are doing a drink with fresh watermelon puree and this Turkish liquor raki, which has an anise flavor. On the rocks, it goes down like water.
Are you pulling for any specific player this year?
Everybody seems to be really interested in Djokovic. He is so much fun to watch. This is his year.
Have you gotten to know any of the players over the years?
Last year we filmed an episode of Top Chef, so I got to know [American player] Taylor Dent pretty well. He's a great guy.
What really excites you about cooking in Chicago these days?
We are opening a new place at the end of October called Bar Toma. It's the reincarnation of an Italian bar. We're going to have a little retail section with homemade gelato. There will be a stand-up espresso bar. It's not going to have pasta, but everyday food — breakfast, lunch and dinner. It's what every neighborhood should have.
---
More tennis coverage on Food Republic: