What To Eat At The U.S. Open 2011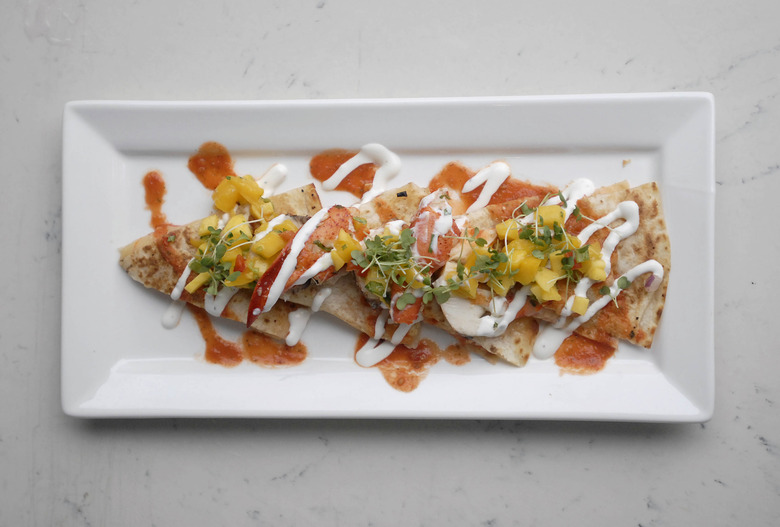 The U.S. Open, which runs August 29-September 11, is the world's highest-attended sporting event—attracting a ridiculous 700,000 fans over the course of the two-week tournament. In this food-obsessed day in age where jeers about a team's crappy stadium food can overshadow even poor play, it is essential to the Open planners that they get concessions right. I've covered the Open's food scene for the past three years, having witnessed a dedication to working with local vendors (Pat LaFrieda Meats, Blue Marble Ice Cream) and celebrity chefs (Susan Feniger, Tony Mantuano). The food really is a big part of the draw.
It's the tournament's Executive Chef Jim Abbey who will do the heavy lifting — he's currently a regional chef for Levy Restaurants, the tournament's food and beverage organizer. Last year Levy sold 267,000 burgers, marinated 77,000 pounds of chicken breast and chopped 27,000 pounds of New Jersey tomatoes. Abbey works with the grinder men at LaFrieda to perfect the U.S. Open blend (a secret mix of chuck and short rib).
Here's a rundown of what you can expect to eat and drink in Flushing. And, for the record, Food Republic is pro-Nadal. Vamos Rafa!
Food Village
The bulk of the eating options are housed in the massive Food Village, which operates with a concession-stand style setup. Crêpes are big sellers, which are served both sweet and savory. There's one with marinated chicken, spinach, mozzarella cheese and mushrooms. You can get your Nutella on if you want. Lobster rolls sell fast—the Open version is served on a split-top bun seared in butter. The lobster, fresh from Maine, is dressed with celery and a dressing of chili sauce, ketchup, tarragon and scallions. There's Indian kati rolls and pomme frites and Szechwan chicken stir fry and various Mexican offerings like lobster quesadillas. It's a real global affair. Like most big-ticked sporting events, the premium liquor sponsors show up with their best signature drinks. This year Gray Goose is doing one called the Honey Deuce, served with raspberry liqueur, lemonade and honeydew melon "tennis" balls.
Wine Bar Food
Tony Mantuano is the James Beard Award-winning chef-owner of Chicago's Spiaggia (also known as Barack Obama's favorite restaurant). Wine Bar Food, located in the South Plaza and on the Club Level of Arthur Ashe Stadium, is by far my favorite spot. The dishes are all Mediterranean small plates, so think tomato bread with Serrano ham and a really good ouzo shrimp — the flaming crustacean is blasted with a burst of lemon. "The fun thing about the ouzo shrimp is that when you sell one, you sell a hundred," jokes Mantuano about the dish's aroma carrying 30-40 yards. He had just flown in from Chicago to oversee the first day.
Restaurants
Now we're not the type of tennis fan that goes to the U.S. Open for an omakase dinner from chef Masaharu Morimoto. That is, we are tennis fans and there to WATCH TENNIS. That said, the Open is oftentimes much more that that. Also, it rains sometimes, so you might need to kill a few hours. If you find yourself in the mood for a more formal affair, there are a couple of restaurants that will give you that. Aces, located on the Club Level of Arthur Ashe Stadium, is Morimoto's spot, so expect rotating sushi and sashimi. There's also a chilled seafood tower available, as well as chilled corn and lemongrass soup. Mojitos (located on the ground floor of Arthur Ashe Stadium) does pan-Latin dishes like smoked pork bocaditos with sweet plantains and charred shrimp. There's a more-casual Patio Café (located outside the U.S. Open Club) serving chopped salad, burgers and sandwiches.
---
More tennis coverage on Food Republic: