Report From MAD Foodcamp, Day 2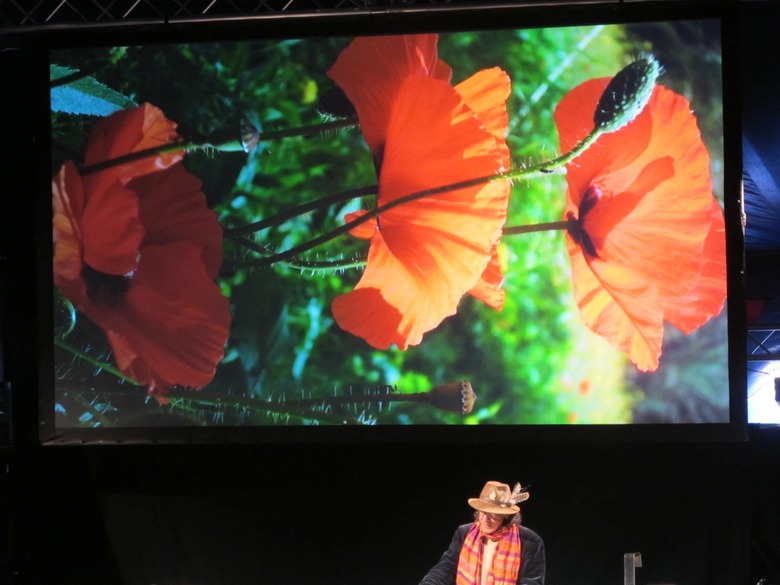 Jody Eddy reports from MAD Foodcamp in Copenhagen, Denmark, a two-day symposium assembled by chef René Redzepi of the famed restaurant Noma. ("Mad" means food in Danish.) Here's her account from yesterday's Day 2.
►PHOTO GALLERY: Day 1 and Day 2
On the first day René Redzepi declared during a presentation by Danish farmer Thomas Harttung: "I invite you to the first degustation of ants in Denmark!" Audience members gathered around the chef, who held a hotel pan of writhing ants for everyone to sample, as Harttung discussed urban food systems and the lessons that we can learn from ants: "Ants live in a city. They farm and keep livestock. It's a collective and they are very clever at how they go about things." As we chewed the crunchy, squirming insects he lamented the missed opportunities for agricultural development in our cities: "There are 15,000 hectares of rooftop in New York City. This could equate to three million hectares of plant material that could be grown in this city alone."
Ants showed on the second day too when the Brazilian chef Alex Atala distributed cubes of translucent gel, each one wrapped like candy and containing an ant — its only flavoring component. The taste was a revelation — bright with pronounced, lingering notes of lemongrass and ginger. Atala's statement, "In Brazil, we think that lemongrass and ginger taste like ants," made perfect sense. It also illustrated the missed culinary opportunities we have all around us and reflected one of the central themes of MAD Foodcamp: We need to begin to look at things in a different way if we are going to implement change.
Ethnobotanist Francois Couplan reinforced this message as he educated the audience about the 80,000 varieties of edible plants he has documented over the course of his long career. Slides of vibrant wild plants streamed above him as he said he hopes post-modern living will be a return to living life with a hunter-gatherer spirit. It was a sentiment reflected in Danish mathematician Tor Nørretranders' presentation from the day before: "10,000 years ago the choice was made to substitute the diversity of nature with plants. Was this a wise decision? No. They lived in the Stone Age. We need to move into a high-tech stone age and rediscover the wild." Couplan said that chefs have a crucial role to play in moving things forward in the world and have the power to make plants stars, adding, "Society seems to hate plants. It's a cultural thing. Which means that we can change the perception."
Couplan's message echoed that of forager Miles Irving, who told the MAD audience, "There is treasure in the woods and fields. The fact that we don't know about it suggests it's hidden, but it's not." Irving said that because foraged ingredients are being used by chefs in the best restaurants in the world, "They have become the crown jewels on a menu." He then described the first dinner party he threw showcasing foraged ingredients: "There was a sense of awe and wonder. It felt like a secret garden we had wandered into." Redzepi concluded, "One major thing to remember is that these are not just plants, they are spices, they are flavors." Chef Ben Shewry's message the day before added another layer to the foraging discussion: "It's not just enough to forage and gather. We have to take these ingredients and make them into something meaningful." He added, "I'm not a rich man, but I've never felt richer than when I've feasted on the scraps of society."
The Italian chef Massimo Bottura was not able to attend the conference because he was grounded in New York due to tropical storm Irene, but Redzepi's reading of Bottura's presentation was filled with so much passion that the collective disappointment was nearly rectified. Bottura's lyrical words, spoken with intense conviction by Redzepi, resonated with Bottura's central message: "Why prepare food if it doesn't make a difference?" Making a difference for a chef begins with the purveyors he or she works with which was illustrated beautifully by the next presenter, Danish farmer Søren Wiuff, one of Noma's suppliers. The respect Redzepi and Wiuff have for each other was obvious and Redzepi said at the conclusion of Wiuff's presentation: "When you pick up the phone and call your purveyor, imagine what you can learn if you go straight to the source."
Academic and scientist Molly Jahn, whose resume reads like that of a person who has lived six lifetimes, reinforced Herran's message by delivering a compelling presentation on the role chefs can play in changing our broken food system. She said: "You as chefs make purchasing decisions that when aggregated together are an extremely powerful means to implementing change." She continued, "Information is the currency of this century and you are the voices of good hope." Her concluding message resonated as the conference broke for lunch: "Resist the temptation to vilify other chefs because we are all in this fight together... We took the world apart, we did very well in segments, but now it is time to put our world back together again."
Stepping out into the sunlight during lunch to explore the marketplace and talk with some of Denmark's best farmers and producers felt so much more meaningful following the morning's stalwart messages. I heard Jacqueline McGlade's words when I purchased a jar of honey produced by the homeless beekeepers in her program: "Colony collapse disorder is the bill we are getting from all we have done to bees." As I picked up a handful of soil from a bucket on one of the demonstrator's tables, I heard chef Yoshihiro Narisawa's message: "Soil tastes different depending upon the seasons. Soil is alive. There is a lot of umami in the soil and can be cooked like a vegetable if it is from a healthy environment and treated properly." I was making the connections that MAD Foodcamp hoped would be forged, and its visceral power grew as I made my way through this agrarian utopia created here for a few fleeting days on the harbor of Copenhagen.
The tent hosting the final chapter of the symposium was as packed as I expected it to be. The first chef to present was one of the culinary world's most celebrated and revered; to watch Michel Bras compose his iconic gargouillou left each member of the audience spellbound. Even Redzepi could not resist the urge to hop on stage to watch the magic unfold. As Bras transformed with zen-like intensity a bounty of plants, flowers and herbs into one of the world's most copied dishes, he said reflectively: "We save everything at the restaurant. This is the responsibility of every chef around the world." In spite of the reverence Bras famously has for vegetables, the presentation wasn't entirely void of levity when he quipped with a grin: "A bean without its tip is like a beautiful girl with only one eye."
Another icon then took the stage. Harold McGee was greeted with applause so rousing it inspired the humble writer and scientist to respond: "Yikes," before he said how thrilled he was during lunch to smell the 25 different varieties of hay that were being judged in a contest to award a farmer the distinction of having Denmark's best hay. McGee's presentation explained in characteristic brilliance the flavors of plant life, illuminating for the audience why plants taste and smell the way they do. He explained that many attributes we appreciate are actually a plant's defensive mechanism but said, "Cooks make plant chemical weapons delicious by diluting them." He added, "Taste and smell are chemical senses. When we taste, we're tasting molecules."
Following up a presentation by McGee with a discussion of food microbiology would be too intimidating for almost anyone, so it was appropriate that it was delivered by the perpetually confident chef David Chang. "Our goal as a chef is to always want to learn more. That's our job," said the man behind the Momofuku empire. He explained that so little is known about many aspects of food microbiology that scientists are beginning to turn to chefs for the knowledge they're accumulating throughout their careers: "There is so little known about it that scientists are listening to us. They want to know what we're learning."
Surely scientists would be fascinated at what the next presenter is learning at his restaurant near San Sebastian, Spain. Chef Andoni Aduriz of Mugaritz was described in his introduction as a chef of, "humility, tranquility and the zen of a monk," all of which were evident in his beautifully moving presentation exploring the tenets of natural and cultural ecosystems. He and his sous chef prepared three dishes as Aduriz illustrated succinctly the message of new Nordic cuisine: It's not merely something confined to Scandinavia. The message resonates everywhere. Andoni explained that, "When I'm speaking about local, I want everyone to understand that local is everywhere and chefs play an important role in this because they have the closest contacts with purveyors." As Andoni's elegant dishes came to life — they including fossilized salsify with fish roe and threads of freshwater crabs and baked sunchokes — he poignantly concluded, "We like to eat stories at Mugaritz. We try to make our dishes as poetic as possible."
Aduriz was followed by the final contributor of the symposium, Peruvian chef Gastón Acurio, whose presentation was filled with poetry of its own. He illustrated the problems and solutions with Peruvian foodways he has discovered throughout the course of his career: "The problem is that good food was right there in front of us but we were trying to purchase frozen raspberries and dehydrated mushrooms." He continued, "We didn't believe in our own products because we believed that Peruvian food was about producing and exporting." He added, "Peru has a large mixture of cultures. There wasn't a common language. There was only one common thing between us: cooking." He went on to explain, "Through the acknowledgment of our culinary heritage, we would finally get rid of the shallow feeling in our souls."
Later in the evening, everyone gathered for a resplendent dinner and afterparty beneath Copenhagen's Knipple Bridge. Candles sparkled, wine and champagne flowed and the goodwill felt palpable. MAD Foodcamp was inspiring to say the least and I feel optimistic and empowered by the many messages generated throughout the course of the symposium.
As I ate a dinner comprised of Copenhagen's finest vegetables, I reflected upon something that happened immediately following the symposium's conclusion, when I had an epiphany on the boat ride back to the city. Nearly every attendee at the symposium descended a set of rickety metal stairs into a massive canal boat that magically provided a seat for each and every one of us. Throughout the entire day there was blazing sunshine but seemingly the moment the boat began its journey, clouds gathered and we were caught in a drenching rainstorm as Redzepi waved goodbye to us on a bluff above the river. The boat provided no protection from the pouring rain.
There was no escape. I initially covered my head in a futile attempt to stay dry but realizing after a few soaking wet minutes that it was pointless, I surrendered to the rain and uncovered my eyes. I marveled at the sight before me. The passengers on this boat included some of the world's most celebrated chefs, farmers, foragers, writers and scientists, and every one of them was being drenched by relentless rain. I thought to myself, "It's going to be alright." And the reason I knew it was going to be alright is the simplest yet most profound message I took away from the MAD Foodcamp: "We are all in this together."