What's The Deal With Brunch And Beer?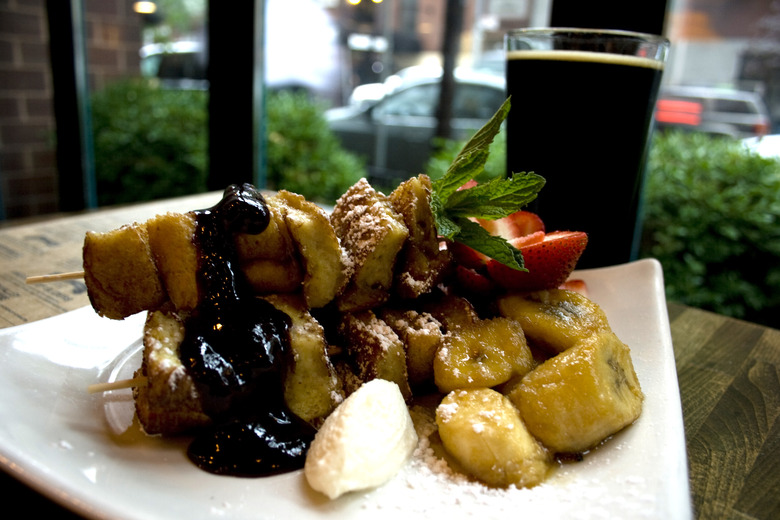 French toast and beer
It was a sunny, hungover Saturday morning during Philly Beer Week, and all I craved was a fistful of aspirin and a bellyful of greasy eggs. "Let's go to Johnny Brenda's," my equally alcohol-wrecked friend suggested.
We ambled off to the rock 'n' roll–flavored restaurant known for its comfort grub, taking seats in a dark corner booth. A waitress waltzed over, delivering much-needed water, and pointed to a chalkboard listing the daily specials. I settled on chilaquiles freighted with eggs and beans. My pal followed suit, also ordering a deep-fried whiskey donut.
The waitress caught our boozy drift. "Would you care for a stout to go with breakfast?" she asked brightly, pointing to the selection of dark brews on offer during the restaurant's annual stout brunch. Though spicy Bloody Marys are my preferred morning-after cure, I could not resist a pint of Sly Fox O'Reilly's Stout. It was creamy and well carbonated, with comforting hints of coffee, chocolate and smoke. With each passing sip I felt my mood brightening, my eyes widen. Who knew beer for brunch could be such a brilliant idea?
While mimosas, bellinis and Bloody Marys garner most of alcohol's a.m. buzz, beer is making inroads as a companion to your favorite meal of the weekend. "Beer definitely pairs with brunch," explains Etan Fraiman, a partner at New York City restaurant Little Town. "A giant Belgian waffle and a wheat beer is the classic image of breakfast and beer. They complement each other so well."
At the eatery, Fraiman goes far beyond waffles and brews, coupling main courses with a corresponding beer. "It helps guide the customer to try new things," he says of the pairings. For example, French toast finds its match with Greenport Harbor Black Duck Porter, while bacon-and-cheese sliders snuggle up nicely to a citrusy Ommegang Witte, and a spinach-and-ricotta omelet goes grandly with a toasty, balanced Fire Island Lighthouse Ale. Of course, not every beer makes the morning cut. While Fraiman sings the praises of wheat beers — my favorites include Allagash White, Southampton Double White Ale and Hitachino Nest White Ale — other styles are not as suited for pancakes and poached eggs.
"IPAs are not really a go-to beer early in the morning," Fraiman says of the strong, bitter style. Sometimes the hair of the dog can be just as deadly as the bite.
---
What are your favorite brunch-beer pairings? Spill it in the comments.
---