Spanish Tortilla: Have Some Huevos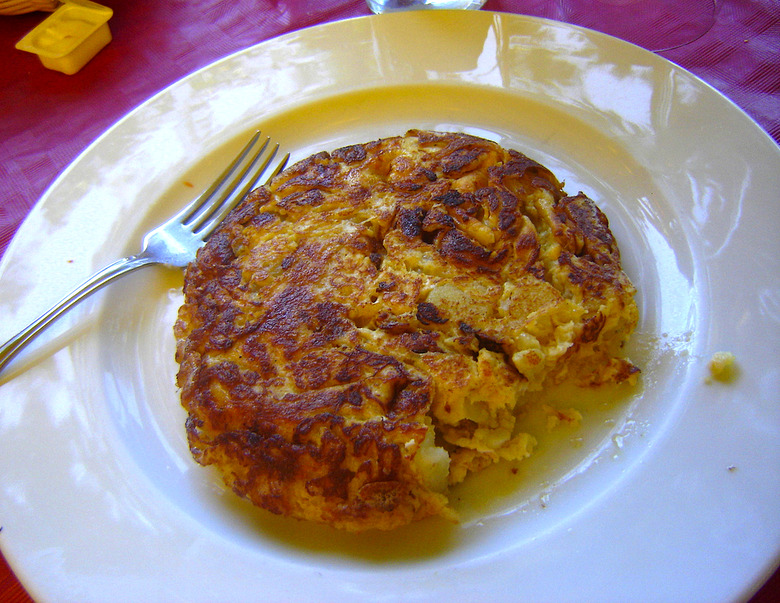 Photo: M.Markus on Flickr
One of Spain's favorite dishes is home fries fried into an omelet. How do the Spanish do it? We love soccer, Salma Hayek Penelope Cruz and tomatina (Valencia's annual descent into into utter tomato-throwing chaos), but you can't combine those three things in a pan come lunchtime.
Not to be confused with their Mexican corn-based cousins, Spanish tortilla, also known as tortilla española, tortilla de patatas or simply tortilla, is a thick, hearty dish served for breakfast, lunch or dinner (at like, 11PM). It's a go-to recipe where tapas are concerned, and for good reason. It's easy to make for the masses, and even the most poorly stocked kitchen probably still contains the needed ingredients.
Waxy potatoes like red and Yukon Gold are fried in plenty of good olive oil until soft, but not browned. The hot potatoes are then mixed with beaten eggs and poured back into the pan to cook slowly. When the bottom is completely set and browned, the tortilla is flipped, browned on the other side, then cut into wedges and served. It's delicious hot, room temperature or even cold, and cramming the leftovers into a bocadillo sandwich with a little jamón and some sliced manchego simply makes sense. Try your hand at it this weekend if the puerta to your root cellar hasn't blown clean off in the huracán.