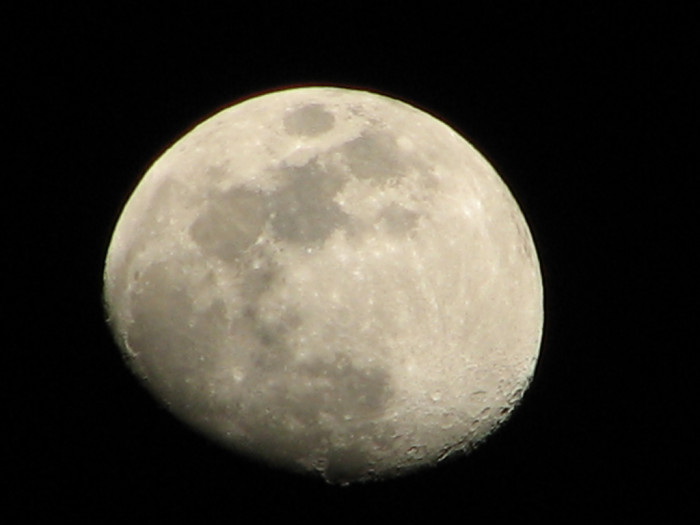 It was hot! Hotter than an average summer evening. And we were parched, anxious for a cocktail. We must have made a wrong turn somewhere near the Sea of Nectar and, naturally, we had no cell service. All navigation devices were down. Luckily, we were running 30 minutes ahead of schedule and with the help of the near-forgotten paper map we were able to plot our course and eventually rolled up on Gravity One-Sixth.
The air was thick and we were starting to feel on edge from the heat and lack of alcohol in our system. As we maneuvered our land vehicle toward the restaurant we were excited to see a vast garden of great abundance and beauty and an imposing arbor through which you walk to enter the edible garden. Gorgeous varietals, Elm Lacebarks, Chinese Pistache and Red Rocket Crapemyrtles, just to name a few. The colors were vivid. So much so that we had to stroll through the garden, despite our urgent need for booze. It was about 6,000,000 attoparsec2 in size and must have had every possible edible plant you can think of. There were so many plants indigenous to Russia, China and America that I had never heard of or seen, specimens such as: bracken pteridium aquilinum, typha latifolia, heracleum sphondylium, salix arctica, kinnikinnick and much more. I was honestly astounded by how successfully such a wide variety of plants survived together, in one environment. On the far end of the property, near the base of the Highlands, there was a small vineyard.
As we made our way through the garden we were greeted by our hostess, Analemma, who shared with us the garden's history. It had existed for approximately 1,050 years. She informed us that it began as a test garden established by what was, at that time, the government, to determine whether these foreign plants could live together, in this climate. When Analemma and her partner decided to open Gravity One-Sixth and were looking for real estate, they soon learned that the land was up for sale, so they bought the property and spent the next 5 years building the restaurant around the gardens. She explained that it is a team effort to maintain the gardens, but with the low-pressure domes and lava-rich soil, the gardens were more or less self-sustaining.
Analemma escorted us inside to the bar, where she invited us to order a drink while they prepared our table in the garden. YES! A drink, finally! At the bar we found the standard scene, the design elements were made to look like they were from America circa 1920; reclaimed wood bar tops and ornate bar backs with antique mirrors and low wattage filament lights. The male bartenders wore high waist pants pulled to the knee with knee socks and suspenders. The men's hair parted on the side and slicked down with Brillantine. The women were clothed in sateen dresses fitted with pleats and low heel shoes.
We couldn't figure it out: does every establishment have to be some sort of pre-Prohibition costume party? It's 3011; why do we have to go back to this style every 90 years? The drink list was to be expected based on the décor — and matching the crowd that was packed inside the bar room — populated with "classic" drinks such as a Manhattan, Champagne Punch, French 75, Old Fashioned. I decided to order the Champagne Punch while Jansky decided on a Mint Julep. I stood behind people seated at the bar, while trying to catch the "Mixologist's" eye to order. He looked at me a few times while making other drinks, or fidgeting with the faucet under the bar, but never approached me or asked me for our order. I waited, fidgeting impatiently as we had just journeyed 238,900 miles in the heat. On the precipice of explosion, I leaned forward and said, "Excuse me." He looked up at me as if I were putting him out and replied with a cold "yes." Yes? Had he forgotten that he had voluntarily signed on to serve us drinks. Voluntarily joined the service industry. I did not force him into his job. Jansky and I just wanted to pay our pelf in exchange for a quality drink.
I slipped into a daze, reminded of a time when the Moon wasn't always hip, when you could get a great drink from a polite machine who greeted you with excitement and eagerness to please and always knew your name, based on the eye scan. Why we pull away from growth and change and regress back to a time that wasn't simple and was full of intense manual labor and lack of government structure is beyond me. I let it go and I ordered, and despite the attitude from our bartender excuse me — our "mixologist" — the drinks were fantastic. My punch had just the perfect touch of nutmeg grated over the top, which came from the garden, as did the lemons and mint for Jansky's julep.
As we sipped our drinks and our blood alcohol content began to normalize, Analemma found us and directed us into the garden, where the décor was a little more up to date, unlike the 1920's-themed bar room. They had beautiful hand-honed lunar rock tables and solid oak chairs with cobalt detailing, Oswaft's controlled the wonderfully crafted dune fans to keep the garden cool. Menus were not presented to the table, which I have to say I admire — the chef simply sent out 20 sharable plates, all of which were filled with products from the garden that had been harvested that day. A constantly changing menu is de rigueur at Gravity One-Sixth. All the courses were paired with wine from their vineyard and had been filtered through volcanic rock. We tasted unique, unheard-of dishes such as Lily water-poached oak quarcus with ramsoms; miniature yard hen with bracken; and Ash bread with roasted stagion.
The food and garden setting were certainly worth the long journey. Next time, I think I'll ask to go straight to the garden and skip the bar scene.