Dinner Party At Chef Kerry Heffernan's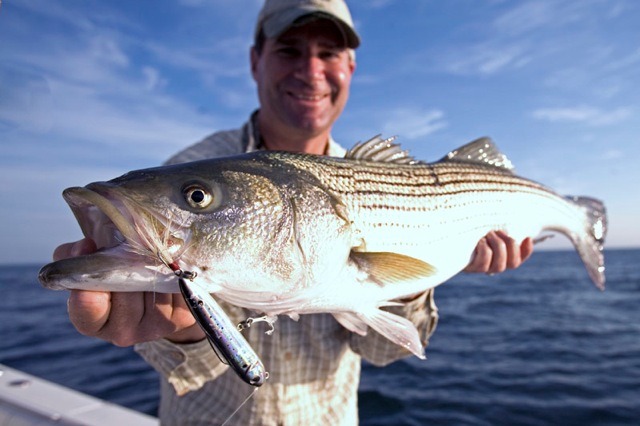 Kerry Heffernan
I suppose I was already fortunate last weekend, just to be in the Hamptons on a beautiful weekend. But then my luck really kicked in: A former colleague texted me to say that she and some friends were at Kerry Heffernan's house in Sag Harbor, and they had some striped bass that needed to be eaten.
I've chatted with Heffernan, the executive chef at South Gate in New York City, on the phone a few times, and he's been featured on Food Republic as well, talking about oysters and sustainable fishing, but here was an opportunity to watch him cook a fish that he himself had helped catch, clean and prepare, up close in his own kitchen (albeit the one at his weekend house).
Driving through the dark streets of this seaside Long Island hamlet, most of which lack street signs, I wasn't sure I'd ever find Heffernan's house, which the map had shown was basically on a tiny inlet on a mini-island on a larger island, or something like that. I would have had better luck riding a Jet Ski to dinner.
Eventually, I pulled up, and photographer-slash-fisherman Brendan McCarthy greeted me and brought me into the kitchen, where Heffernan was about to slide the fresh-out-of-the-water striped bass into a pan. Soon, he was plating the fish, along with a cucumber salad and grilled potatoes, and then came the kicker: a bubbly yellow sauce, thick, adding color, texture, and, it turns out, extraordinary flavor.
We dined on this incredible fish at a picnic table a few yards from the dock where Heffernan keeps his boat and also nets filled with oysters that he is cultivating as part of a program to help maintain stocks in nearby bays.
I emailed Heffernan the next day to ask what the heck that sauce was. "(My own) yellow tomato beurre fondue" he wrote back. My next mission? To get the recipe.