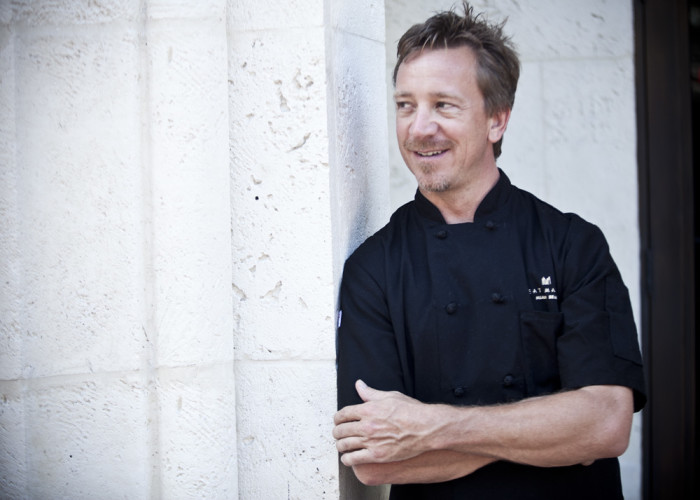 When Miami's Meat Market opened on Lincoln Road a few years back, food fanatics could be forgiven for thinking that the emphasis would be less filet mignon, more hot models. As it turns out, the emphasis was on both. The buzzing steakhouse and seafood spot attracts one of the most aesthetically appealing crowds in glam South Beach, but it's Executive Chef Sean Brasel's food that always steals the show.
We've enjoyed many a festive dinner at Meat Market, where diners tend to pass dishes down long tables for sharing as an insanely attractive wait staff strains to deliver colorful cocktails while navigating the crowds. But the moment of truth usually comes early on in the meal, when plates of raw and citrus-marinated fish and shellfish appear, sometimes decked out with onions or peppers or chiles. In other words, ceviches and tiraditos — those staples of South American cuisines — which get reinterpreted throughout Miami's dining scene. Chef Brasel's selections run deeper than most; clearly, the man knows his ceviche.
Ceviche is probably the better known of the two preparations, and is said to have originated in Peru after the Spanish arrived and introduced citrus fruits, like the lime, to the native Incas. In a ceviche, raw fish or shellfish is diced and marinated — almost cooked, actually — in the juice of a citrus fruit, usually lime, and mixed with salt, chile peppers and plenty of onions. The difference between ceviche and carpaccio is the added heat from the peppers.
Tiradito is a sort of mash-up of ceviche and sashimi, originating from the Japanese community in Peru. It's similar to ceviche, but no onion is added to the dish, and it's primarily made from a white fish that is sliced thin rather than diced. Lime juice and chile peppers or wasabi paste are added to give the fish some bite.
Chef Brasel gives us an insight into his favorite summer dishes and offers tips on how to spice up ceviche and tiradito. If you're sick of all the fresh fish preparations you've already tried this summer, take his advice: squeeze a lemon or lime on it, sprinkle on some chile peppers and enjoy!
What are some of your favorite summer dishes?
Summertime offers some great first of the season catches from much cooler waters than Miami. The start of summer always opens with the limited and flavorful Copper River King Salmon. Then mid-summer, wild Arctic Char runs. I love the versatility of char, as it reminds me of red trout [from when I was] growing up back in Colorado. The flavor is more refined than trout and not as distinct as salmon. It's a semi-firm filet that has very mild flavor and lends itself to lighter dishes with cool salsas such as melon or citrus, perfectly refreshing in the summer heat.
What are some tips to making a great ceviche or tiradito?
At Meat Market, I prepare a daily ceviche with the freshest possible fish. It is extremely important to pre-cure the fish with lime or lemon before preparing the ceviche because it will help remove the bitter fish liquid and allow for the flavors of the ceviche to shine.
What are the best fish and seafood to use in ceviche and tiradito?
You can use any fish for ceviche, but octopus and mahi are my personal favorites. For tiradito, I love arctic char and hamachi. Both are delicious when complimented with subtle flavors.
What are some ways to spice up a normal ceviche?
I like to spice up my ceviches with some sort of spicy puree, whether it's with Peruvian aji or Mexican chipotle. The pepper serves as a great backdrop to the other flavors.
Meat Market, 915 Lincoln Road, Miami Beach, FL, 305-532-0088