5 Great Places To Eat/Drink In Vancouver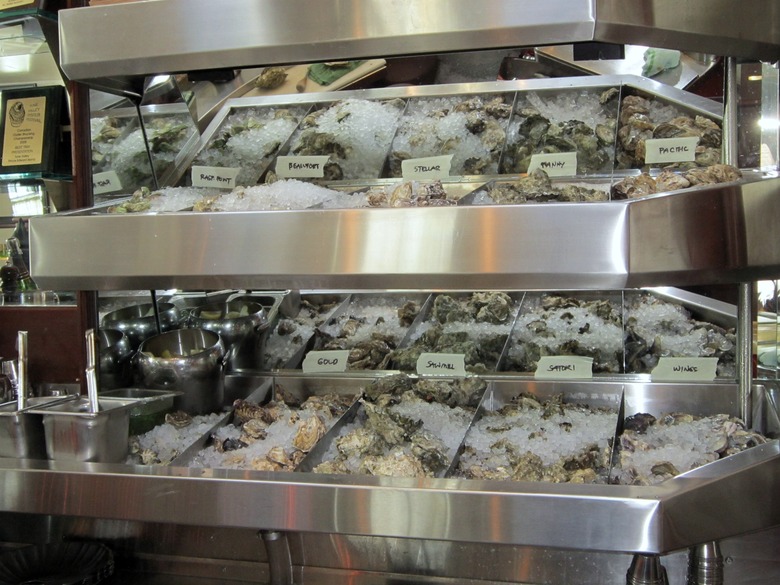 Whether you're talking briny Pacific oysters, smoky cedar-planked salmon or British Columbia cheeses paired with crisp Fraser Valley wines, eating in and around Vancouver, British Columbia is typically an all-local affair. Though, you shouldn't overlook the abundance of Asian fusion and ethnic specialties found about town as well like Japa Dogs (hot dogs topped with seaweed, bonito flakes, teriyaki sauce) or chewy Singaporean beef jerky — as well as Euro-Canadian classics like steak tartare or gravy and cheese curd-laden poutine.
The melting pot that is Vancouver makes it one hell of a food town. Plus, there's quality drinking available with locally made coffees, late-harvest Rieslings and high-minded cocktails. Here are five not-to-be-missed Vancouver eating and drinking spots.
Located in the bustling waterfront Fairmont Pacific Rim Hotel, Executive Chef David Wong turns out exemplary Pan-Asian dishes such as Dungeness crab salad with black vinegar gelee, sake-infused sablefish and butter chicken with Himalayan rice. A Sunday night seafood buffet featuring smoked British Columbia salmon, local oysters and black bean king crab legs has proven to be popular. Yet, it's the restaurant's sake cellar, one of the largest in the city, along with an extensive list of imaginative cocktail combos that are required eating and drinking here. Enjoy these specialties in the Philippe Starck-esque Skybar located on the second floor next to the restaurant. Settle into one of the many sleek, cushioned couches and sip a Giesha (vodka, Chambord, elderflower syrup and muddled strawberries) or an ORU Kaffir Colada with white rum, kaffir lime leaf, fresh pineapple, lime, coconut foam.
Mixologists Justin Tisdall and Wendy McGuinness are the cocktail gurus behind Chambar Restaurant in downtown Vancouver. The ambience is as warm and laid back as the food, which can best be described as falling somewhere between French European and North African. Frites dipped in harrisa mayo, Moroccan rubbed slow-roasted lamb loin, and giant spot prawns soaked in smoked paprika and Pernod butter are designed for sharing. However, it's the cocktail program that truly wows. Try the Maignan's Muse, a honeydew melon, white rum and French absinthe concoction shaken with orange blossom water, citrus and chamomile syrup, or The Blue Fig, a frozen combination of oven roasted figs steeped in gin and served with a side of Danish blue cheese. There's plenty of wine and beer to be had as well, and the far-reaching list is equally well-thought with a strong emphasis on Belgian and Belgian-style brews including their own Chambar Ale. 1038 Canada Place, 604-695-5300
Joe Fortes could be confused for one of those long-established white tablecloth local seafood places that's been in business 25-plus years, pipes plenty of Sinatra and boasts multiple dining floors and caters to a tourist-y clientele. You can find joints like that in places like Boston, Los Angeles and points in-between. Joe Fortes is not one of these joints. For one, their oyster bar is outstanding. Located right smack in the center of the restaurant, the bar rotates an array of West Coast specialties daily — Satori Denman Island, Sawmill Bay Reid Island and Summer Ice Pearl Bay are just a few of the 15-plus offerings shucked by the restaurant's "champion oyster shucking team." Wash down your platter of bivalves with a glass of wine from Joe's extensive list, which conveniently marks those that are "oyster-friendly wines" and "seafood-friendly reds". 777 Thurlow Street, 604-669-1940
The only way to reach Bowen Island, which houses a gem of a lunch spot, Artisan Eats, is either by boat, water taxi or ferry — it's a short 8-mile trip from Vancouver and totally worth the effort. Located in Artisan Square, which is a bit of an uphill walk from the docks (a great way to burn a few pre-game calories), Artisan Eats is an easy-going café with outstanding ocean and mountain views that serves an array of homemade French-style pastries, breads, tarts and pâtés. Nearly everything is made from scratch and super-local — even the not-to-be-missed coffee, which is supplied by local roaster Lance McLure of Galileo Coffee Company. Order a cup of joe or a glass of wine from the self-service bar and grab a table outside. We suggest building a snack-worthy platter with a selection of their in-house charcuterie, dolmades, Picholine olives and local cheeses. 539 Artisan Lane, 604-947-0190
Right in the heart of Vancouver's historic Gastown district lies a cocktail bar that doubles as a bar school by day. It's known as the Diamond Preparatory School for All Things Drinks, and it offers wanna-be bartenders courses and seminars designed for both novice barkeeps as well as aspiring pros. Classes range from old-school "Classic Cocktails 101" to more focused instruction like a heady class called "Whiskey & Whiskey." After 5 p.m., the big boys take over behind the stick. Try The Penicillin, an earthy combo of blended Scotch and peated Scotch with ginger lime and honey. The delicate First Word blends Zubrowka vodka with fresh grapefruit juice, elderberry and maraschino liqueur. Nibble a platter of poached prawns topped with tobiko roe and kaffir lime leaves or partake of something more substantial like the rock cod sub dusted with Moroccan spices and preserved lemon. 6 Powell Street, no phone
---
What are some of your favorite eating and drinking spots in Vancouver? Did we criminally overlook something? Hit the comments section with your picks.
---