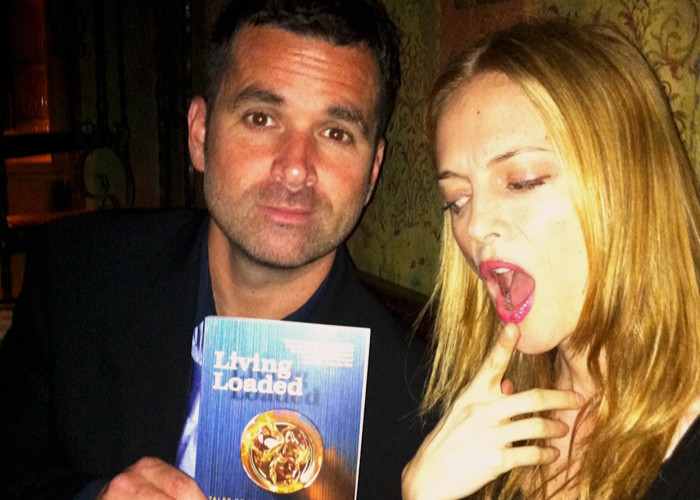 As anyone who follows Deadline.com to keep abreast of important entertainment news no doubt already knows, the creators of the hit TV show It's Always Sunny in Philadelphia and I are developing a scripted comedy series for Fox based on my okay-selling memoir, Living Loaded: Tales of Sex, Salvation and the Pursuit of the Never-ending Happy Hour.
Now, I know what you're thinking. You're thinking, "Wow, Hollywood really has run out of good ideas." It's okay. I thought the same thing when the deal went down. I mean, c'mon — I'm a professional boozer. For the past 15 years or so, I've ravaged my liver and my reputation (along with a good many relationships) in the service of a booze-soaked byline. And thanks to the mind-altering qualities of the stuff I've long specialized in covering, I can hardly remember any of it. My career should serve as a cautionary tale, not as the basis for a prime-time television program.
But it is what it is. If Rupert Murdoch's minions at News Corp (Fox's parent company) think it's a good idea to turn my life into a show, who am I to argue? Hell, I'd bet my collectable copy of the final edition of The News of the World that it's not the worst idea they've ever had over there.
That being said, I'm realistic about just how slim the chances are of Living Loaded the series ever winding up on the air. (Particularly in light of what I wrote in the previous paragraph.) But I'm not sweating it because, frankly, having to produce a TV show week in and week out sounds like a lot of work. And I, for one, happen to agree wholeheartedly with Oscar Wilde's assessment of work being the curse of the drinking class.
Besides, I've got a budding second career brewing already as an emcee at cocktail-themed events. In the past six months alone I've hosted high-profile shindigs at the prestigious Pebble Beach Food and Wine Festival and Tales of the Cocktail in New Orleans. Just last week, I guided a bunch of tequila lovers in Hollywood through a tasting of 10 different premium tequilas, ranging in price from $28 a bottle up to $250.
Sipping and extolling the virtues of Casa Noble Crystal, Tequila Ocho Reposado and Chinaco Negro Extra Anejo isn't work, my friends, it's happy hour, Mexican-style. Arriba! And while the folks attending my seminar applauded lustily after we knocked back a few snifters of Jose Cuervo Reserva De La Familia, you better believe I'd be in for a slightly less enthusiastic reaction were I to do the same thing in some drab writers room on the studio lot.
The other tequilas we tasted and enjoyed, by the way, include Milagro Select Barrel Reserve Reposado, Cabo Wabo Anejo, Karma Blanco, Avion Silver, Cazadores Reposado and Herradura Añejo. And I'd like to say for the record to all the tequila purists out there that no belly buttons were drank out of during the seminar… later that night at Cabo Cantina on Sunset, however, was another story. And a wild story at that.
I'm thinking it's best I save that one, though, for another time. Say, six months from now during primetime…
What? A guy can dream, can't he?
---
---
More of the Imbiber on Food Republic.