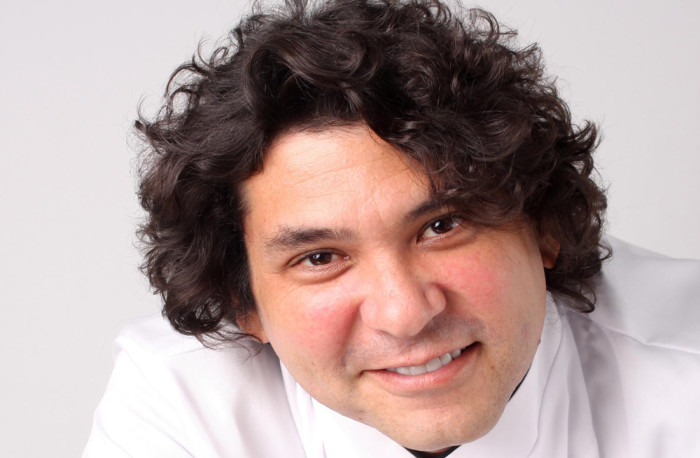 With the opening of La Mar Cebichería, in the iconic Tabla space just off New York's Madison Square Park, the 44-year-old Acurio is banking that Americans will give Peruvian cooking, specially the cebicheria, a shot. (A San Francisco location of the growing chain, which is also in Lima, Mexico City and Madrid, has proven wildly popular). The restaurant — among the most anticipated openings in NYC's busy fall launch period — will serve seafood stews and over 60 types of ceviche, along with pisco-centric cocktails. We caught up with the busy chef to talk about the new venture, cooking in his head and the "godfather" of his NYC launch, Danny Meyer.
The opening of La Mar Cebichería is a really big deal. It marks your NYC debut. Also, you're taking over the iconic Tabla space…
We were trying to find out the best location we could because we are very proud with our culture, with our food. We sent our best chef [Victoriano Lopez] to lead this adventure in New York. We hired the best architect in the New York restaurant business [Stephanie Goto of Aldea and Corton]. We were looking for the best local producers, farmers and fishermen with the most sustainable ingredients to make our food with. Our Peruvian food.
How did you find the space?
We were looking for a location for over one year and suddenly this thing came. Danny Meyer came to Peru and really liked our philosophy and concepts. He helped us a lot with the landlord.
So Danny was instrumental in getting you the space. Many assume he's your partner…
No, he's not our partner. He's like some sort of godfather.
A spiritual advisor, we could call it. So you're kind of like the Bobby Flay of South America, no?
I really don't know. I'm just a cook. I try to do my work and represent my culture. I try to tell the Peruvian story, which the world maybe doesn't know yet. We have several thousand years of history creating recipes that have been hiding in our country.
Yes. So tell me, you do television though, right? You're doing TV shows all the time?
Yes, I have a TV show, yes.
That's great. Are you still cooking a lot in your kitchens? I mean, you've got 28 restaurants. So tell me, how do you find time to actually cook, when you have 28 restaurants around the world and TV shows?
Because in Peru, we're a team, no? We're producers, farmers, cooks, popular cooks, TV cooks. I have this great team of young chefs that are working very hard in this mission. We develop ingredients, new flavors and new concepts. So I cook every day. There's a moment in the life of all chefs when you start to cook in your mind — 24 hours a day.
Are Americans going to be surprised by Peruvian cuisine?
I really hope so, because we have found a lot of flavors and combinations that a lot of people don't know yet.
Ceviche is a big part of Peruvian cuisine…
We have many ceviches. Raw ceviche, wild ceviche, spicy ceviche. We have hot seviche and grilled ceviche — which is not an invention of our restaurant. It's a very old recipe from the Incas. Ceviche is the flagship of our restaurant culture — the raw, fresh, organic, tasty, generous ceviche.
Describe how a VERY GOOD ceviche is supposed to work.
It's natural on the palate and at the same time light in your body. You're celebrating with nature when you have these bites of fish that have been caught in a fight with a fisherman. And they give their lives to celebrate with you, no?
And then there is pisco.
We have all these pisco cocktails associated with our Amazonian wild tropical fruits, which is a great combination.
What are some of the other dishes that you'll be serving?
Peruvian skewers. We have a very good one with octopus. We have these very refined stews — which we put a lot of vegetables mixed with seafood. And we have 68 ceviches.
So what are you doing today?
I'm starting a lot of travel. Today I'm at conference in Tacna in the south [of Peru]. Then I have to go to Denmark. I've been invited by Noma to lead a conference there. Noma is one of the best restaurants in the world. Then I have to go to New York to see how things are going on with the kitchen. Then I have to go to Australia, because there is a food festival there. Then I have to come back to Peru for a little bit and I then go to Spain. This month is very, very interesting.
That schedule is crazy. It makes Bourdain look like a homebody…
Yeah, it's great. It's like a mission. It's great having a mission, not only cooking, but talking about our culture. There are a lot of things to do. A lot of things.